Whether it is cooking, cleaning or doing laundry, why not transform household chores into fun family time?
In addition to get tasks done quicker, doing chores together as a family will teach the kids some functional skills, let them be physically active and allow you to bond together. House chores can be an enjoyable moment between parents and children, and it will soon become an indispensable part of your weekly schedule. Here are some fun ways to use household chores as family bonding time.
Cooking time with family
Kids love helping preparing dinner. Choose dinner menus with them and assign tasks together, whether it is washing vegetables, mixing portions or preparing dressings. Under supervision, let them get creative and take initiatives! In addition to teaching them basic cooking skills, this will let them experience new creations and possibly put together some delicious treats!
Laundry made fun
Before putting clothes for a wash, make a game of separating clothes with the kids. Teach them why it's important, and how to do it so they can help during the chore. The Addwash washing machine uses the Eco Bubble Technology, thus protecting your most delicate fabrics during powerful cleanings by functioning even with low temperature. This makes it easy involving the kids, with only having to separate white and coloured clothes. Delicate clothes don't have to be for a separate cycle anymore. Once the washing load is finished, kids can help folding their own pile of clothes. Adding onto the responsibility part of it, children will enjoy the competition and race to be the first to finish! Make sure to treat and congratulate the winner or to make them look forward to the next race.
Turn chores into games
Every household chore can be turned into a game with some imagination. Whether you decide to time who's fastest at folding a pile of clothes, to offer a prize for who can tidy their room the quickest, the possibilities are limitless. Don't forget to put music on when tidying and improvise a dance with the little ones, to keep chores enjoyable as a real family bonding time.
Cleaning up together
After each family dinner, involve the kids in clearing the table and washing dishes. Make sure to present it as a unique opportunity for a parent-child time more than a hassle. For example, ask who wants to be the dedicated helper for the evening, and make sure to engage in a conversation while your little one is helping you. You can also turn it into a game, with the first to finish its chore to get a symbolic trophy or a treat.
Play in the garden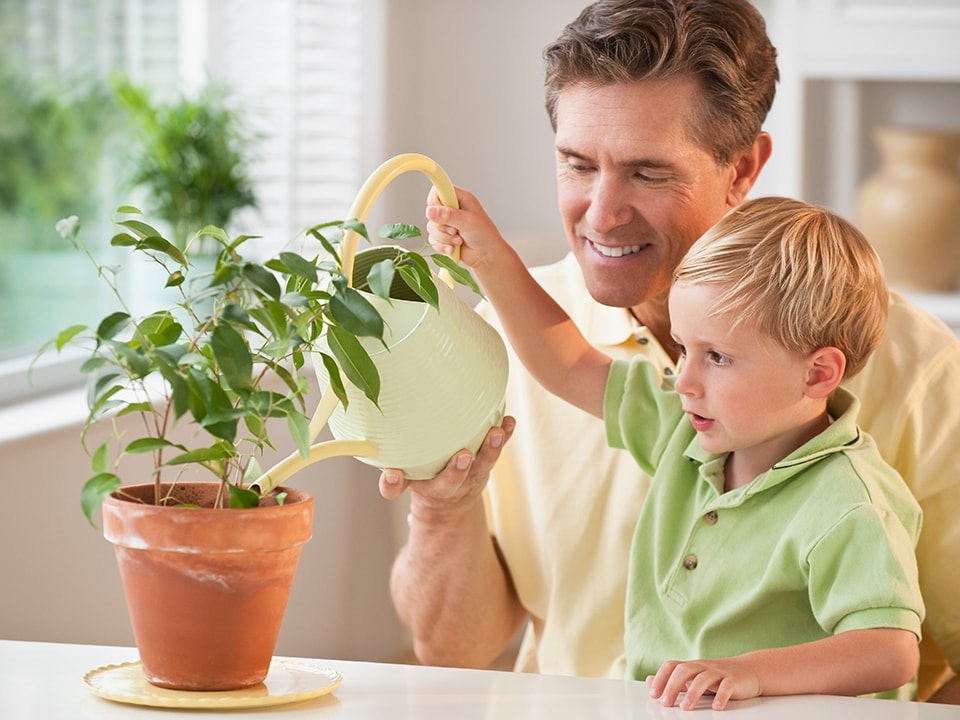 If you have a garden or plants, get the kids involved into gardening and taking care of plants and pulling weeds. Charge them to water a particular plant or dig a hole for the new seed, and watch them have a great time! You can even assign a particular plant to a kid and have him or her take care of it. You'll be surprised at how seriously they'll take it!
As you know, playing in the dirt can result in stained clothes. To remove dirt and mud stains, soak the clothes in cool water with ½ teaspoon of liquid dish washing and 1 tablespoon of vinegar for 30 minutes. Once the stain fades, throw it in the washing machine for it to rinse. Use the Add door of the Addwash washing machine to stop the load and start only the rinsing cycle to save energy and time!
Team work during groceries shopping
When going groceries shopping for the week, prepare a list of ingredients and foods you want to get, and separate it with each child assigned to a particular item. Giving them responsibility and accountability for it will motivate them to get their assigned product with pride. Specify a time and meeting point and let your children help you out while keeping them entertained! Similarly, when reaching home, let the kids help unpacking groceries and placing them in the fridge or pantry. Kids will feel proud to help, and team work make chores go faster.
With a little bit of creativity, you can come up with many ways of getting the kids to help during household chores, making it a family bonding time. It also allow them to be physically active, and enjoy tasks shared with brothers, sisters, and parents.