The Future of Filmmaking
Is on Your Phone
Learn how to edit videos, starting with this Brooklyn travel vlog—shot on the
Galaxy Note10.
With the ability to shoot, edit and publish straight from the device, smartphones are a new frontier for budding filmmakers looking to create Hollywood-worthy movies on a budget. If you're interested in filmmaking and are curious about how to make a movie on a phone, a short film is a great way to ease into the craft. Check out this Brooklyn travel vlog and recreate your own by following these basic principles of filmmaking.
Choose the right location
A good location can make all the difference between an epic film and a mediocre one. Although an important part of the pre-production process, location scouting doesn't need to involve anything crazy. For example, our travel vlog shows off a simple day in Brooklyn— playing games, thrifting and hanging out. Just look for spots that'll help tell your unique story—somewhere with low foot traffic and enough space to shoot. And always remember to check if you need a location permit.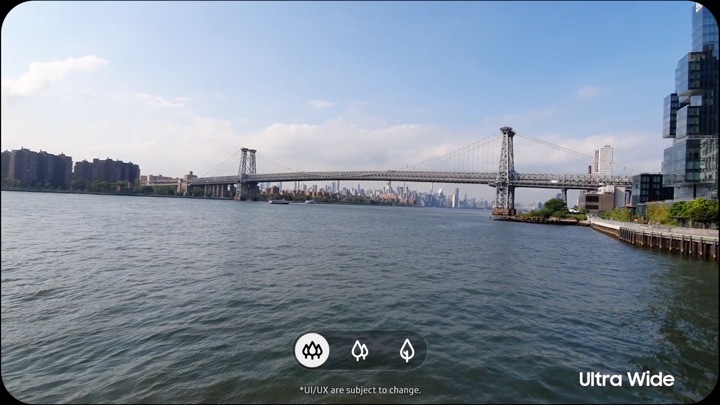 TIP
Lock focus and exposure to keep the lighting consistent while moving about.
Seize the moment perfectly with the right lens and lighting
Go wide or go home
If you want to capture your audience's imagination with spectacular, cinematic style shots, then Ultra Wide is the way to go. From showing off epic landscapes to simply fitting everything onto the screen—an Ultra Wide lens helps set the scene for your story. And since you'll be covering more angles, try to shoot in brightly-lit areas to avoid shadows and grain. There are, of course, the "best" times of day to shoot which are usually during sunrise or sunset (also known as the golden hour) so dedicate a block of time to these.
Record action shots with Super Steady mode
Stay steady
Video stabilization isn't necessary if you're purposely seeking shaky shots, but when you're looking to beat the blur, you'll need to invest in a tripod or a gimbal. A tripod is good for stationary shots, but a gimbal is best for movement. If you're just wrapping your head around how to start a vlog and aren't ready for additional equipment, simply use the Super Steady feature on the Galaxy Note10 to alleviate the shake that comes with handheld shots.
Isolate the sound that matters with Zoom-in Mic
Listen up
A film with poor sound may as well be silent, unless you plan to add in a completely new audio track in post-production (and who has time for that?). Save yourself the hassle of figuring out how to remove background noise from video and try to shoot dialogue scenes in a quiet place. Hearing echoes? A simple trick to eliminate reverberation is to use heavy blankets to absorb the sound waves bouncing off the floor. If the location is great but the background noise is distracting, use the Zoom-in Mic on the Galaxy Note10 to hone in on the particular sound you want to emphasize.

Add movie-like depth of field to your videos
Try blurring the background
A compelling film is about varied shots, unexpected angles and unique POVs. So, break out your creativity and then some. Why not blur part of a video and focus all the attention onto your subject? For that cinematic depth of field, get close to your subject and make them the star of the show. Also, try and shoot in places where there are vivid pops of color or bright lights in the background. A fun feature like Live focus video on the Galaxy Note10 lets you create those sought-after bokeh effects straight from your phone.
Edit like a pro with Adobe Premiere Rush
Nail the edit
Editing may seem like the boring part, but this is truly where the magic happens. Without editing, all you have are a few cool but meaningless clips—so take this time to place them in an order that tells a visually compelling travel story. One of the best apps for editing videos, Adobe Premiere Rush, lets you throw in some well-timed transitions, add titles for context, and color correct like a pro—all on your phone.
Get ready to create your own cinematic travel vlog
With its pro-grade camera system and all-day battery, the Galaxy Note10 is ready to take your filmmaking to a whole new dimension.
Galaxy Note20 | 20 Ultra 5G

Galaxy S20 | S20+ | S20 Ultra 5G