How to troubleshoot using DTS?
Last Update date :
2020-09-03
As home cinemas have improved, new surround sound formats have sprung up - bringing more detail and realism to movie nights. DTS is one of the most popular surround sound formats. If DTS is not supported on your Samsung TV or if there is a player connection problem, follow the instructions below.
DTS (Digital Theatre System) is a surround sound format like Dolby Digital; both are popular audio compression technologies and enable movie makers to record multi-channel sound that can be reproduced in cinemas as well as homes. The compression rate is compressed to one third the level of Dolby Digital's sound, and DTS is also often used for 5.1 channel audio output.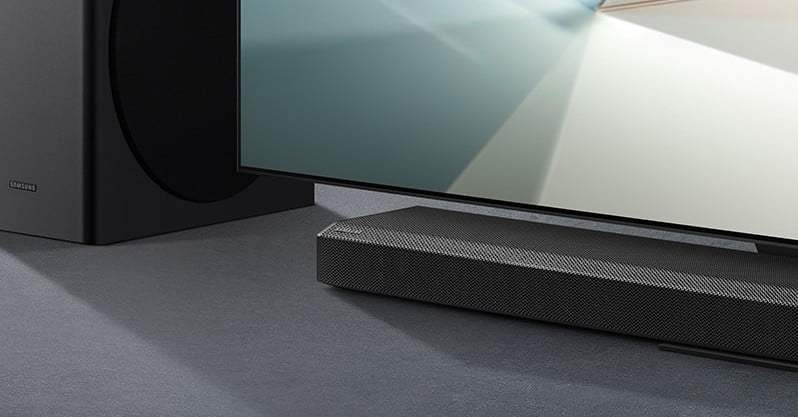 Note: 
DTS is only available on models released before 2018.
For detailed specifications, please refer to the user manual.
Step 1. Connect an HDMI cable from the HDMI OUT on your external device to the HDMI IN on the bottom of the Soundbar.
Step 2. Connect a digital optical audio cable from the DTS port on the bottom of the Soundbar to the DTS port on your TV.
Step 3. Press the Source button on the top panel or on the remote control, and then select HDMI 1 or HDMI 2.
Step 4. Connected Source is displayed on the Soundbar display panel and sound plays.

Configuring DTS on your Blu-ray Disc player or other device
Open the audio output options on the settings menu of your BD player or other device and make sure that "No Encoding" is selected for Bitstream. For example, on a Samsung BD Player, go to Home Menu → Sound → Digital Output and then select Bitstream (unprocessed).
If the Audio Output options include Secondary Audio, make sure Secondary Audio is set to Off.
Make sure that the content supports Dolby Atmos.
Note: Ensure to follow the connection order. (Source device - Soundbar - TV)
Please click the submit button below to share your feedback with us. Thank you for your participation.
Please answer all questions.