How to troubleshoot the Samsung QLED TV that turns the volume up and down automatically?
Last Update date :
2021-03-18
2020 QLED 4K (except Q60) and 8K models have added many new features and are equipped with a "Sound Sensor". If the TV's volume suddenly adjusts, this is related to a new function, the Sound Sensor. You can activate or deactivate the feature if you want to.
What is the sound sensor for?
Sound sensor detects the sound of the surroundings for the Active Voice Amplifier and Adaptive Sound+ functions of Intelligent Mode. These functions can be used only when the sound sensor is activated, and the sound output is set to TV Speaker. Therefore, you can make the TV stop from changing volume up and down itself by two methods: switching off the sound sensor or turning off Active Voice Amplifier and Adaptive Sound+.
Operated status of Sound Sensor

Active voice Ampifier / Adaptive Sound+ (in Menu)

Switch left

(at the bottom of the TV)

Sound Sensor

ON

ON

Will be operated

ON

OFF

Not operated

OFF

ON

Not operated

OFF

OFF

Not operated
Method 1. Turn off the Sound Sensor switch
You can turn the sound sensor on or off by using its button at the bottom of the TV. With the TV on, you can push the button to the left to turn the sound sensor on or to the right to turn it off.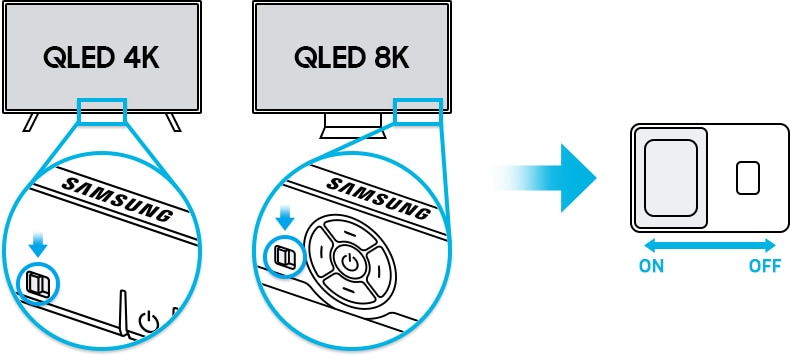 You can see the pop-up window on the TV to check whether the sound sensor is turned on or off.
Note: The position and shape of the sound sensor may differ depending on the model. 
Method 2. Turn off the Active Voice Amplifier
Active Voice Amplifier analyzes the ambient noise and provides optimal sound depending on the noise, and Adaptive Sound+ provides optimized sound quality by analyzing the viewing space and the acoustic components of the content. They are designed to improve your viewing experience by recognizing your content, usage patterns, and the environment around your TV. However, if you do not want the automatic volume adjustment to be enabled, follow the steps below to turn it off.
Step 1. Navigate to Settings.
Step 2. Select General and then select Intelligent Mode Settings
Step 3. Select Intelligent Mode to turn off all the functions or select each option to turn it off.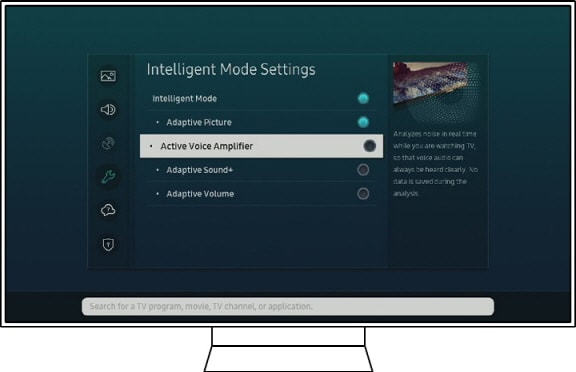 Note:
Active voice Amplifier (in Menu) default setting is off.
The device screenshots and menu are only a sample in English - they are also available in the language of your country.
Please click the submit button below to share your feedback with us. Thank you for your participation.
Please answer all questions.