Test the ice maker in a Samsung fridge
Last modified :
Apr 30. 2019
1
First locate the ice maker in your freezer and then press and hold the Test button for 3 seconds located on the side of the ice maker. You will hear a response tone at the press of the button. You will hear another tone shortly if the ice maker is functional.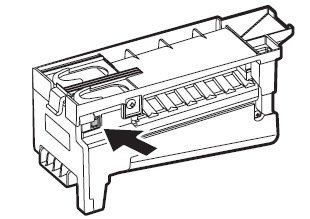 2
Once you locate the ice maker, underneath the front of the ice maker assembly is a small button. If you press Test A (see image below) and hold this button for three seconds, the ice maker should rotate the ice tray and releases ice.
Please note:
●    Make sure the ice maker is switched on.
●    A newly installed refrigerator may need up to 24 hours to cool and for ice production to begin.
●   If the doors were removed for installation purposes, the wiring on the top of the freezer door hinge may not be properly connected, please refer to your owner's manual.
●   Do not keep pressing on the test button for RF* and RSG* models, this may cause ice tray overfills and ice jamming in the tray.
3
To test the ice maker:
Gently hold the icemaker bucket (B) with both hands and remove it from the ice chute (A).
Check the icemaker bucket if it contains ice as appropriate.
Then, hold the icemaker cover (C) and slightly lift up to remove.
Press Test (D) on the side of the ice maker. You will hear a chime (dingdong) at the press of the button.
You will hear another chime if the ice maker operates properly.
If you require more information, you can download the manual specific to your model by going to Manuals & Downloads. Otherwise, please get in touch with our Samsung Care experts on 1300 362 603 (Toll Free in Australia) or contact our Live Chat Australia team.
Did not find what you're looking for? We're here to help.
Online
Chat with us
Live Chat Support with a Samsung product expert.

We'll respond within 24 hours of your request.

Face-to-Face Support

In-Store Support
Create a booking to see one of our friendly Samsung staff members at one of our Samsung Retail Stores.
Contact Us