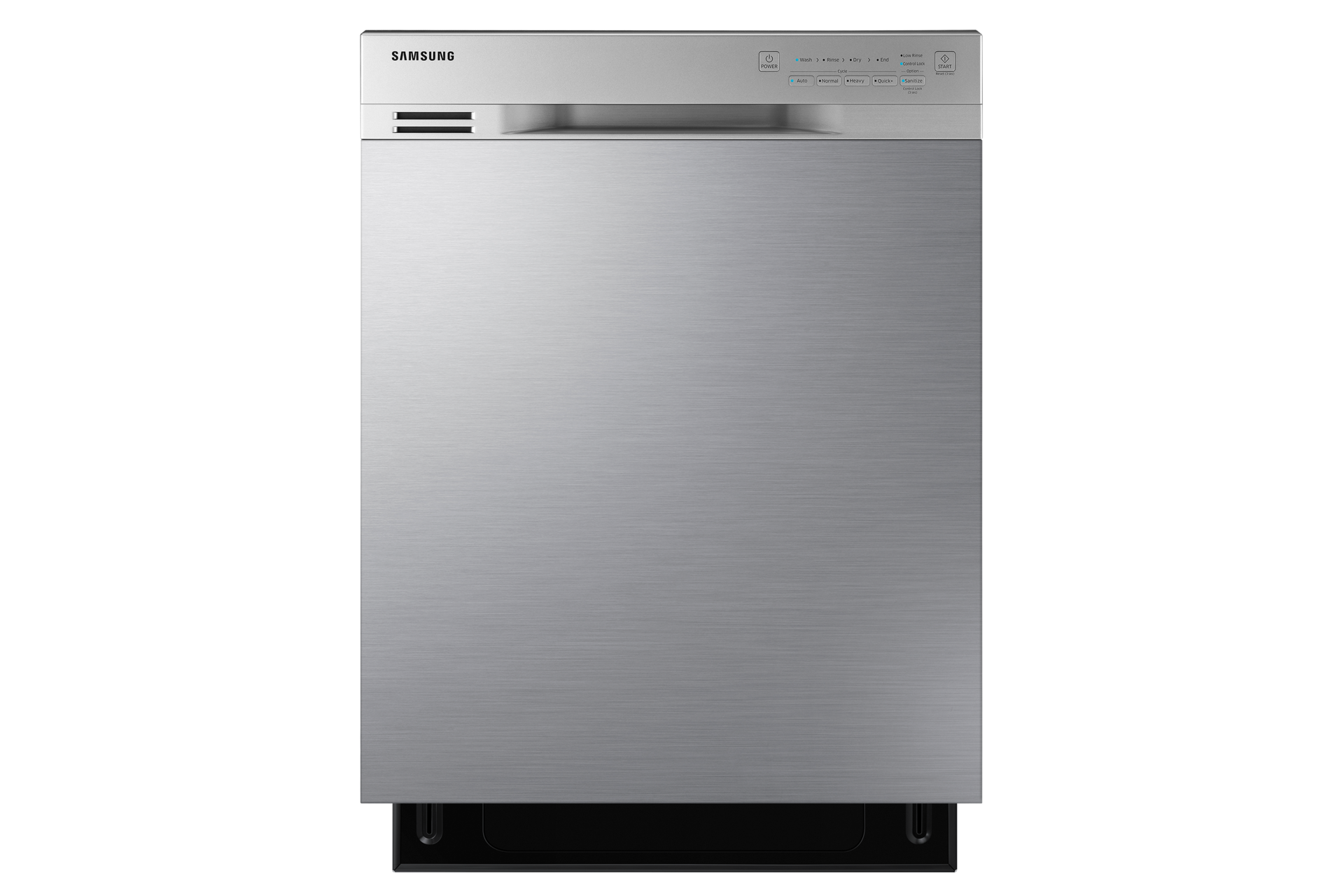 DW80J3020US Dishwasher with Stainless Steel Tub
DW80J3020US/AC
DW80J3020US Dishwasher with Stainless Steel Tub
is rated out of
5
by
14
.
Energy Star
Digital Leakage Sensor
Hidden Display
Use hygienically longer
A Stainless Steel Tub is more durable, quieter and cleaner than plastic. It makes less noise and can wash more hygienically at higher temperatures. It's also resistant to staining and dirt, which prevents bad odors.
Quietest in class*
Designed to create much less noise, as its Stainless Steel Tub absorbs sound when it's working, so it has one of the lowest noise levels in its class. At just 50 decibels the noise it creates is the same as a quiet stream.
* Based on the noise level of 24"Tall size STSS tub / disposal type / STSS Door dishwashers (MSRP $500~$600) contained in Top 5 M/S(A)
Low energy consumption
ENERGY STAR® certified, so you can save money by using less energy and water with each cycle. This exceptional energy efficiency also reduces CO2 emissions and the impact on the environment.
Fits bigger dishes
A Height Adjustment feature allows the upper rack to be quickly and simply raised up or down by an extra 2 inches. It can accommodate almost all dishes (up to 13.5 inches), so cleaning tall, wide and oversized pots and plates is easy.
Rotary

Washing Type

265 kWh/year

Energy Annual consumption
Rated

1

out of

5
by
Sad Customer
from
Poor Choice
It died after 5 years of light use, it never washed the dishes that well, (intermittent spotting, food particulate deposits, or drying issues) and Samsung service was difficult to understand because of the person's thick accent. Also, I was never impressed with how the racks were designed compared to other dishwashers I owned. In all fairness, it was a quiet dishwasher, never had any bad smells, never leaked, and was easy to install. For me, the cons outweighed the pros and there are less expensive options with better ratings. I'll take more time researching next time to avoid another poor choice.
Date published: 2019-09-02
Rated

1

out of

5
by
Brian T.
from
Complete trash - Unit died in 18 months
This was purchased with our brand new home. A full set of samsung products (Washer, Drier, Fridge, Stove, Microwave range, Dishwasher). We got it all 18 months ago and no complaints about the other items but the dishwasher completely died in that time. Sure enough warranty is only for 12 months so no help from Samsung when I called in. Authorized repair person said the main gasket was done and the major replacement would be 350 for the parts plus labour, more than the cost of the unit itself. I dont know about anyone else but 18 months for an appliance is appalling . Especially when I had my whole house outfitted with the companies products. My only call in to Samsung resulted in them checking my serial number to tell me theres no warranty (thanks but i can already read that myself from the owners manual) and then giving me a number for a service provider. When the unit was working it didnt even do a great job of cleaning the dishes. Every load we did had to use the heavy duty setting just to get them clean, and I pre-rinse ALL dishes in my house before loading them. I had an awful experience being surprised with a nice replacement bill for another unit in the first year and a half. I will never buy another Samsung appliance again nor recommend them to anyone I know. Steer clear of these garbage units.
Date published: 2019-08-11
Rated

3

out of

5
by
Kells
from
Quiet but it has a nasty odor!
From the very beginning this dishwasher has had a nasty odor that fills the kitchen anytime you open the door. Any else have this issue? Any suggestions?
Date published: 2019-09-22
Rated

1

out of

5
by
Sad Customerxxx
from
Soon 1 yr going to complete, More issues/Worries
I bought this dishwasher a year before, now going to complete end of one year. Recently started issues and replaced motor/circuit board etc, Now again having issues, booked for service. Mostly electrical issues inside I hope. I personally feel like except parts inside tub, everything else having issues or may be some technical issues, designed to run only for a year. I'm not sure whether I can get extra warranty on this.
Date published: 2019-09-09
Rated

1

out of

5
by
Adriano
from
Broke and was cheap to buy a new one
Have a break after extract 13 months after warranty period. Called the technician that charged me 80 bucks to figure out that I need 400 bucks in repair. Never again Samsung
Date published: 2019-04-13
Rated

2

out of

5
by
S.O.
from
Nosiest dishwasher ever
I am astrounded by how noisy this dishwasher is. And on this page it daily's quietest in its class... like a stream?! That is simply false. So disappointed with this product and I am a huge fan of Samsung normally but this has let me down.
Date published: 2019-04-05
Rated

2

out of

5
by
Petro
from
Good but not long
After 4 years it died and not fixable, something to do with the electronic. Not the first Samsung device I had issues with but definitely the last..
Date published: 2019-03-31
Rated

1

out of

5
by
SmoothBomber
from
Terrible
Stone dead after only 1 year and 2 months. Samsung will not cover (warranty is only 12 months). Last Samsung appliance I ever buy.
Date published: 2019-02-16
Features and specifications are subject to change without prior notification.