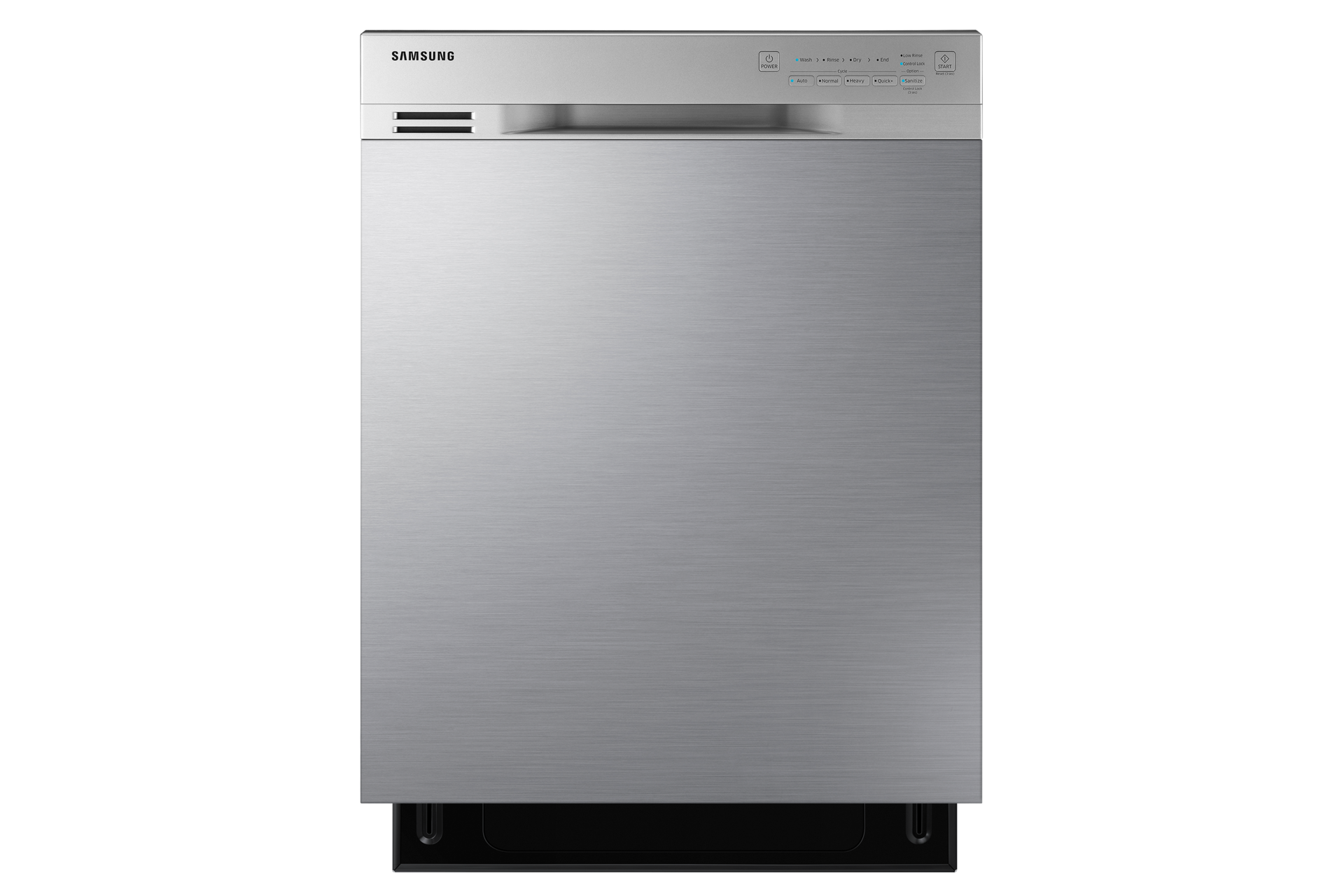 DW80J3020US Dishwasher with Stainless Steel Tub
DW80J3020US/AC
DW80J3020US Dishwasher with Stainless Steel Tub
is rated out of
5
by
6
.
Energy Star
Digital Leakage Sensor
Hidden Display
Use hygienically longer
A Stainless Steel Tub is more durable, quieter and cleaner than plastic. It makes less noise and can wash more hygienically at higher temperatures. It's also resistant to staining and dirt, which prevents bad odors.
Quietest in class*
Designed to create much less noise, as its Stainless Steel Tub absorbs sound when it's working, so it has one of the lowest noise levels in its class. At just 50 decibels the noise it creates is the same as a quiet stream.
* Based on the noise level of 24"Tall size STSS tub / disposal type / STSS Door dishwashers (MSRP $500~$600) contained in Top 5 M/S(A)
Low energy consumption
ENERGY STAR® certified, so you can save money by using less energy and water with each cycle. This exceptional energy efficiency also reduces CO2 emissions and the impact on the environment.
Fits bigger dishes
A Height Adjustment feature allows the upper rack to be quickly and simply raised up or down by an extra 2 inches. It can accommodate almost all dishes (up to 13.5 inches), so cleaning tall, wide and oversized pots and plates is easy.
Rotary

Washing Type

265 kWh/year

Energy Annual consumption
Rated

5

out of

5
by
Moe14
from
This product is great all the way!
Great machine! Very quiet and does an efficient job. Also love the "chimes" it makes when turned on and when the cycle finishes. The only down side is we couldn't figure out why the bin was always wet in the morning after a wash and that really bugged me! Finally we figured that since it had no visible heat element to dry (only air), we would try and leave the door a bit open for it to evaporate. It worked! So after a cycle open the door for a bit and it will all go away.
Date published: 2016-05-29
Rated

2

out of

5
by
unhappy
from
This brand new product doesn't work
just got this dishwasher thru homedepot; installed it and after the first cycle the heavy cycle light flashed. Error states leak sensor is detecting water. There are utube videos for this. uninstalled the dishwasher, dried the sensor, reinstalled. Same error. must be leaking internally as there is no water anywhere else but inside the dishwasher.
Date published: 2016-09-24
Rated

2

out of

5
by
Janice
from
Not thrilled with this appliance
This dishwasher doesn't get my dishes clean. I have tried rinsing really well and not rinsing at all no matter the dishes aren't clean. Very frustrating. Cycle lasts a really long time then I have to hand wash. Also no delayed start which is a must have feature.
Date published: 2016-05-07
Rated

1

out of

5
by
shortfuse69
from
I'll spring a for a better one next time
I'm not one to write reviews but I purchased this dishwasher 2 years a go, was working great until a few months a go. I called Samsung because I have an extended warranty, I called because food particles were being left on the dishes, particles that were not even there to begin with. ran the dishwasher with clean dishes and still came out dirty, then was advised that the filter needed to be cleaned. the reason I bought it was because it's a self cleaning filter if I had to clean the filter I would of bought one that I had to clean the filter. doesn't sound like self cleaning to me.
Date published: 2018-07-24
Rated

1

out of

5
by
wolfe
from
stopped working 1 year after i bought it
one year after i bought it the drain pump needs to be replaced.
Date published: 2018-05-23
Rated

1

out of

5
by
Nikki
from
Doesn't clean dishes.
No matter how well we rinse dishes, there is always crud left inside glasses and mugs in the top rack...really frustrating. Just when you think you can put the dishes away, more than 3/4 of the top rack has to be hand washed to actually be used. (Also didn't realize that there was no delay option, when purchased.)
Date published: 2016-02-11
Features and specifications are subject to change without prior notification.