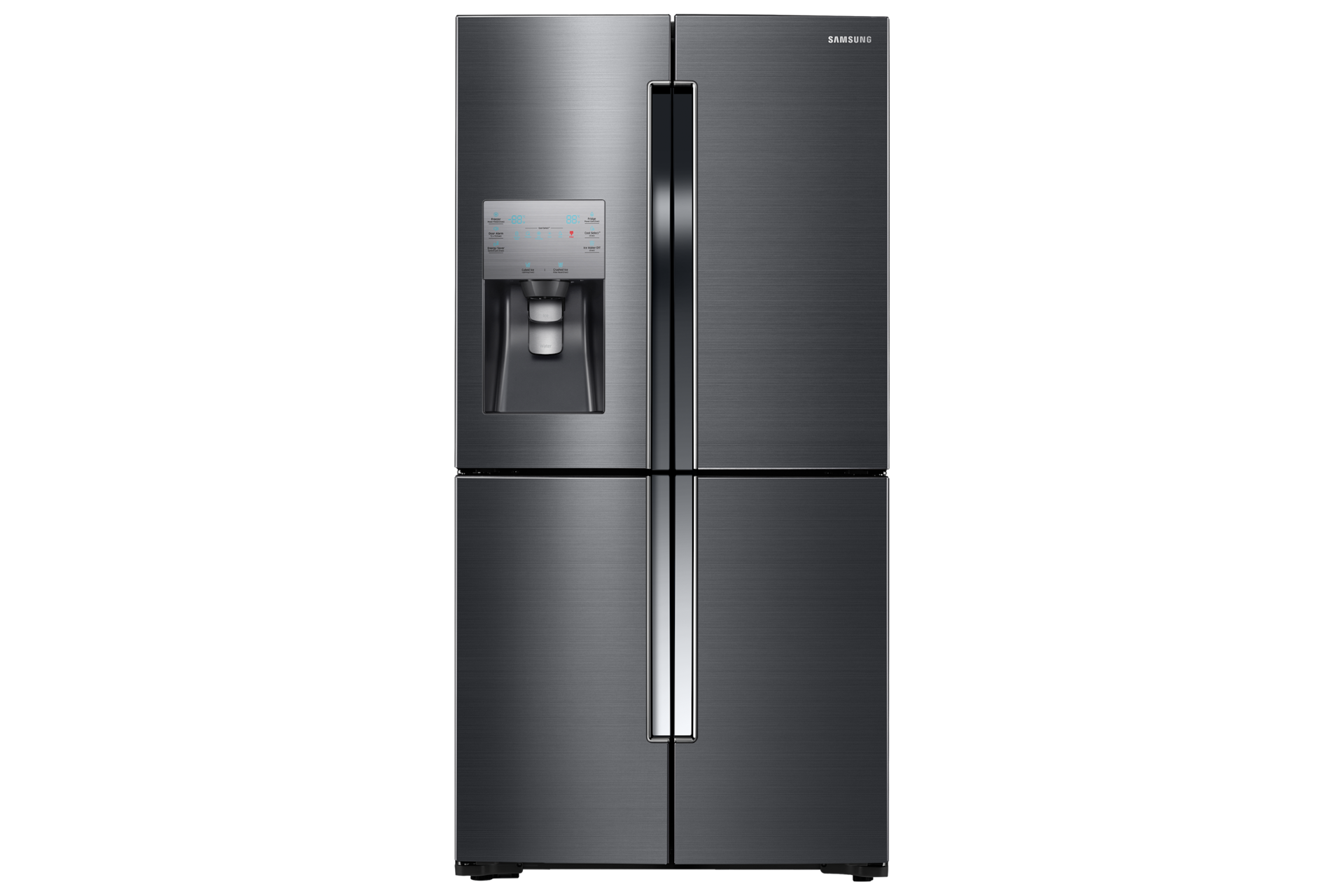 RF23J9011SG Black Stainless 4 Door Flex with Triple Cooling system, 22.5 cu.ft.
RF23J9011SG/AA
RF23J9011SG Black Stainless 4 Door Flex with Triple Cooling system, 22.5 cu.ft.
is rated out of
5
by
8
.
Triple Cooling™
Water Dispenser
6 EA
Number of Door Pocket
Outstanding freshness, Kitchen harmony
The counter depth and height design blends harmoniously with your kitchen, but opens wide and makes it easier to store any food. Its Triple Cooling System and flexible temperature technology also keep food fresher.
Revolutionary cooling
A Triple Cooling System independently controls and optimizes the temperature, maximizes humidity and prevents odors mixing in 3 compartment.
Perfectly harmonious design
The stylish counter depth and height design fits seamlessly with the surface of your existing kitchen furniture for a completely harmonious look that upgrades your whole kitchen and makes your place look gorgeous.
Space on demand
The Cool Select zone+ provides the ultimate in food storage flexibility, so everything stays fresher. The bottom right compartment can be easily converted from a fridge to freezer with four temperature settings.
Preserve meat/fish freshness
A Chill mode in the bottom right door provides precise cooling for preserving fish, meat and poultry – keeping them at an optimum -1°C with minimized temperature fluctuation, so they stay fresh with the best flavor and texture.
Store and see more
Has a big capacity, so there's plenty of space in the fridge and freezer to store any shape or type of food. And it has 4 doors that open out wide, so you can see everything at a glance.
Easy to store
The Two Step Foldable Shelf slides in and out and can be folded up to create more room for larger bottles and tall or bulky containers. So you can adjust it to fit everything in and safely reach things at the back.
Timelessly stylish
Has a timelessly stylish and refined look and feel that will outlast passing trends. With its contoured metal body and recessed handles it will add a real touch of professionalism to your kitchen for many years.
Holds larger items
An Easy Big Door Bin lets you safely store larger items inside the door. It can handle bulky cartons of milk and juice and two rows of drinks cans and bottles. So it frees up shelf space and is great for parties!
Fingerprint resistant finish
Fingerprint resistant
Helps reduce smudges for an everyday great appearance.
160 

Net Weight(kg)

6 EA

Number of Door Pocket
Rated

5

out of

5
by
Yvonne's fridge
from
Excellent Appliance!!! But!
Love this fridge and everything about it!!! We have had one minor issue with the ice maker! Still trying to get it resolved!!!
Date published: 2019-06-18
Rated

5

out of

5
by
Renovation complete
from
The flex zone is perfect for those who have also have a deep freezer
Had the stainless steel version of this fridge for six months and It has been my best fridge EVER. The counter depth means that nothing gets lost (i.e. no unplanned science projects ), the performance has been great so my food is lasting longer, no issues with fingerprints like the "old" SS and it is very easy to organize food for ease of access. The stylish look is icing on the cake. The only negative was the after sale support as one of the doors arrived scratched. It was time consuming to get anyone to take ownership for the fix. When the new door arrived it came without the display so the entire process began again. Samsung (or their local contractors???) has an opportunity to improve this area of the end to end process. Now that all of that is over I am delighted with my fridge.
Date published: 2017-11-24
Rated

5

out of

5
by
Paul
from
This product is very stylish, it's one WOW factor in my kitchen.
I love my new counter depth fridge. It is quiet, I don't even hear the ice cube maker. It's amazing feature is the conversion of half the freezer into a fridge ..... Wow! Kudos to the engineering. The only annoyance is that the door racks aren't adjustable. 750 ml of pop and other don't fit in the door.
Date published: 2016-11-09
Rated

4

out of

5
by
rjk45
from
A fine product
The specs are even better with a easy to use interface
Date published: 2017-06-24
Rated

3

out of

5
by
Betty D
from
Love the look of it!
We purchased our Samsung 22.5 CUFT Model No. RF23J9011SG in April, 2017. We love the layout inside., and room is not a problem. However, for the past month we are having problems with the ice maker. We get a build up of ice on the inside, and CUBE ICE dispenses broken and partly crushed. Now on the Flex side of it. We have that set on chilled. Now we are getting a bad odor, almost like a chemical smell, or stale water. We only store beverages on this side so its not a food odor. We have not contacted Samsung yet, because we are not sure if we should contact the local retailer we purchased it from first. Hopefully once I speak to the right people our problem can be resolved. I will right another review once we resolve the issues.
Date published: 2017-08-28
Rated

2

out of

5
by
worldcup74
from
samsung poor quality
Fridge worked fine for 16 months and the compressor failed and needs to be replaced.
Date published: 2018-04-10
Rated

2

out of

5
by
Danny
from
To smal fridge aria and to big freezer
To big freezer and fridge is very small and very poor design
Date published: 2018-02-17
Rated

1

out of

5
by
Disappointed buyer
from
Samsung will not back their bad product
I bought this fridge in summer of 2017 and while the fridge and freezer were working fine, the ice maker broke down within 3 months. At that time, Samsung fixed the issue as it was still under warranty. However, the ice maker broke down again in Feb 2019 and this time Samsung said they won't fix it even though it is the same issue. Subsequently I found out that there is lawsuit against Samsung in USA as they knew about the design problems with the ice maker but decided to launch it on their high end fridges regardless. unfortunately the lawsuit was launched after I purchased the product or else i would not have bought this fridge. Samsung will not back their bad product. Buyer beware, if you are unlucky enough to get a faulty ice maker (and it is likely you will given the numerous complaints in other appliance stores sites), you will end up repeatedly paying for the repairs out of your own pocket.
Date published: 2019-02-16
Features and specifications are subject to change without prior notification.