Use Samsung Notes on your Galaxy Book S
Last Update date :
Oct 08. 2020
Create memos and reminders on your Galaxy Book S with the Samsung Notes app. You can type notes using the keyboard or draw right on the screen with the S-Pen. If your model doesn't include an S-Pen, use a stylus or your finger to create notes instead. If you have voice recognition enabled, you can speak to the app so it will write notes for you. Your notes can be saved for future editing and browsing if you need to check them again.
Information provided applies to devices sold in Canada. Available screens and settings may vary for Galaxy Book sold S in other countries.
Create a note
Write as many notes as you like in the Samsung Notes app and then save them for later. Or, resize a note on your screen and leave it as a reminder while you browse the web or use other apps. To open the app, search for and select Samsung Notes in the search bar. Select the Plus icon in the bottom right of the app to open a new note. Then, choose from the Text, Pen, and Brush writing options. Select Text to begin typing, or select the Pen or Brush to draw directly on the screen.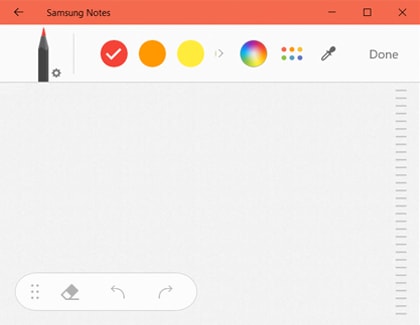 Here's a more in-depth look at the different options:

Text: This option is for writing digital notes. You can use the menu at the bottom to adjust the font size or color, and bold, italicize, or underline text. You can even create a checklist, a numbered list, or a bulleted list to keep your thoughts nice and organized.
Pen: The Pen option is for handwriting your notes. Once you select the Pen option, the toolbar will appear at the bottom of your note. You can move the toolbar around by dragging it. The Pen icons let you select your desired pen color or type. The Eraser is for erasing your pen strokes and the Undo/Redo options are for fixing mistakes. Finally, you can use the Selection mode option (it looks like a dotted line) to select certain areas of the note.
Brush: The Brush option is similar to the Pen option but gives you more artistic tools because it's meant for drawing. You can select from seven different brush types, and each brush has its own settings you can adjust. The Eraser is for erasing your brush strokes and the Undo/Redo options are for fixing mistakes.
Image: Select the paperclip icon to insert an image from your device directly into the note.
Voice: Select the paperclip icon to insert an audio recording from your device directly into the note.
When you are finished with your note, select Save to save it in the app. Once it's been saved, you can mark it as important, share it, or lock it with a password so only you can view it.
Edit and browse
If you saved a note and need to edit it, you can find it again from Samsung Notes' Home screen, or by searching for it in the app's search bar. To open a note from Samsung Notes, choose between All notes, Frequently used, or Categories on the Home screen. A preview of your note will appear on the right.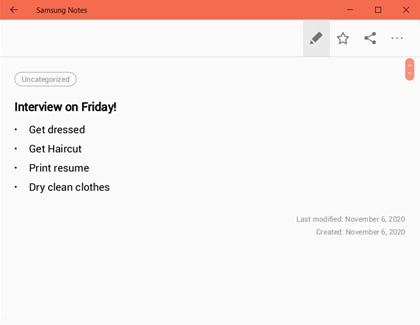 Select your desired note to open it. Select the Pencil icon to begin editing, and then select Save when you're finished.

Sort your notes into groups if you'd like to stay organized. When saving or editing a note, select Uncategorized and select a category. Your note will then be saved under that category. From the Home screen, select Manage categories to view your current categories or add new ones.
Sync your notes
If you use Samsung Notes on your phone or tablet and would like to access your notes, you can sync them to your Galaxy Book S. Just add your Samsung account to the app to automatically sync your notes across your devices.

To add your Samsung account, open Samsung Notes on your Galaxy Book S, and select Samsung Notes settings. Select Samsung Cloud, input your Samsung account information, and then sign in.

From your phone, open Samsung Notes, and then tap the Menu icon (the three horizontal lines). Tap Settings, tap Samsung account, and then tap the switch to turn it on. You will be prompted to sign into your Samsung account.
Once your Samsung account has been added, you can access all of your notes on each device for convenient editing, sharing, and organizing.