Samsung Dishwasher - Level the appliance
Last Update date :
Oct 07. 2020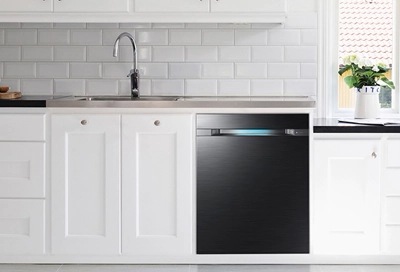 An un-level dishwasher will cause leaks or other performance issues. This guide will show you how to level your dishwasher vertically and horizontally.
The provided information refers to dishwashers sold in Canada. The available settings and options may differ for appliances sold in other countries.
Required tools
You will need a level, hex tool, and wrench to level your dishwasher. Additionally, if the dishwasher has already been installed, the kick plate will have to be removed to access the legs and rear adjustment screw.

Level your dishwasher
1
Check the horizontal level. If the dishwasher is not level, rotate the front legs counterclockwise to raise that corner of the dishwasher, or clockwise to lower it, until the dishwasher is level.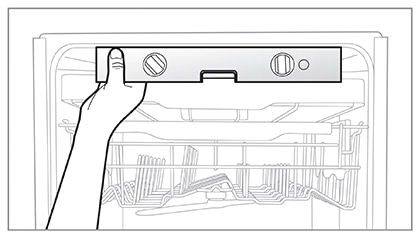 2
Check the vertical level. If the dishwasher is not level front to back, adjust the height of the rear leg using a Hex tool to turn the rear adjustment screw at the front of the base. Turning to the left will raise the back of the dishwasher; turning to the right will lower it.
3
Check the door clearance. Make sure the top of the door does not contact screws, brackets, or the counter top. If it does, adjust the leveling legs on the bottom front of the dishwasher.
The space between the dishwasher cabinet opening and tub must be equal on both sides maintaining 55,88 cm (22 inch) width. This can also be checked by placing a level against the inside of the door frame and looking for gaps between the level and the frame.