Check out the new camera functions on the Galaxy Z Flip
Last Update date :
Oct 05. 2020
The fashionable new foldable smartphone, Galaxy Z Flip gives an unprecedented camera experience that captures your best selfies and moments from every angle imaginable with the ultra-wide lens and night hyperlapse. 
Take hands-free photos and videos
The Galaxy Z Flip is perfect for hands-free photography when you're using the cover screen, or when it's folded in Flex (Free-stop) mode. Easily take photos with Galaxy Z Flip by giving a voice command or showing your palm to the screen.

Note: Flex mode is supported only within a certain angle range.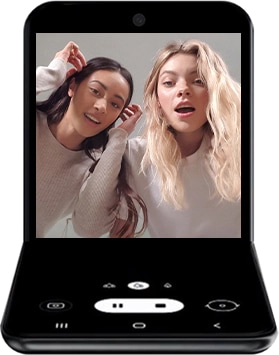 How to select Shooting methods
 
Step 1. Open the Galaxy Z Flip and tap on Camera app.
Step 2. Tap Settings icon located on the upper left-side.
Step 3. Tap the Shooting methods menu. 
You can turn on the shooting methods like Voice control and Show palm.

Tap the switch for voice control, so you can take a photo by saying keywords like "Smile," "Cheese," or "Capture." You can also record a video by saying "Record video."  

To activate palm recognition, tap the switch for Show palm. You'll be able to take a photo by showing your palm to the screen. When using the cover screen, showing your palm will start a timer, so you'll know exactly when the photo will be taken.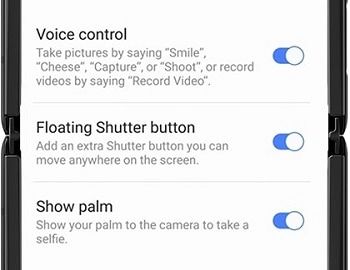 Enhanced night photography
Galaxy Z Flip's camera is powerful even at night. When paired with freestop folding acting as a tripod, night photography gives you a new kind of night shot.  

Using the Night mode, you are able to shoot up to 14 shots/5 sec to combine into one single bright and clear photo.
To enable night mode, open the Camera app, tap MORE menu and tap the night mode icon.
Utilize the 'Night hyperlapse' function in the camera to take dynamic night videos.
To enable night hyperlapse mode, open the Camera app, tap MORE menu and tap hyperlapse and tap the moon icon.
Note: When shooting in 'Night hyperlapse' mode, you should keep your phone steady. It is recommended to position the Galaxy Z Flip upright, and place it on a solid surface.

Shoot photos and videos with wide range of screen ratios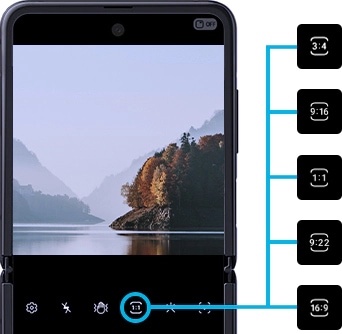 Available screen ratio mode types
3:4 : photo only (photo set as default)
9:16 : photo, video (video set as default)

1:1 : photo, video 

9:22 : photo, video 

16:9 : video only