Control the screen of you Galaxy Fit-e (SM-R375)
Last Update date :
Jan 11. 2022
The Gear Fit-e features a compact and simplified design with an elegant display. The design is so minimalistic that the watch doesn't have any buttons. You control it with simple gestures. It's like magic!
Note: Available screens and settings may vary by provider, phone, or watch.
Turn the screen on
To turn on the screen simply raise the Galaxy Fit-e on your wrist.

The screen will automatically turn off if the Galaxy Fit-e is not used for a specified period.

Screen wake-up
You can also set the Galaxy Fit-e to turn the screen on by tapping it twice. Launch the Galaxy Wearable app on your mobile device. Tap Home (at the bottom of the screen) if required. Scroll to and tap Advanced, and then tap Screen wake-up.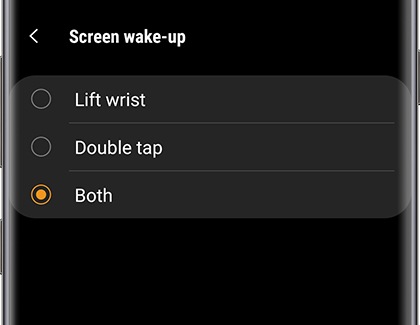 From here, you can choose how to wake-up the screen of your watch: select Lift wrist, Double tap or Both.

Navigate the screens
Because the screen is not a touchscreen, swipe does not work. To navigate the different screens of your watch, you need to tap the edge of the screen with your finger.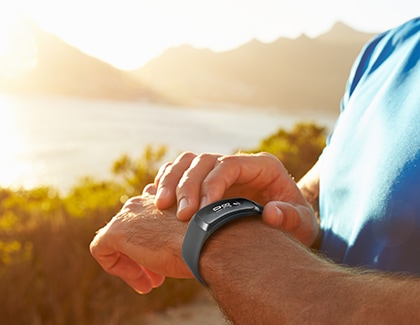 If you are having any issue navigating the screen, there is an alternative method: simply tap the left or right side of the screen, directly on the band (and not on the screen itself). It should work like a charm!