Use hearing enhancement features on your Galaxy phone
Last Update date :
Feb 08. 2022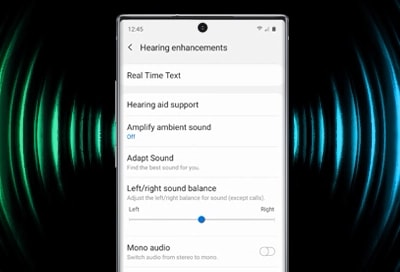 Having trouble with your hearing does not mean you need to miss out on alerts from your phone. You can still enjoy great sound quality when receiving an email, playing a game, or using a hearing aid. Your phone offers Hearing Enhancements for these situations, so you can adjust the audio to suit your needs.
Note: Information provided applies to devices sold in Canada. Available screens and settings may vary for smartphones sold in other countries.
Use hearing enhancement features
The standard audio settings on your phone may not be suitable for everyone. If you need assistance detecting different sounds, like text message notifications or nearby conversations, turn on the Hearing enhancement features. From Settings, swipe to and tap Accessibility, and then tap Hearing Enhancements.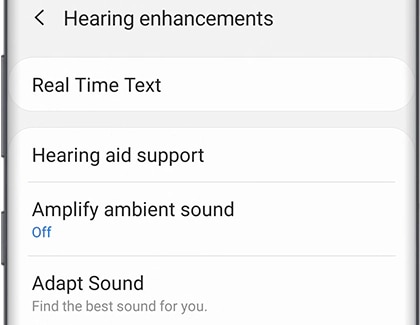 Swipe up to see all the convenient options for improving your audio experience:

Hearing aid support: Optimize the sound quality for use with hearing aids, or use Bluetooth to pair compatible hearing aids.

Amplify ambient sound: Using your headphones, you can increase the volume of conversations around you. Tap the switch to turn this on, and the Accessibility icon (it looks like a person) will appear in your navigation bar.

Adapt Sound: Find the appropriate sound based on your age range, or create your own personalized sound.

Left/right sound balance: Adjust the slider to find the correct balance for sounds coming from the left side and right side of your phone's speakers. This does not include phone calls.

Mono audio: Easily switch between stereo and mono audio.

Mute all sounds: Silence all sounds, including calls and notifications.

Live transcribe: Download the Live Transcribe app to hear live speech. Tap this option to begin the download.

Subtitle settings: Choose between Samsung or Google subtitles if you'd like subtitles to appear on your screen when playing videos with embedded subtitles.

Sound detectors: Receive alerts when a baby is crying or when a doorbell rings. The doorbell detector will prompt you to make a recording of your doorbell before it is able to detect it.

Please answer all questions.
The coding for Contact US > Call > View more function. And this text is only displayed on the editor page, please do not delet this component from Support Home. Thank you