Take a screenshot on your Galaxy phone
Last Update date :
May 18. 2021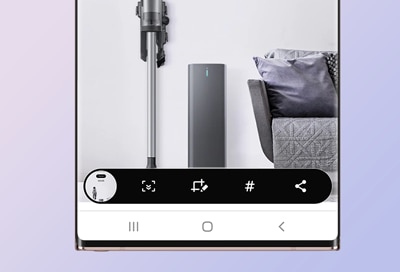 Whether you just reached a new level in a game or want to save an important document, you can capture it by taking a screenshot on your Galaxy phone. Depending on the type of phone you have, capturing a screenshot may be a little different. But either way, it's super easy and convenient.
Information provided applies to devices sold in Canada. Available screens and settings may vary for smartphones sold in other countries. The screenshot function may not work while using the Secure Folder feature.
Use button combinations
No matter what Galaxy phone you have, the steps for taking a screenshot are similar, but like we said, it does vary slightly based on the model. Before you can take one, you will need to locate the Power and Volume down keys.
Usually, the Volume keys are on the left side and the Power button (or Side key) is on the right. However, for some models, the keys' locations may be reversed. Or all the keys could be on the same side!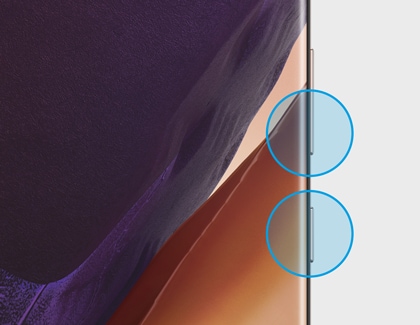 When you want to take a screenshot, very briefly hold the Volume down and Power buttons (or Side key) simultaneously. The screen will flash, indicating that a screenshot was captured.
Use palm swipe to capture
Wait, there's another way to take a screenshot. On some phones, you can use palm swipe to take a screenshot without even pressing a button.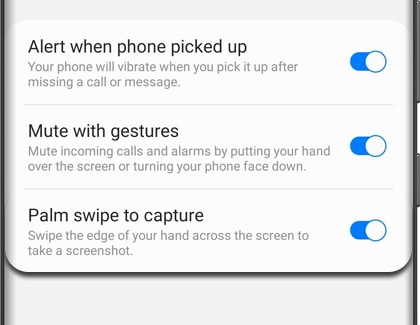 From Settings, search for and select Palm swipe to capture. Then, tap the switch next to Palm swipe to capture. Now you'll be able to take a screenshot just by swiping the edge of your hand across your phone's screen.

Use scroll capture
Note: Scroll capture availability may vary by country, carrier, and device.
Is that webpage too long to capture in just one screen shot? Scroll capture lets you take multiple screenshots of one page and then combines them all into one big screenshot. That way, you get the whole picture.
Navigate to the screen you want to capture. To take the screenshot, press the Power and Volume down keys simultaneously. When the Smart capture menu appears, tap the Scroll capture icon - it looks like a downward arrow, and it will bounce up and down. Then, tap it a second time to begin the scroll capture process. Keep tapping the icon until it reaches the bottom of the page or your desired spot.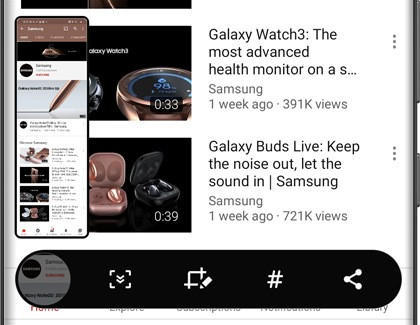 Add tags to your screenshots by tapping the hashtag icon in the Smart capture menu. Suggested tags will appear, but you can create your own as well. Tap Save to save your tag. When you are done, simply tap outside of the Smart capture menu bar. To view the captured screen, tap the screenshot preview or navigate to Gallery.
Note: The smart capture icon will not appear unless you are on a large web page, app screen, or image that requires scrolling. It may not work on certain websites. On the Galaxy Note10, you cannot turn Smart capture off. It is always enabled.
Use your voice
If you have Bixby Voice or Google Assistant setup, you can take a screenshot with a simple voice command. Say "Hey Bixby, take a screenshot," and Bixby will capture what's on your screen.

Note: You can even string together complex commands and say "Hey Bixby, take a screenshot, and share on Twitter."
Use the S Pen (compatible models only)
If you're always using your S Pen with your Note phone, why not take a screenshot with it as well? You can use the Screen write feature to snap a quick screenshot.
Remove your S Pen from your phone, and then navigate to the screen you would like to capture. With your S Pen, tap the Air command menu icon, and then tap Screen write. Your phone will automatically take a screenshot of the page you are on. Use the controls to write or draw on the screenshot if you would like. When you are done, tap the Save icon to store the screenshot in Gallery.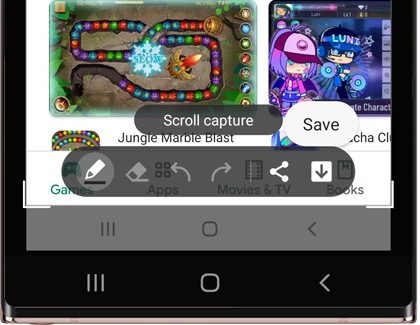 Note: This feature requires a S Pen. As a consequence, it is only available on Galaxy Note devices or on Galaxy S21 Ultra 5G.
View screenshots
No matter what kind of Galaxy phone you have, you will be able to view your screenshots in the same place. Just navigate to your apps and open Gallery.

On some phones, you can tap Albums to see a collection of all the screenshots you have taken on your phone.

Please answer all questions.
The coding for Contact US > Call > View more function. And this text is only displayed on the editor page, please do not delet this component from Support Home. Thank you