Enjoy video calls on your Galaxy phone
Last Update date :
Feb 09. 2021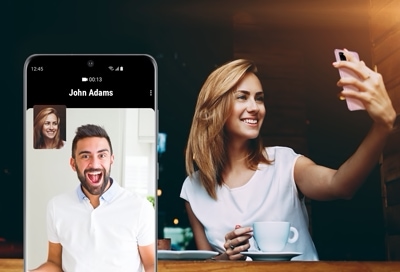 When you are away from your friends or family and talking on the phone just isn't enough, you can see them face to face using video calls on your Galaxy phone. It has a number of video calls services already available, or you can use one of the many other options or apps that are out there. You may not be seeing your loved ones in person, but it's the next best thing since you'll be able to see them in real time.
Information provided applies to devices sold in Canada. Available screens and settings may vary for smartphones sold in other countries. Wi-Fi or data connection is required for video calls. In certain cases, additional data charges may apply.
Built-in video calling and chat
Depending on your carrier, you may have the option to start a video call while you are already on the phone. When you're using the Phone app on your Galaxy phone, simply tap the Video call icon to begin a call. It's in between the Add call and Bluetooth icons.

To switch back to a standard voice call, tap the Camera icon to shut your device's camera off. This may vary depending on your carrier. If you are unable to switch back to a voice call using the icon, you might have to end the call and call back.

This function may not be available on all devices or carriers. Video call is only available if both devices are on Android OS.

Google Duo, WhatsApp and other video call options
Google Duo is an app that allows for video chat and it even comes preinstalled on most Galaxy devices! If you haven't seen it on your device, make sure to check the Google folder on the Apps screen. The setup is easy. Just sign into your Google account and follow a couple of quick steps.

Plenty of other third-party apps have video chat capabilities too, such as WhatsApp, Facebook, Skype, and SnapChat. These are only a few of the many options you have when it comes to making video calls. Use one of these apps or one that you are already familiar with. There are plenty of other options available on the Galaxy Store and Play Store.

Please answer all questions.
The coding for Contact US > Call > View more function. And this text is only displayed on the editor page, please do not delet this component from Support Home. Thank you