Wall chargers and charging your Galaxy phone
Last Update date :
Jul 28. 2022
Charging is not the most exciting aspect of a Galaxy phone, but it is a vital one. You can charge your device using any Samsung travel adapter, but charging speeds may vary depending on the charger. Using the charger that originally came with a Galaxy phone is recommended. If you need additional cables, power adapters, batteries, or replacements, only use Samsung charging devices and batteries.
Note: Information provided applies to devices sold in Canada. Available screens and settings may vary for smartphones sold in other countries.
Which charging technology is supported by my phone or tablet?
We discovered that more and more Galaxy users are reusing accessories they already have. Therefore, we are transitioning to the removal of the wall charger and earphones in our latest line of Galaxy devices. If you get a new phone or tablet, such as a Galaxy S22, you will need to buy the wall charger separately. However, the inbox items will still include a USB-C cable that can be used for transferring data or for connecting an existing charger.
The Galaxy S22 and S21 lineup are compatible with USB-C chargers that support USB Power delivery 3.0 or Quick Charge 2.0. They can be charged using a standard 15W charger or a Superfast 25W charger. Samsung has used USB-C chargers on devices since 2017 – or since the Galaxy S8 and Note8. If you've had a Galaxy device since then, you'll be able to use its charger.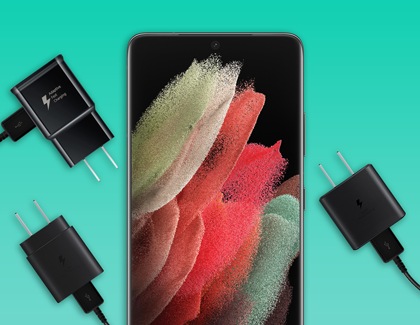 Here are past devices with compatible chargers:
Chargers with Superfast charging
Note20 series phones


S20 series phones


Note10 series phones


Z Fold 2 and Z Fold3


Galaxy A71 and A53
Chargers with Adaptive fast charging
Z Fold and Z Flip series phones


S10 series phones


Note9 and Note8 series phones


S9 and S8 series phones


A70, A50, A51, A52 5G, A42 5G, A32 5G, A13, A12, and A02s
Note: These models can also be used with a standard 15W charger if needed. 
If you are a first-time Galaxy customer or do not have the charger for past devices, you can purchase a new wall charger or wireless charger.
Which charger goes with my Galaxy phone?
The correct charger is usually included in the box, but if you are in need of a new one, find your model in the following lists to see what kind you need. You can purchase replacement chargers directly from Samsung.com.
Most Galaxy phones use either a USB Type C or Micro USB charger. USB Type C is the newest type of USB charger. The design helps prevent damage occurring inside the USB port because it does not matter which way you insert it into a Galaxy phone.
You are probably already familiar with Micro USB Type B cables. They have been used for a long time with multiple devices. The cable's head is not symmetrical. One side has ridges while the other is flat. Make sure to insert it into your phone's USB port the correct way or it could damage the inside of your Galaxy phone.
Note: If you are not sure what model phone or tablet you have, you can check in the device's settings. Navigate to and open Settings, and then tap About phone. Your device's name and model number will appear on this page.
Devices that use USB Type C
Galaxy S phones: S8, S8+, S9, S9+, S10e, S10, S10+, S10 5G, S20 5G, S20+ 5G, S20 Ultra 5G, S21 5G, S21+ 5G, and S21 Ultra 5G


Galaxy Fold phones: Fold, Z Fold2 5G, Z Flip, and Z Flip 5G


Galaxy Note phones: Note8, Note9, Note10, Note10+, Note10+ 5G, Note 20 5G, and Note20 Ultra 5G


Galaxy A phones: A10e, A20, A50, A51, A70, and A71
Devices that use Micro USB Type B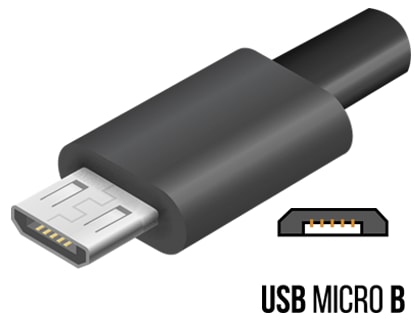 Galaxy S phones: S5, S6, S6 edge, S7, and S7 edge


Galaxy Note phones: Note5


Galaxy A phones: A6


Galaxy J phones: J3 and J7 (all models)
Note: If you have lost your Micro USB Type B charger, you can purchase a new one on Samsung.com. You can also use adapters with these cables to charge USB Type C devices.
What kind of charger should I use?
Important: Using third-party chargers may invalidate your warranty and cause damage.
All phones since the Galaxy S8 and Note8 (including the new Galaxy S21 5G) are compatible with USB-C chargers and QI-certified wireless chargers. Newer Galaxy tablets are also compatible with USB-C chargers but may not work with wireless chargers because of their size.
Wireless chargers
Wireless Charger Pad: This wireless pad lays flat on a table, so you can lay your phone down on it to charge. It is 9 W and can be used with other QI-certified devices like iPhones.
Wireless Charger Convertible: This is another charging pad, but it stands your phone upright. You can place your phone upright or sideways and use it while it is charging!


Wireless Charger Pad Trio: This new accessory lets you wirelessly charge three devices at once! You can charge a phone, a smart watch, and another device simultaneously. Switch it up for the best order that works for you.


15W Wireless Charger Single with Travel Adapter: This is a flat wireless charger that is compatible with Super Fast Charging travel adapters.
What charger should I use when traveling internationally?
Most Samsung chargers can be used in countries outside of the United States. However, you should check the charger to make sure it is compatible.
"TRAVEL ADAPTER" and an input voltage of 100-240 V will be printed on Samsung chargers. If your charger has these features, then typically only a plug adapter is required when traveling internationally. These can be purchased from many electronics retailers.
Best practices for charging
If you're having some trouble charging your device, you can use our tips below to get the most out of each charge.
When using wireless charging accessories, please be aware that any metal or magnetic materials (e.g., coins, magnetic cards) placed between the device and the wireless charger may decrease charging efficiency or cause damage to the phone or tablet and charger.
Charging may take longer when using adapters, charging wirelessly, or charging the phone through another device like a PC.
When using wired charging accessories, always check whether any foreign objects are in the connector or plug, as they may prevent charging or cause the charging accessories to overheat.
Make sure your phone does not overheat. Keep it in a cool location, especially while charging.
Do not let your battery completely drain. With new lithium-ion batteries being used, it is better to keep the battery partially charged, instead of letting it die. When possible, charge your device in small amounts to keep the battery from depleting. If the power has been depleted, the battery charging indicator may take up to 10 minutes to appear on the phone screen while charging.
Use a genuine Samsung fast charger for the quickest charge. You can not use the fast charging feature if you are using a standard charger.
If your phone is not charging, there are a couple of things that could be causing the problem. However, if your charger does not work at all, it should be replaced. If it is under warranty you can request service. If not, you will need to purchase a new one.
Make sure your charger is authentic
Important: Using third-party chargers may invalidate your warranty and cause damage. If you need to replace your charger, please visit Samsung.com.
Samsung does not recommend using any chargers other than Samsung chargers, especially chargers that are uncertified or counterfeit. These can hinder the charging of your device and may cause battery issues if used long term.
You should also make sure your charger is an authentic Samsung charger. Standard, genuine Samsung chargers will have the following:
The Samsung logo
The words "TRAVELADAPTER"
A model code
A serial number Please click the submit button below to share your feedback with us. Thank you for your participation.
Please answer all questions.
The coding for Contact US > Call > View more function. And this text is only displayed on the editor page, please do not delet this component from Support Home. Thank you