Galaxy Tab S6 - Attach the back cover and the keyboard (SM-T860)
Last Update date :
Oct 07. 2020
The Galaxy Tab S6 is a slim, 2-in-1 device that performs like a laptop but has the mobility of a tablet. You can make it even more PC-like by attaching the exclusive keyboard cover with a built-in trackpad. All it takes is a few simple steps to instantly transform your tablet.
Information provided applies to devices sold in Canada. Available screens and settings may vary for tablets sold in other countries.
Attach the back cover and the keyboard
Adding the book cover keyboard to your Galaxy Tab S6 will unlock its full potential. The book cover keyboard is sold separately. The accessory is made of two separate parts - a back cover and a keyboard.
First, place the cover on the back of your tablet, using the camera cutout as a guide. The sticky area on the back cover should be in direct contact with the back of your tablet.
The back cover is made of 3 panels (a small, medium, and large one), and it's important to understand their purposes. The small panel with the S Pen cover is designed to hold the S Pen. Simply lift it, put the S Pen in the engraved area, and close the panel to protect your S Pen.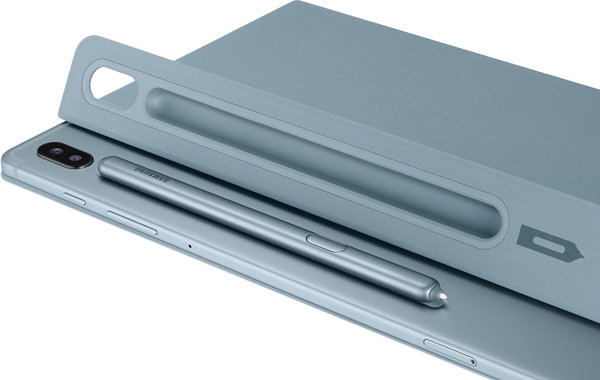 The middle panel, with the sticky area is the anchor panel. It always stays glued to your tablet. The larger panel on the opposite side is an integrated kickstand. Lift the large panel and use the stand to hold your tablet in different angle.
If you use the back cover, we highly recommend keeping it attached to your tablet at all times to ensure the best performance. The keyboard, on the other hand, can be attached and detached at any time.
Once the back cover is attached to the tablet, you can attach the keyboard. Each time you want to perform the attachment procedure, first make sure to lift the large panel of the back cover to get the kickstand ready. Simply align the edge of the tablet that's closest to the stand with the keyboard's connector.
The cover's magnets will help guide you during the procedure. They also help the keyboard safely stay attached to the tablet; even if you lift the tablet, the keyboard will stay connected!
If you close the keyboard on the tablet, it will put your device in sleep mode and protect your screen. Open the keyboard and the tablet will be back on automatically.