Changing the source device name on your Samsung TV
Last Update date :
Aug 03. 2022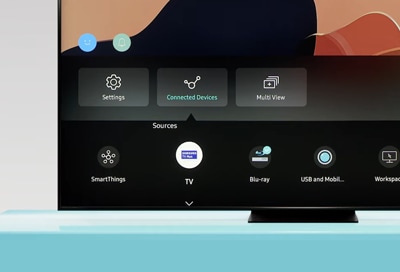 You can connect all sorts of compatible devices to your Samsung TV, like smart phones and storage devices, but you'll need a way to keep track of everything. Fortunately, you can organize all of your devices and ports by naming them. When you're connecting multiple devices at once, simply add the names to your Home screen so there's no confusion. If you're unsure how to connect certain devices, you can use the Source menu's Connection Guide.
Note: The provided information refers to Samsung Smart TVs sold in Canada. The available settings and options may differ for devices sold in other countries.
Device names and additional features
Edit the names of your devices so you'll know what to connect to when you want to watch a movie or play a game. You can use the Source screen to access extra features for controlling your devices as well.
Press the Home button on your TV's remote to open the Home screen.


Use the directional pad to select Source, and then select the device you want to name.


Once selected, press up to use the available functions.
Note: If you'd like to add the device to the Home screen, select Add to Home.


Finally, select Edit to rename the inputs and choose new icons for your devices. These icons will appear on the Source screen and on the Home screen.




Additional features may be available on the Source screen:
Universal Remote: Use your TV's remote to control your connected devices, such as Blu-ray players, DVD players, and game consoles. You must register the devices using the instructions on the screen. The TV's output will automatically switch to the external device when you connect it. When connecting a USB device, a message will appear with the device's content details. You can quickly access the device from the popup message.
Note: This function may not be available depending on your current area, TV model, or connected device.


Remote Access: Use your PC with Remote PC or Wireless Screen Sharing on your TV. Connect your mouse and keyboard to the TV, and then register your PC to use this function.


Connection Guide: Includes visual instructions for connecting your devices. Select this guide if you have questions about connecting audio or video devices, storage devices, keyboards, smart phones, or game consoles.
Please click the submit button below to share your feedback with us. Thank you for your participation.
Please answer all questions.