Tips Pintar Mengatur Pengeluaran
Rumah Tangga Dengan Memilih AC Yang Tepat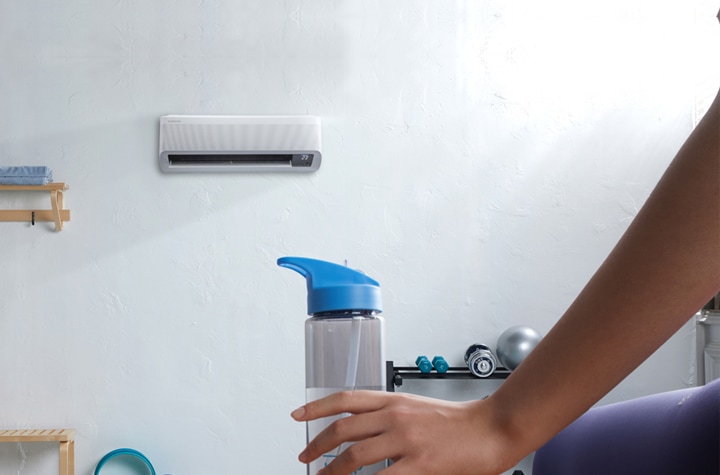 Tidak dapat dipungkiri, di masa seperti sekarang ini, kita perlu melakukan banyak penyesuaian gaya hidup. Kita menjadi lebih sering di rumah, bekerja dari rumah dan menghabiskan waktu lebih bersama keluarga. Namun, ini artinya juga mengakibatkan konsumsi listrik rumah tangga meningkat yang ujung – ujungnya berpengaruh pada pengeluaran rumah tangga
Air Conditioner (AC) sebagai salah satu perangkat elektronik yang pasti penggunannya juga meningkat seiring aktivitas di rumah meningkat menjadi hal yang perlu diperhatikan. Salah satunya adalah dengan memilih jenis AC inverter yang dapat menghemat konsumsi listrik. Umumya, orang akan bingung saat membandingkan AC biasa dengan AC inverter dari segi konsumsi daya listrik. Untuk itu Anda bisa mempelajari tabel perbandingan berikut:
Menggunakan AC Biasa

Dengan AC Samsung Inverter

Dari perbandingan tabel di atas, terlihat bahwa tagihan listrik dengan AC Samsung Inverter jauh lebih murah dibanding dengan AC biasa. Berikutnya, Anda bisa lebih mengenal AC inverter dengan mengetahui karakteristik dan kelebihan lainnya.
Mengenal Karakteristik AC Inverter
AC inverter bisa disebut sebagai jenis AC yang teknologinya paling fleksibel karena dapat disesuaikan dengan kondisi ruangan. Ketika baru dinyalakan, AC inverter akan menggunakan daya listrik yang besar untuk mendinginkan ruangan secara cepat demi mencapai suhu yang Anda inginkan. Jika suhu ruangan sudah mencapai yang diinginkan, maka kinerja kompresor AC akan menurun hingga mencapai titik minimal dan kebutuhan listrik hanya 180 watt.
Membandingkan AC Biasadan AC Inverter
Untuk membandingkan AC biasadan AC inverter, mayoritas orang berfokus pada beberapa pertanyaan penting berikut ini:


Manakah yang konsumsi dayanya paling kecil, AC biasa atau AC Inverter?
Tingkat penghematan AC bergantung pada penggunaan serta karakteristik ruangan. Jika Anda ingin memasang pendingin untuk ruangan hanya dipakai beberapa jam saja (misalnya ruang bermain anak, ruang tamu atau ruang keluarga), AC biasalebih hemat karena penggunaan daya listriknya lebih stabil. Di sisi lain, ruangan tertutup yang membutuhkan pendingin selama lebih dari 8 jam (misalnya ruang kantor atau kamar tidur) lebih cocok menggunakan AC inverter karena penghematan dayanya semakin maksimal saat suhu ruangan sudah tercapai.
Tipe AC mana yang lebih cepat mendinginkan ruangan?
AC inverter mampu mendinginkan ruangan secara lebih cepat daripada AC biasa. Kompresor berdaya listrik rendah pada AC biasamembuat proses adaptasi suhu ruangan menjadi lebih lama. Sebaliknya, AC inverter dapat mendinginkan ruangan secara cepat karena dapat bekerja hingga 130% dari kapasitasnya, sehingga konsumsi listrik akan menurun saat suhu ruangan sudah tercapai.
Tipe AC mana yang lebih bising?
Secara harga, mungkin AC Samsung Inverter relatif lebih mahal dibanding AC Samsung dengan spesifikasi standar. Namun, bagi yang membutuhkan AC sebagai pengatur suhu ruangan di rumah dengan waktu penggunaan yang relatif lama atau hingga berjam-jam. Menggunakan AC Samsung Inverter adalah tips investasi yang menguntungkan.
Konsumsi daya akan stabil 180 Watt saat mencapai suhu ruangan yang diinginkan. Sehingga dalam kurun waktu lama, tagihan listrik relatif lebih murah dibanding menggunakan AC biasa.
A breathe of fresh air in every room
Stay cool and comfortable at home, at all times.