Purest picture
in real conditions
A billion colours and intricate details.
All powered by our amazing Quantum dot technology.
Now we all see the same, and it all starts here.

Over a billion shades of color
Q Colour
We took the simple process of turning light into colour, and made it
something truly special with our ground-breaking Quantum dot technology. By adding light into the mixture,
we made a billion colours possible with a colour volume of 100%.
So, what exactly
is colour volume?
By definition, it's an index of how well colours are reproduced in richness and accuracy. It's like raising the volume on your stereo and getting full surround sound. With higher colour volume, you get a wider, more diverse range of colour. Samsung QLED TV gives it all: 100% colour volume.
And why is it so important?
Different lights and room décor, varying amounts of sunlight.
Or maybe it's just dark. People usually get to watch TV in all different surroundings.
But what if you could see colours as they are in real life no matter what?
That's where 100% colour volume comes in. Great details in any light. That's Samsung QLED TV.
It begins with
Quantum dots
Developed exclusively by Samsung, the world's first cadmium-free Quantum dots are the nano-sized particles that turn light into the brilliant billions colours you see on QLED TVs. Like diamonds, Quantum dots are inorganic. That means bright, vivid colours for many, many years to come.

At any time,
in any light
Q Contrast
Think about all those times you just couldn't see the TV screen. Sometimes there's just too much sunlight in the room. Sometimes, not enough. New 2018 QLED TVs put those annoyances in the past, with deeper and darker blacks that highlight every single detail. Now it doesn't matter how much light there is in the room.

See
beyond the
shadows
Q HDR Elite(powered by HDR 10+)
Sometimes you just can't see what's on your own TV screen. Especially when it's a dark scene with some shadows. Q HDR was created by our combination of expertise and HDR10+ technology to give you a wider range of brightness and contrasts to bring all the picture nuances to life.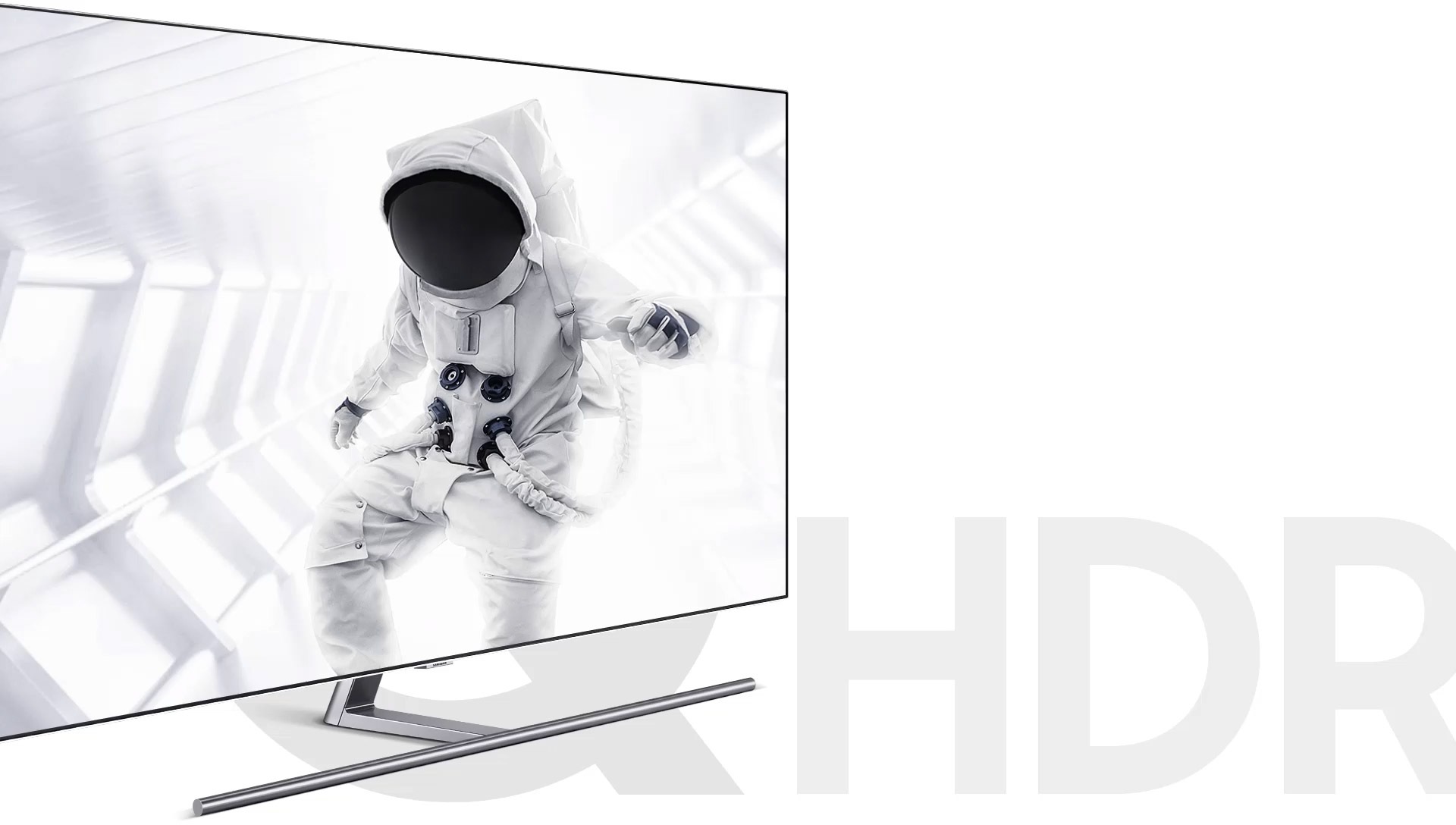 A closer look at HDR 10+
With HDR 10+, images are individually processed by scene by scene for optimized visuals with dynamic tone mapping.
That means you get rich colours, deep contrasts, and simply spectacular picture quality for every scene you watch.
It allows you to see what the content producers intended for you to see.

Long lifespan
Samsung QLED TVs are composed of inorganic materials that provide
consistently bright and vivid image quality for years.
* What is Screen Burn? Screen burn is a permanent defect in areas of a TV display that can be caused
by the effects of viewing the same image or scene for long periods of time.
Behind every spectacular
picture is an engine
Q Engine
Did you know there's an engine in the new 2018 QLED TV?
It's one powerful innovation taking you on a breathtaking experience with over a billion shades of colour.
Discover Q Engine, bringing you 100% of the colours you see in real life.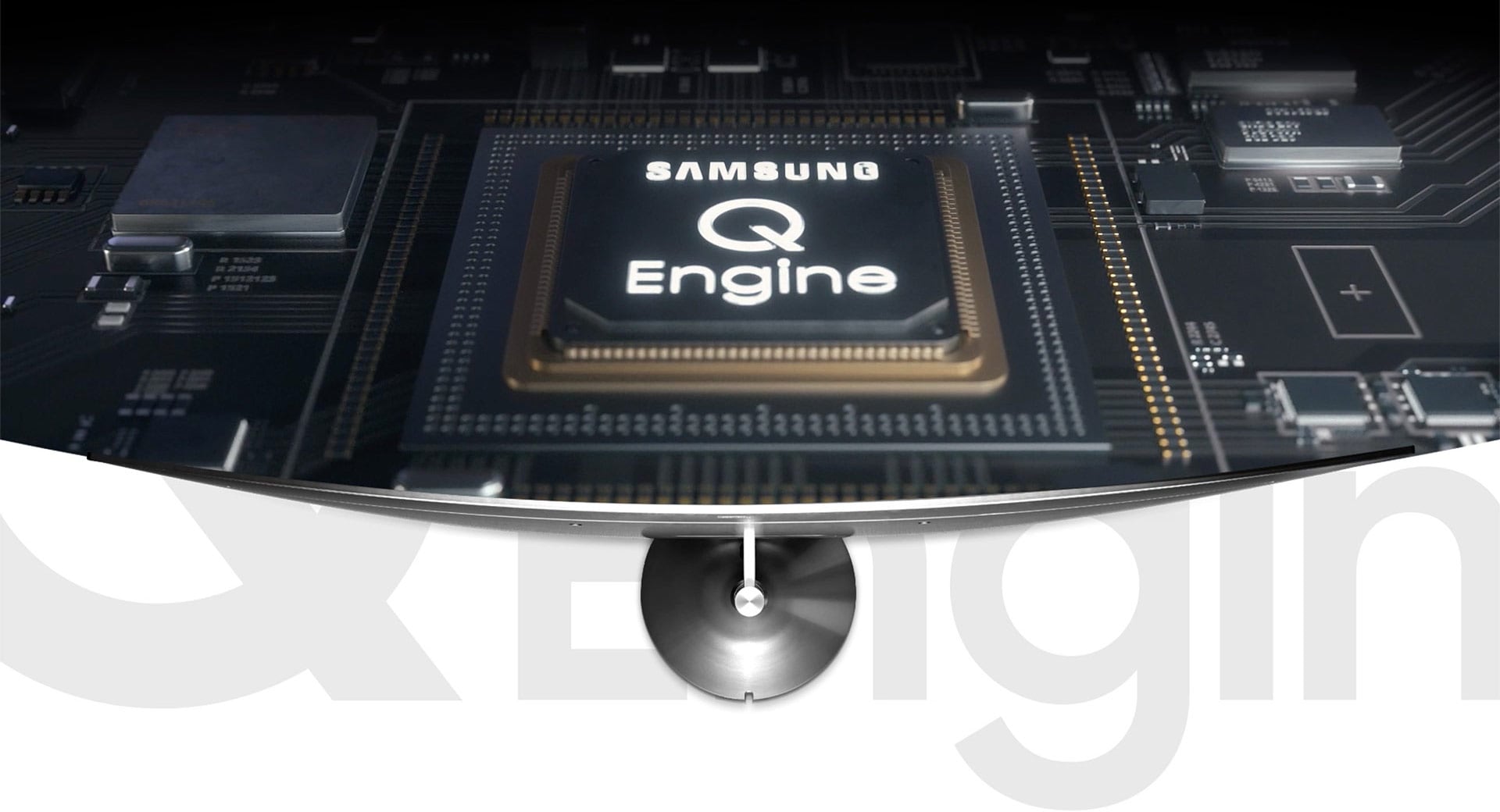 Really get
into your game
Enter the brilliance of a virtual gaming world created by QLED TV. Dive into fast and dynamic games with low input lag, and marvel at the elevated gaming experience.
Super BIG TV,
See the BIGGER Picture
QLED Big Screen TV takes on-screen entertainment to a whole new level of immersion
with breathtaking cinematic experiences. See every scene come to life in front of your
very eyes with even more vivid colours and immaculate details.
* QLED TVs have received verification from world-class testing and certification association, Verband Deutscher Elektrotechniker (VDE), for its ability to produce 100 percent color volume.
* QLED TV : Samsung QLED is Quantum dot based TV.
* The peak brightness may vary depending on the model and size of the TV.
* The certification may vary by model.
* What is Burn-in? Burn-in is a permanent defect in areas of a TV display that can be caused by cumulative effects of displaying the same image or scene for long periods of time, sometimes even as little as one hour.
* Images are simulated and for illustration purposes only. The appearance and design specifications which is not affecting to product performance are subject to change without notice.
* Please refer to the product detail page for each model.