Repair With Spare
Last Update Date :
Apr 02. 2019
Introduction
1. The Loan Phone ("Loan item") program ("Program") is organized by Samsung Malaysia Electronics (SME) Sdn. Bhd. ("Samsung").  The terms and conditions on this site will be construed as the terms and conditions of this Program ("Terms and Conditions") on which Samsung offer you ("Customer"). The scope of this Terms and Conditions is limited to Samsung's role of hosting this site and organizing this Program only.
2. The Program will be provided by Samsung Premium Service Partners or any appointed Authorized Service Center ("Service Partners"). The Program transaction is between Customer and Service Partners. Samsung only provides guide on the Program.
3. Customer agrees to comply with the Terms and Conditions stated herein.
4. The Loan item is on first come first served basis subject to availability in the Service Center.
Duration
The Program commence from 1st January 2019 till indefinitely unless advised otherwise by Samsung ("Program Period"). Samsung reserves the right to amend or extend the Program Period at any time without prior notice.  
Eligibility
The Program is only applicable to the Customer of Samsung flagship model under warranty and has sent the phone to the Service Partners for repair.
How to participate
a.) Samsung customer with carry-in repair and flagship model which is under warranty is required to sign and accept the terms and conditions stated in on the loan phone form.
b.) Customer service officer in the Service Center will assist to transfer the SIM card to the loan phone unit. Customer is required to check the condition of the loan phone before leaving the Service Center.
c.) The customer is required to return the loan phone on the stipulated time frame when collecting the repair unit.
d.) The Customer is required to sign and acknowledges the receipt of return.
Participating Service Centers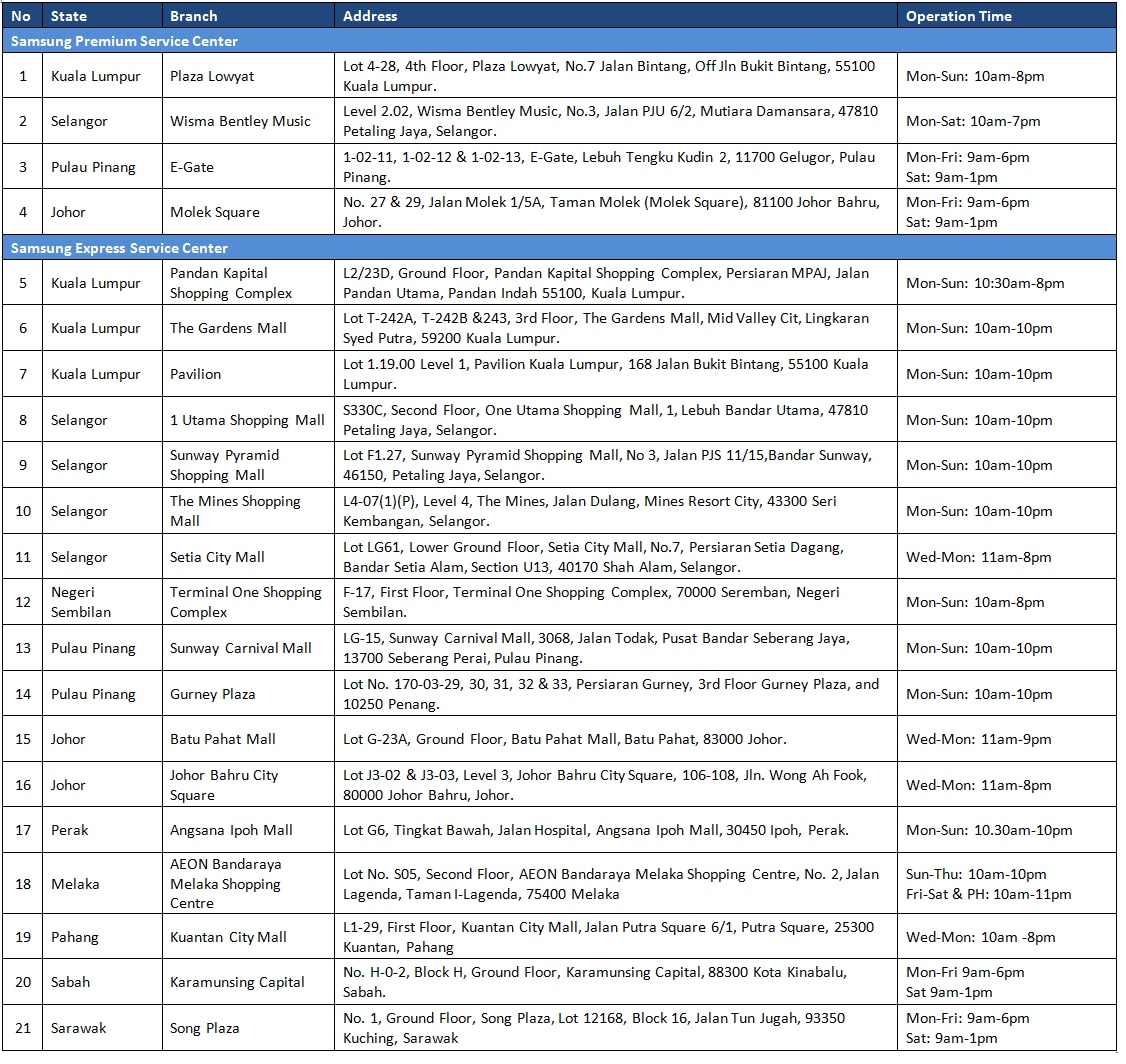 Terms and Conditions for Loan Item
1. The Loan Item remains the property of Service Partner whilst on loan to the Customer.
2. The Loan Item is strictly on loan to the Customer and NOT transferrable to any other user. Any change of user must be notified to the person in charge of Service Center and Service Center reserves the rights to approve such request for change of user.
3. The Loan Item must be used only for the purpose it is designed or designated for in a safe manner and shall NOT be modified, altered or changed in any way.
4. Customer shall NOT remove any labels, symbols, part numbers or serial numbers affixed to the Loan Item. Customer has the full
responsibility for the manner in which the Loan Item is used and will be FULLY RESPONSIBLE for the cost of repairs, provisions of replacement of equipment or parts and any standard of servicing of the Loan Item. 
5. Customer shall BEAR the risk of the Loan Item and FULLY INDEMNIFY Service Center for any loss and damages incurred as a result of the Loan Item being lost, stolen, or damaged during the Loan Period and/or otherwise permanently unfit or unavailable for use.
6. At the end of the Loan Period, the Loan Item must be returned to Service Center in the SAME CONDITION (full set including accessories) when delivered  reasonable wear and tear accepted).
7. Customer shall be liable for any damage or lost of the Loan Item, and the cost of the replacement is as follow:
             a.      A new unit of same model
             b.     70% from RRP [MYR 699] – J5
             c.      70% from RRP [MYR 3,769] – Note 8
8. Service Center reserves the rights to alter the Terms and Conditions herein from time to time as it deems fit and necessary.
9. Service Center reserves the rights to commence any legal proceedings against Loan User for failure to comply with the terms and conditions herein.
General Terms and Conditions
1. Samsung shall not be liable for any loss or damage whatsoever which is suffered (including but not limited to indirect or consequential loss) for personal injury which is suffered or sustained as a result of the Program.
2. Samsung makes no guarantee of the availability of the loan item in the participating Service Center.
3. By participating in the Program, Customer agrees to release and hold Samsung and its employees, officers, directors, shareholders, agents, representatives, parent companies affiliates, subsidiaries, licensees, advertising, promotion, and fulfilment agencies, and legal advisors, harmless from any and all losses, damages, rights, claims and actions of any kind in connection with the loan item or resulting from acceptance, possession, use or misuse of the loan item or from any gift-related activity, including without limitation, personal injury, death, and property damage, and claims based on publicity rights, defamation, or invasion of privacy.
4. Samsung will not assume any responsibility or liability for the loan item and Samsung expressly excludes and disclaims any representations, warranties or endorsement, implied or express, written or oral, of the loan item under this Program, including but not limited to any warranty of quality, merchantability, and fitness for a particular purpose, health and safety.
5. By participating in this Program, you agree that the collection of such information will be processed, handled and use in accordance with the Samsung Privacy Policy at http://www.samsung.com/my/info/privacy.html.
6. These terms and conditions herein shall be governed by laws of Malaysia and any dispute arising out of or in connection with the terms and conditions and this redeemed item shall be referred to the exclusive jurisdiction of courts of Malaysia.
Need more help? Contact Us.
Call
Personal assist for Galaxy Fold
1 800 88 7799

24 hours a day/ 7 days a week

For Mobile Devices and Samsung Pay Enquiries
1 800 22 8899

24 hours a day/ 7 days a week
For Home Appliances and Other Product Enquiries
1 800 88 9999

24 hours a day / 7 days a week
Call From Overseas
+603 7713 7420

24 hours a day/ 7 days a week

For Online Store or Orders Enquiries
+603-5191-1515

Mon - Fri 9am - 6pm (Excluding Sat, Sun & Public Holidays)

* For any printer related enquiries, please visit HP website .
Contact Us