SAMSUNG PROTECTION PLUS
Last Update Date :
Jun 01. 2018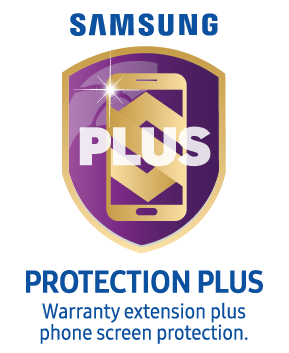 Q1. WHAT IS SAMSUNG PROTECTION PLUS?
A1. Samsung Protection Plus provides customers with a combination of a (1) one-year warranty extension plus one (1) screen crack repair at a minimal service charge.
 
Q2. MUST I PURCHASE SAMSUNG PROTECTION PLUS IMMEDIATELY UPON PURCHASE OF A NEW DEVICE AT SAMSUNG EXPERIENCE STORE?
A2. No. However, customers can purchase Samsung Protection Plus within thirty (30) days from the date of device purchase at Samsung Express Service Center.
 
Q3. WHAT DOES SAMSUNG PROTECTION PLUS COVER?
A3. Samsung Protection Plus covers:
(1) One-year warranty extension (increasing the warranty period to a total of 2 years) excluding accessories such as battery, adaptor, cable, earphone etc.
(1) One screen crack repair due to unexpected and unintentional events during the warranty period, with no traces of water or fire damage found upon our certified technicians' discretion. 

Q4. DOES THIS SAMSUNG PROTECTION PLUS COVERS ACCIDENTAL DAMAGE OR MISHANDLING CASES DUE TO NATURAL DISASTERS LIKE FLOODS OR FIRES? 
A4. No. Samsung Protection Plus does not cover such cases.
 
Q5. HOW MUCH IS SAMSUNG PROTECTION PLUS SOLD FOR?
A5. The Recommended Retail Price (RRP) for Samsung Screen Protection Plus is RM 185 or RM280 depending on the model of your device. The RRP is a recommendation only and is not binding on the dealers. 
 
Q6. CAN I PURCHASE SAMSUNG PROTECTION PLUS FROM SAMSUNG EXPERIENCE STORES?
A6. Yes. Samsung Protection Plus is currently available for purchase at selected Samsung Experience Stores nationwide
 
Q7. CAN I CONTINUOUSLY PURCHASE SAMSUNG PROTECTION PLUS? CAN PAY TWICE THE AMOUNT FOR AN EXTENSION OF 2 YEARS?
A7. Each mobile device is only eligible for a one-time purchase of Samsung Protection Plus. No extensions are available.
 
Q8. HOW MANY TIMES CAN I CLAIM FOR SCREEN CRACK REPLACEMENT?
A8. Each mobile device is only eligible for a (1) one-time claim of screen crack replacement at a service fee of RM94 with Samsung Protection Plus. 
 
Q9. DOES A CHANGE OF DEVICE OWNERSHIP AFFECT THE WARRANTY STATUS OF THE SAMSUNG DEVICE FOR WHICH I HAVE PURCHASED SAMSUNG PROTECTION PLUS?
A9. No, a change of ownership would not affect the warranty status of the device.
 
Q10. WHAT IF I HAVE LOST MY CERTIFICATE OR PROOF OF PURCHASE FOR MY DEVICE AFTER PURCHASING SAMSUNG PROTECTION PLUS?
A10. Details about your device and information regarding Samsung Protection Plus that you have purchased are automatically registered into our system, and will not affect your repair claims.

Q11. WHERE CAN I GET MORE INFORMATION ABOUT SAMSUNG PROTECTION PLUS?
A11. Please visit any selected Samsung Express Service Center and ask our Customer Service Officers, or call our 24/7 Careline at 1800-22-8899.

Need more help? Contact Us.
Call
* For any printer related enquiries, please visit HP website .
Contact Us