How to redeem free storage of OneDrive through log in via Microsoft Outlook account
Last Update Date :
Oct 12. 2018
Please note: This offer is available on every device including smartphones and tablets which have OneDrive preloaded for a period two years after activation
To redeem free storage of OneDrive, you need to sign in Microsoft Outlook account based on new policy of Microsoft CO. If you download the MS Outlook or launch it, sign in will be processed automatically by using existing Microsoft account. To redeem your storage offer (+100GB), follow these steps:

Redeem free storage of OneDrive
Redeem free storage of OneDrive
1
When you turn on the device for the first time, you will get a notification with the 100GB OneDrive offer. Clicking on the notification will redirect you to OneDrive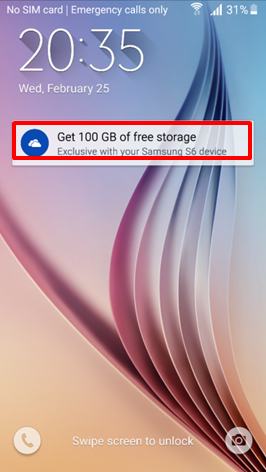 2
When you launch the OneDrive App for the first time, you will see information about the offer included with your device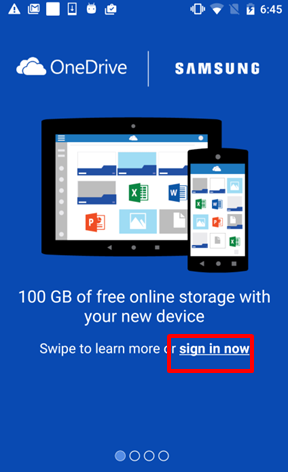 3
The first step to redeem the offer is to either sign in with an existing Microsoft account or sign up for a new one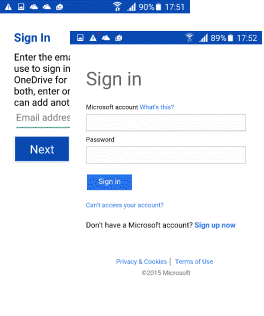 If you meet all the criteria for redemption, skip Step 4 - 7 and go straight to Step 8
If you do not meet all the criteria for redemption, please continue with Step 4 - 7
4
If you do not have Microsoft Outlook in your device and have not signed into it at least once, you will be asked to download or launch an App (automatic sign in on App launch). You can click on any App icon to download it or launch the App if already present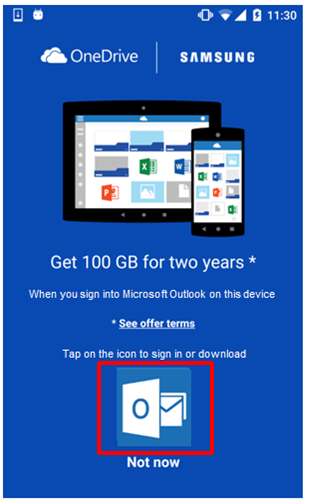 5
You will be redirected to Samsung Galaxy Apps to download Microsoft Outlook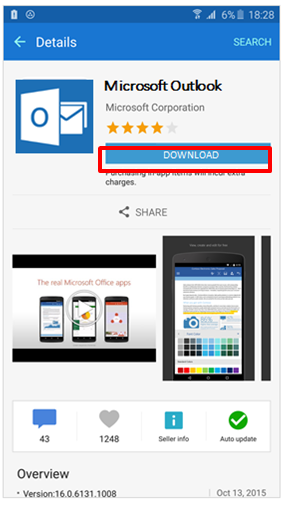 6
Once download is completed, you need to start the Outlook where you signed in automatically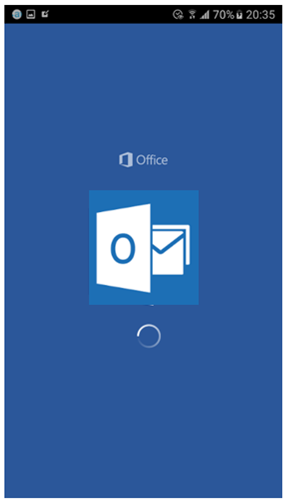 7
Once signed into an Office App, you will get a notification indicating that you have met all the requirements and your storage offer is ready for redemption. You can directly click on the notification to go back to OneDrive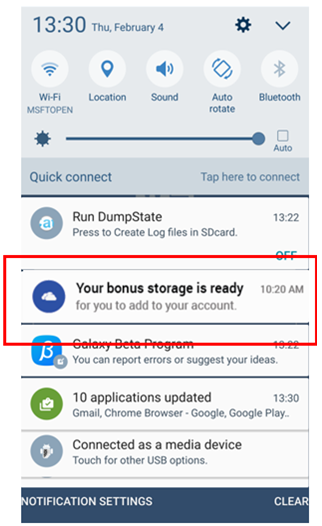 8
To redeem the offer, click on Add Free Storage and have the option to see the full offer terms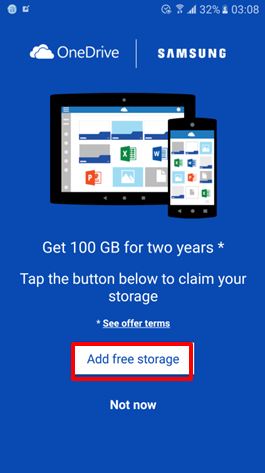 9
A quick in-app notification appears to confirm the storage offer (+100GB) has been redeemed. Actual result of the total storage depends on account type and settings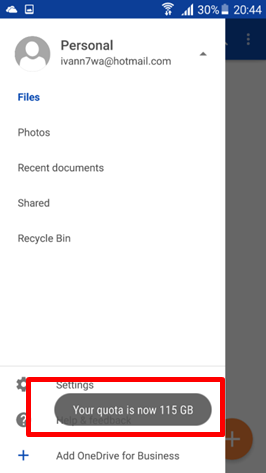 Common questions about 100GB OneDrive offer redemption
What will happen to the files that are stored in OneDrive when the additional 100 GB expires after 2 years?
After 2 years, you can still access and download all your files in OneDrive. However, you cannot upload new files and must save them elsewhere. You can purchase additional storage if your OneDrive account exceeds the 15 GB of storage that all users get for free.
If a user wants to keep the storage space after 2 year offer period OR to increase the storage space during the period, how much will the user need to pay?
There are a number of options for users who wish to purchase more storage. You can find the various plans and prices from the Manage Storage page of your OneDrive account.
How does the 100 GB Samsung offer works when a user has another storage offer applied to their OneDrive account?
Each storage offer is separate, and the amount of storage a user receives is additive. If a user already has 115 GB of storage space, when they redeem the Samsung offer, they will get an additional 100 GB. This would give them a total of 215 GB of storage space. However, many offers have different expiration dates, so the amount of total space available to a user may change over the 2 year duration of the Samsung offer.
Do existing users receive the same benefit as new users?
Yes, all existing users get the same 100 GB regardless of existing accounts.
How does a user redeem the 100 GB offer?
Users simply launch the OneDrive app on their devices. They will see a screen detailing the 100 GB offer. Once they sign in to the app, they will see another screen that confirm their desire to redeem the 100 GB and back up their photos and videos to OneDrive. When they select OK, they will see a notification confirming the total amount of space they have in their OneDrive account.
Is the user still eligible for the extra storage, if upgrade to an eligible new Samsung device or purchase more than one eligible device?
The 100 GB Samsung offer can only be applied once to a given Microsoft account. So if a user purchases another device, they would not be able to get an additional 100 GB.
If a user sells the device, does the Samsung offer continues?
If a user sells the device, the 100 GB of storage can still be kept for the remaining 2 year term on the original account.

What happen if a user buys a second hand device?
The OneDrive offer can only be redeemed one per device. Users buying a second hand device are only eligible if OneDrive was preinstalled and the previous owner did not redeem the offer. 

If user has 100GB on older phone and now utilizes a new phone and log in with the same account, does it mean that the user will be able to use the free 5GB only?
Yes. If two years of 100GB expires, user can use only free 5GB.
Can a user register for a new account and get the free 100GB, if there is an existing old account being used before?
Yes. If a user creates a new account, he can get the free 100GB for the new account.
If user decides to use the old account, are there any options to increase the size?
User will need to upgrade his account to paid version.
Is there any notification indicating that 100GB redemption is ready
Yes, the notification will appear once the user accepts the terms of use and redeems the 100GB offer. However the best way to check the offer is to tap settings > tap account > then it will show plans and their maximum storage capacity. This number should be 105gb for free users.
Need more help? Contact Us.
Online
Live Chat
Monday to Friday (Excluding Public Holidays)
9:00am - 7:00pm
Email
We'll respond within 24 hours of your request.
Call
Monday to Sunday (Including Public Holidays)
8:00am - 8:00pm
* For any printer related enquiries, please visit HP website .
Contact Us