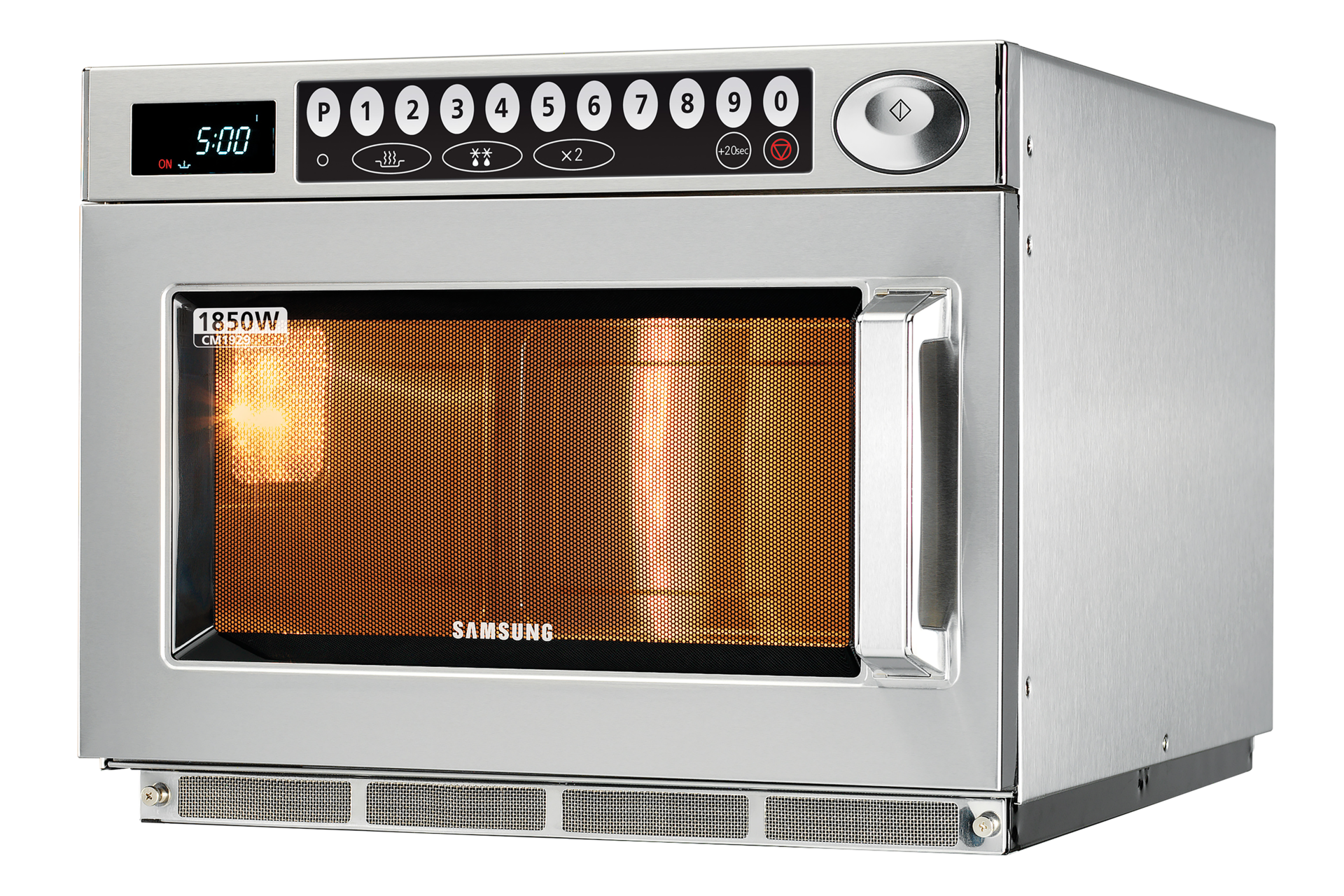 CM1929/XEU
CM1929 Commercial Microwave Oven 1850W, 26L (Stackable)
30 Program Facility
3 Year Warranty
Dual Magnetron
More power for faster cooking
Dual Magnetron microwave distribution ensures that food is cooked much faster and can be served in less time. Two magnetrons combine to provide a huge power output of 1850W, while also distributing heat more evenly.
Easily cook popular dishes
The program facility makes it really easy to cook popular dishes, as you can memorize the cooking times and settings for frequently used recipes. Simply select the required number to cook meals perfectly every time.
Prepare more dishes at once
A large 26L capacity means they can accommodate multiple dishes or plates at once or a large container of up to 370 x 370 mm, such as a 2/3 Gastronorm. So you can quickly cook or reheat multiple portions of food.
Easily keep hygienically clean
A durable, heavy gauge stainless steel body and cavity make it really simple to keep the inside and outside hygienically clean. As well as being easy to wipe clean, stainless steel is inherently robust and sturdy.
Optimised filter changes
A Cycle Counter provides a simple way to know exactly when to replace a filter. By monitoring the time spent using each cooking function it can accurately assess and notify you when the filter needs changing.
Simply cleaner & more hygienic
An easily removable air filter makes it very simple to maintain professional quality cleanliness in your kitchen. As it's located at the front, you can easily remove and assemble it without moving the microwave oven.
Cook without extra trays
BaseMax™ is a fixed ceramic plate that covers the entire base, so you can cook food on it without additional trays. And you can simply wipe away any residue as its very smooth and there are no gaps around its edges.
Specification
Capacity
Materials/Finishes

Cavity Material

Stainless steel

Colour(Door)

Stainless steel

Display Type

VFD

Control Method

Membrane & Dial

Power/Ratings

Power Level

5

Power Source

230-240V~50Hz

Output Power (Microwave)

1850 W

Type
Weights/Dimensions

Outside (WxHxD)

464 x 368 x 577 mm

Cavity (WxHxD)

370 x 190 x 370 mm

Loading Quantity (20/40ft)

378 (40 ft)

Weight (Net)

32 kg

Weight (Shipping)

34.5 kg

Accessories
Features and specifications are subject to change without prior notification.
Manual Download
CM1929 Commercial Microwave Oven 1850W, 26L (Stackable) (CM1929/XEU)
Manuals

8 Feb, 2018

User Manual ver 0.3

(ENGLISH)

1 Jul, 2016

User Manual(EU Environmental Regulatory)

(ENGLISH, DUTCH, ESTONIAN, GERMAN, ITALIAN, PORTUGUESE)

1 Jul, 2016

User Manual ver 3.0

(ENGLISH, DANISH, DUTCH, ESTONIAN, FINNISH, FRENCH, GERMAN, ITALIAN, NORWEGIAN, PORTUGUESE, SWEDISH)

14 Sep, 2015

User Manual(EU Environmental Regulatory)

(ENGLISH)