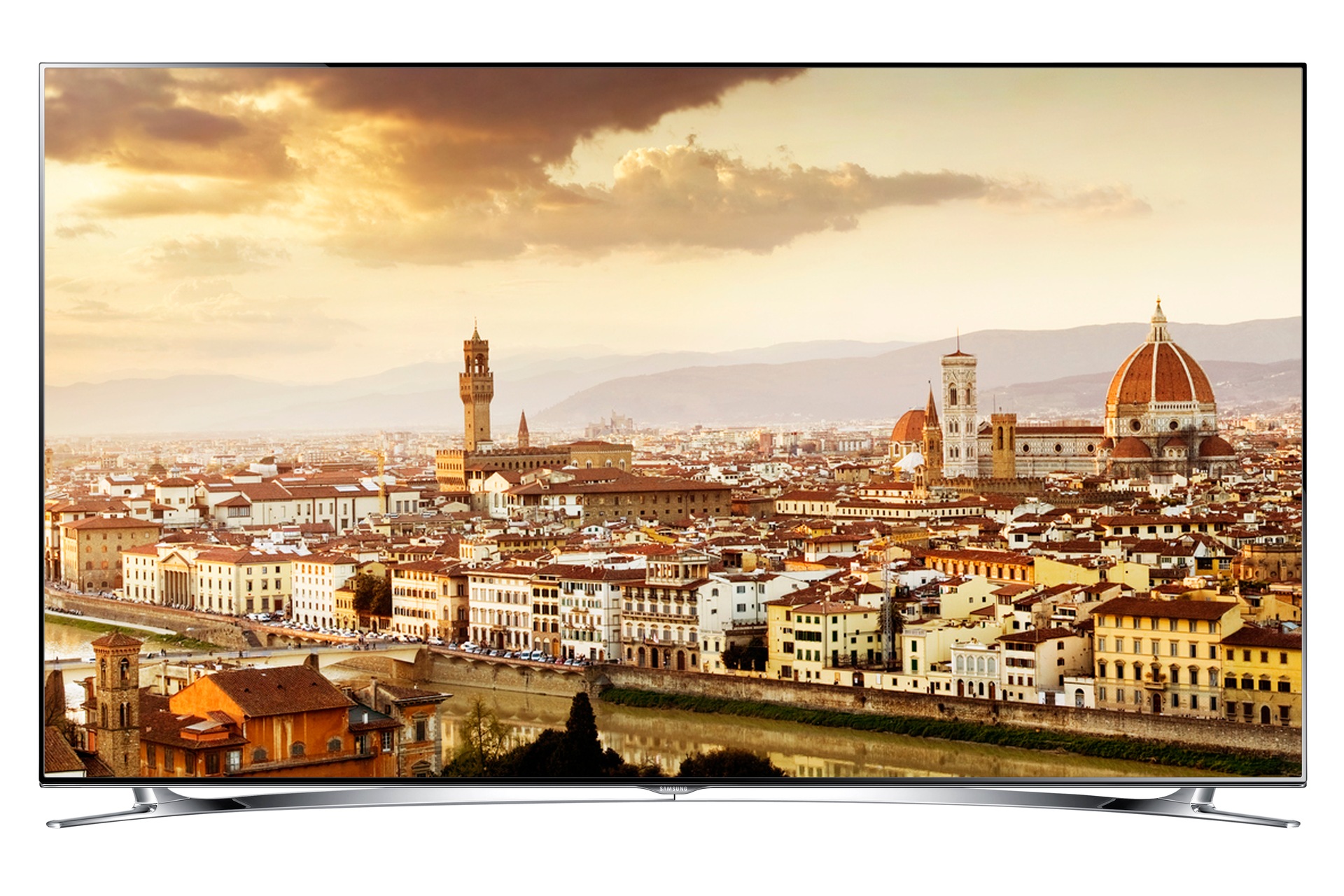 HG55EB890XBXXU
Luxury HB890 Series 55"
Samsung HB890 Series premium hospitality displays are designed to help your hotel provide a luxurious guest experience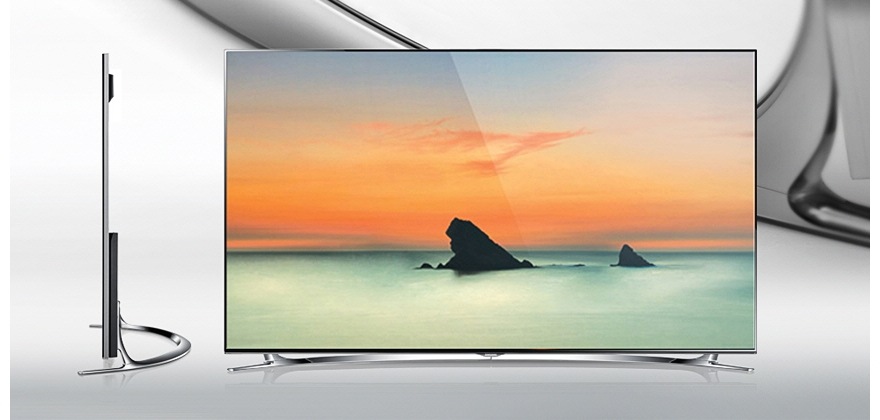 Differentiate your guests' experience with smart elegance


Deliver a sumptuous, differentiated brand image designed specifically for luxury hotels with Samsung HB890 hospitality displays. The display's design is based on Samsung Smart Series 8, the world's number-one consumer TV. The ultra-slim, artistically crafted HB890 Series displays feature a crisp metal frame, narrow bezel and deeply arced stand that exude sophistication. Its sleek, elegant form creates an atmosphere of impeccable minimalist taste for your luxury rooms and suites.
Provide interactivity for your guests with IP-based solution, LYNK™ SINC
Deliver guest information directly to in-room TVs without complications using Samsung LYNK™ SINC and H-Browser. These IP-based hospitality display management solutions offer efficient and customisable TV content management with no need for set-top-boxes. H-Browser enables hotels to easily manage content and hotel TVs by using a SI solution accompanied by regular maintenance checkups and a wide range of SI-provided content. LYNK™ SINC provides hotels with fully independent and cost-effective control over content and display management while providing interactivity to guests with easy access to popular social networking sites and TV catch-up services.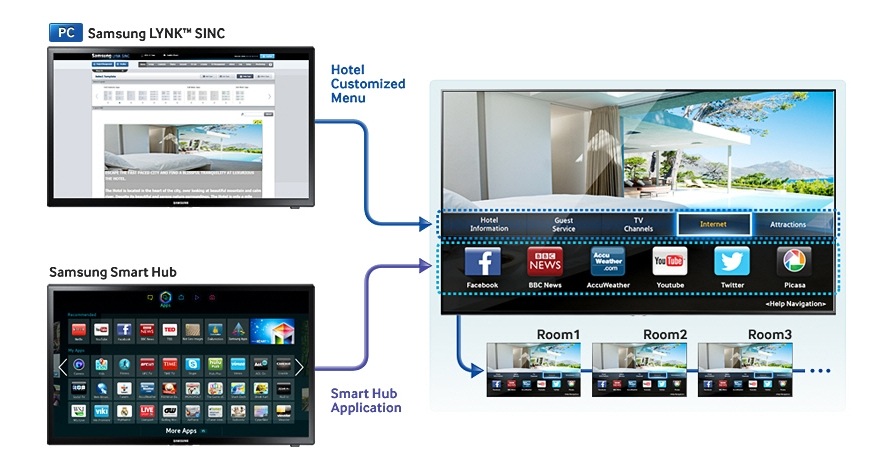 Improve guests' viewing experience with customised content management
Combine the ultimate in hotel service, premium content and popular applications for a superior guest experience with Samsung LYNK™ SINC and Samsung Smart Hub. Samsung Smart Hub, a library of widgets, enables guests to select applications to enjoy entertainment packages and high definition quality content. Guests can enjoy the interaction on a large TV screen in their rooms by using Internet applications the same way they use them on their smartphones, tablets, PCs or other devices. For easier management, LYNK™ SINC provides a customisable UI with multiple language support and various templates. Select an interface that suits your hospitality brand or property, and then use the advanced UI to easily create and edit menus, images, text and video clips.
Simplify display and content control with cost-efficient LYNK™ REACH
Don't be worried about the transition costs for IP-network. You can still have all the benefits of Samsung hospitality solution with Samsung LYNK™ REACH by simply using the existing coaxial cable infrastructure. You can Improve your hotel operational efficiency while decreasing TCO with Samsung LYNK™ REACH. This advanced coaxial-based solution of LYNK™ REACH and REACH Server helps seamlessly continue operation by using the existing coaxial cable with no need for set-top-boxes or IP infrastructure separately. With LYNK™ REACH, hotel managers can easily create and edit in-room marketing content, such as hotel information, promotional offers, and weather conditions displayed on a ticker. The solution helps hotel managers to simply control hundreds of TVs simultaneously from a central location using the intuitive UI on their desktop PCs and coaxial interface for increased efficiency.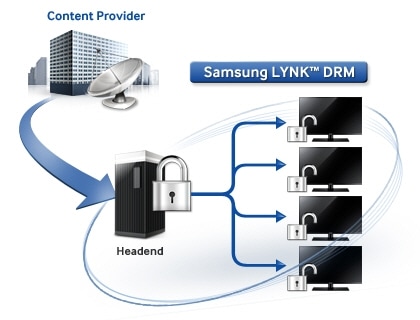 Protect content with advanced DRM technology
Enhance security with LYNK™ Digital Rights Management (DRM) technology, a software-based and cost-effective alternative to hardware-based content protection systems. As it is a fully software-based solution, Samsung LYNK™ DRM has a high adaptability to various head-ends. Also, it is easier to implement and manage, without any hardware upgrades or changes for error management and is, therefore, more cost-efficient. In addition, HB890 Series displays are compatible with Pro:Idiom®, a hardware-based security solution. The blended solution provides flexible options for enhanced content security.* * Note: The combination of Pro: Idiom and software-based LYNK™ SINC is offered only in North America.
Amaze your hotel guests with an immersive 3-D viewing experience
Captivate your guests' attention as they explore a vivid world of 3-D video, readily available on their in-room TVs. The Samsung 3-D LED TV's powerful dual-core processor delivers Full HD (FHD) 3-D images that seem to pop off the screen. IMAX® documentaries, music videos and other popular content come to life through dramatic 3-D imagery. The technology creates a more in-depth 3-D display by analyzing depth information and making a clear contrast between foreground and background images. Crosstalk, the unwanted transfer of signals between communication channels, is also eliminated for heightened viewing pleasure.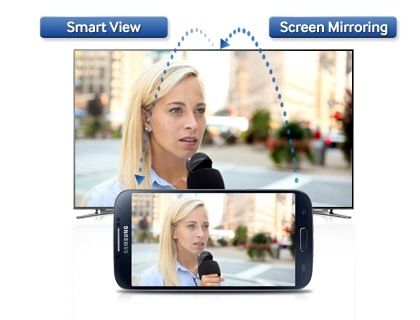 Entertain guests with interactivity of a TV and their mobile devices for flexibility of content sharing
Give your guests the convenience and flexibility to view TV content on their compatible mobile devices. This versatile TV screen monitoring technology is made possible with the Smart View application through soft AP. Guests can also readily display content from personal devices on an in-room TV with Wi-Fi Direct Screen Mirroring. Users can show the exact same view displayed on a phone or tablets, including not only multimedia files, but also the screen configuration. Note: Compatible devices include Samsung GALAXY S III and later models. Free TV channel support is provided for Apple® iPhone® and iPad® with iOS v4 and later versions.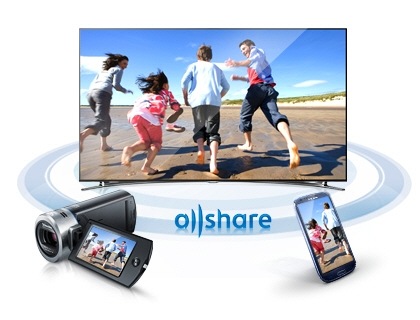 Provide guests with greater viewing of their mobile device content on the in-room TV
Provide your guests with greater in-room flexibility and freedom through Samsung Soft AP-based AllShare technology. This advanced technology enables users to play personal content, such as movies, photos and music, from phones or tablets through a Wi-Fi connection on an in-room TV. Guests can share and play content on their devices without worrying about the content being exposed to others.
Video Picture Clarifier

Enable guests to enjoy clear, crisp, and optimal picture quality regardless of the content source or type with Samsung Video Picture Clarifier. Samsung Video Picture Clarifier is an innovative technology that automatically optimises the picture quality based on its type and origin.

Micro Dimming

Provide TV viewing with outstanding picture quality through Micro Dimming technology. This advanced technology offers deeper blacks, purer whites, vivid contrast with superior colour and sharp detail, to create picture-perfect clarity that shows every detail of an image.

Wireless Audio Dock Compatibility (SoundShare)

Provide a premium, immersive sound experience with Samsung Wireless Audio Dock (WAD). The TV is connected to WAD with Bluetooth 3.0. The WAD is also compatible with both Samsung GALAXY mobile devices and iPhones to enhance in-room entertainment experience.

Sound Bar Compatibility

Couple a Samsung hospitality TV with a Sound Bar to let guests truly enjoy hearing their programming. Connected by a High-Definition Multimedia Interface® cable, settings are automatically applied, making installation a breeze. A single remote lets guests have full control over both the TV and Sound Bar.

Channel Editor

Hotel managers can easily manage and arrange the channel mix for both analogue and digital channels without the need to adjust and edit channel lists by different TV systems. Channels can be reordered and renamed to the hotel's preference with channel mapping.

My Channel

Enable guests to easily find and enjoy the programming of their choice without having to manually scroll through hundreds of TV channels. My Channel's quick search function allows guests to find channels suited to their tastes, by country and genre.
Hotel Logo and Welcome Messages

Enhance your hotel's brand awareness while greeting your guests with a unique hotel logo and customisable messages. Hotels can display their logos and greetings on screen for an adjustable period of 3 to 7 seconds whenever their guests turn on the TV.

Multi-code Remote

Increase guests' TV-viewing enjoyment by eliminating annoying interference from other remote signals in applications, such as hotel fitness centres, where multiple TVs are in close proximity. The multi-code remote can control up to 10 TVs individually in the same room.
Remote Jack Pack Compatibility

Enable guests to plug and play content from personal devices on a large TV screen with Remote Jack Pack and Samsung Hospitality TV compatibility. It detects the connection interface and automatically converts it to an optimised source, transmitting inputs as High-Definition Multimedia Interface® outputs.

Variable Speaker Out

Increase guests' in-room mobility and enjoyment by connecting the TV's sound to other parts of the room with the external speaker-out post. Guests can listen to their TV programs from anywhere in the room or bathroom through speakers installed in remote locations.
Headphone ID compatibility

Give guests the luxury of listening to TV in bed without the cumbersome need to extend the headphone cable. The included Headphone ID detects headphones connected to the extension sockets next to a bed where your guests can simply plug headphones to listen to the TV without disturbing others in the room.
Specification
Audio

Dolby

Dolby Digital Plus / Dolby Pulse

SRS / DNSe+

SRS TheathreSound HD

dts 2.0+Digital Out

DTS Premium Audio

3D Sound

Yes

Speaker Type

Down Firing + Full Range

Sound Output

40W (10 x 2, woofer 10 x 2)

Bathroom Speaker Out

4W (Mono, 8Ω)

Display

Backlight

LED

Screen Size

55

HD/FHD

FHD

Resolution

1920 x 1080

Video

Wide Color Enhancer Plus

Yes

Auto Motion Plus 120/240Hz

240Hz

Response Time

4ms

Viewing Angle (H/V)

178° / 178°

Static Contrast Ratio

5000:1

Brightness (Typical)

450 nits

Picture Engine

3D HyperReal Engine

Film Mode

Yes

General Features

Smart Hub

Yes

Apps

Yes

Photos, Clips & Music

Yes

Samsung SMART View

Yes (Clone View only)

Web Browser

Yes

Voice recognition

Yes

Samsung 3D

Yes

AllShare (Content Sharing, Screen Mirroring)

Yes

3D Converter

Yes

ConnectShare™ (USB 2.0)

Movie

Wireless LAN Builit-in

Yes

Sound Share

Yes

OSD Language

26 European Languages

Digital Noise Filter

Yes

HDMI 1.4 3D Auto Setting

Yes

HDMI 1.4 A/Return Ch. Support (ARC)

Yes

Anynet+ (HDMI-CEC)

Yes

Caption (Subtitle)

Yes

Picture-In-Picture

Yes

Auto Channel Search

Yes

Auto Power Off

Yes

Auto Volume Leveler

Yes

Game Mode

Yes

Sleep Timer

Yes

Interface

RJ12 for External Control

Yes

RJ45

1/0

HDMI(Side/Rear)

3/0

USB(Side/Rear)

1/0

Component In (Y/Pb/Pr) (Side/Rear)

1/0

Composite In (AV) (Side/Rear)

1 (Common Use for Component Y)

Headphone (Side/Rear)

1/0

Digital Audio Out (Optical) (Side/Rear)

1/0

Headphone ID

Yes

Variable Audio Out

Yes

Variable Audio Out Volume Control

Yes

RJP Jack (Remote Jack Pack)

Yes

RF In (Terrestrial / Cable input) (Side/Rear)

1/0

RF In (Satellite Input) (Side/Rear)

1/0

RS-232C (AV CONTROL)

1 (Common Use for RJP)

CI Slot (Side/Rear)

1/0

System

DTV Reception

DVB-T2 / C / S2

Analog Tuner

Yes

CI/CI+

CI+ (1.3)

MHP/MHEG (version) / OHTV / GINGA

MHEG 5 (UK, Ireland)

Power

Power Supply (V)

AC220 - 240V 50 / 60Hz

Power Consumption (Rated) (Watts)

170W

Power Consumption (Stand-by) (Watts)

Under 0.5W

Power Consumption (Typical) (Watts)

72W

Yearly Power Consumption (EU standard,kWh)

105KWh

Design

Colour

Black

Stand Design

Arch

Dimension

Set Weight with Stand (kg)

18.3

Set Weight without Stand (kg)

16.8

Set Dimension with Stand (WxHxD) (mm)

1224.2 x 741.9 x 310.3

Set Dimension without Stand (WxHxD) (mm)

1224.2 x 707.2 x 34.9

Mechanical Specification

VESA Mount (mm)

400 x 400

VESA Screw Size

M8

Accessory

Remote Controller Model

TM1390A + TM1240

Batteries (for Remote Control)

Yes

Power Cable

Yes

Slim Gender Cable

SCART, 1AV, 1Component (AV share), CI+

Hospitality Feature

Samsung LYNK™ SINC Compatibility

Yes

H Browser Compatibility

Yes

Samsung LYNK™ REACH

Yes

Samsung LYNK™ REACH Server Compatibility

Yes

Music Mode (Input: PC/AV/Component)

Yes

Music Mode Backlight on/off

Yes

My Channel

Yes

Hospitality Plug&Play (Easy Setup)

Yes

RJ12/IR Pass Through

Yes

Power On Status Setting (Keycard/Master Power off)

Yes

Jack Pack Compatiblity

Yes

USB Cloning

Yes

Logo Display with Time out Setting(BMP/Movie)

Yes

Welcome Message

Yes

Auto Source Mode

Yes

Energy saving mode (BLU Control)

Yes

Multi Code Remote

Yes

Screwed Remote Battery Cover

Yes

Variable Audio Output

Yes

Alarm Key

Yes

Hotel Channel List

Yes

Mixed Channel List (ATSC, DVB-T/T2/C/S2, Analog)

Yes

Smoovie Compatibility

Yes

Soundbar Compatibility

Yes

Eco

Energy Efficiency Class

A+

Eco Sensor

Yes


Certain features with the Smart Hub may not be available without expressed consent regarding the collection and use of personal information. Content available through Smart Hub may vary among product categories, models and territories. Certain applications must be purchased and may not be available in all regions.

Certain features with the Smart Hub may not be available without expressed consent regarding the collection and use of personal information. Content available through Smart Hub may vary among product categories, models and territories. Certain applications must be purchased and may not be available in all regions.
Manual Download
Luxury HB890 Series 55" (HG55EB890XBXXU)
Manuals

20 May, 2013

Installation Guide ver 1.0

(ENGLISH)

14 Dec, 2013

Upgrade File(USB type) ver 1101.1

(MULTI LANGUAGE)

30 Nov, 2013

Upgrade File(USB type) ver 1100.0

(MULTI LANGUAGE)

9 Nov, 2013

Upgrade File(USB type) ver 1015.0

(MULTI LANGUAGE)

26 Oct, 2013

Upgrade File(USB type) ver 1014.0

(MULTI LANGUAGE)

14 Sep, 2013

Upgrade File(USB type) ver 1013.0

(MULTI LANGUAGE)

7 Sep, 2013

Upgrade File(USB type) ver 1012.1

(MULTI LANGUAGE)

17 Aug, 2013

Upgrade File(USB type) ver 1011.0

(MULTI LANGUAGE)

10 Aug, 2013

Upgrade File(USB type) ver 1010.1

(MULTI LANGUAGE)

6 Jul, 2013

Upgrade File(USB type) ver 1009.0

(MULTI LANGUAGE)

22 Jun, 2013

Upgrade File(USB type) ver 1008.0

(MULTI LANGUAGE)

1 Jun, 2013

Upgrade File(USB type) ver 1007.4

(MULTI LANGUAGE)

11 May, 2013

Upgrade File(USB type) ver 1006.2

(MULTI LANGUAGE)

6 Apr, 2013

Upgrade File(USB type) ver 1003.1

(MULTI LANGUAGE)