WDS-A403I/EUS
11ac Access Point WEA403i
The Samsung WEA403i Access Point supports 802.11ac, the next generation of Wi-Fi, offering higher throughput, higher capacity, and less interference, while providing easy and reliable management. The WEA403i is a dual concurrent radio product, with each radio capable of running in both 2.4 and 5GHz band, with 3 spatial streams and delivering data rates of 1.3 Gbps.
Intelligent Beam Selectable Antenna
The AP uses Intelligent Beam Selectable Antenna (IBSA) technology to further facilitate networks where multiple devices are requiring concurrent access. The feature is able to minimize the coverage holes by optimizing its radio frequency (RF) pattern with a number of physical antennas. This serves to extend the coverage, improve receive sensitivity and maintain speed and reliability. As a result, mobile device can always receive the correct signals to avoid downtime, even from long distances.
Voice- Aware Traffic Scheduling
Voice-aware Traffic Scheduling (VaTS) technology has been applied to increase each AP's capability of dealing with concurrent calls per AP to accommodate the rapidly growing number of mobile devices requiring wireless access. VaTS is a patented Samsung network technology which has been specifically designed to increase simultaneous call capacity by more than 50%. Its enhanced throughput is achieved by using innovative traffic scheduling features, and by transmitting Voice Frame to numerous stations more efficiently.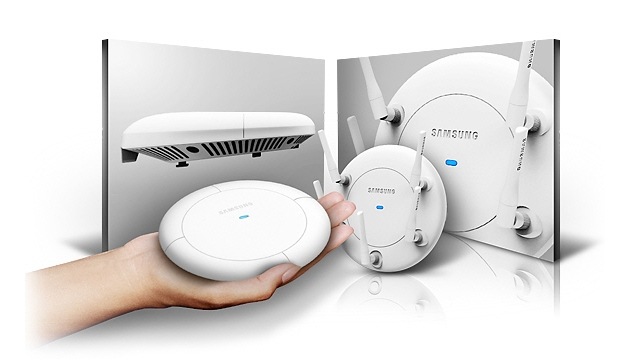 Compact Circular Design
The diameter of the WEA300 Series is just 174mm, with a total volume of 0.67L. This product can be installed easily and conveniently as this is small and light. Also, its compact circular design is suitable for the building exterior and interior design.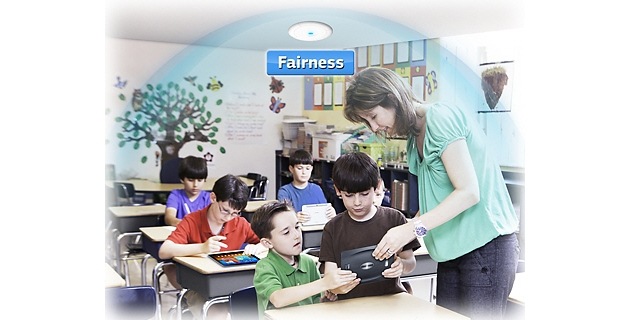 AirEqualizer
Samsung AirEqualizer optimises wireless resources by applying traffic schedule technology to the AP and allocates equal airtime to multiple devices. When numerous devices concurrently connect to an AP, AirEqualizer guarantees best performance by analysing individual connection requirements, typically delivering a gain of 50 or more compared to competitors.
Dedicated Security Monitoring Module
Samsung AP built-in security monitoring module offers RF monitoring, which helps you avoid the need of additional sensors for WLAN security (Wireless Intrusion Prevention System - WIPS). Samsung Access Points ensure a secure wireless service across the network, making it ideally suited for business environments that need to protect confidential information.
Specification
Management

Operation

Controller Based, Standalone

Wireless

Standard

802.11 a / b / g / n / ac

# of Radio

Dual Concurrent Radio

Frequency

2.4 GHz, 5 GHz

Antennas

Internal Type

MIMO

3 x 3 : 3 streams

Spectrum Analysis

Yes

Hardware Feature

Network Interface

2 GE, 1 Console

Power-Over-Ethernet

802.3 af/at

Environment Class

Indoor

Dimension (WxHxD)

205 mm / 45 mm

Security Feature

Standard

802.11 i, WPA / WPA2

Multiple SSID

Maximum 16

Rogue AP Detection, Protection

Yes

Encryption

DTLS

QoS

Standard

802.11 e

WMM

Yes

Ceritification

WiFi Certified

WPA / WPA2, WMM, WMM-PS

KCC

Yes