Elevate the power of displays to enhance any business
Content that captivates
Easily create and distribute dynamic content at scale on any display.

• Intuitively designed interface
• Easy-to-use content creator
• Basic and conditional playlist scheduling
• Real-time remote content distribution
• Embedded media player (lower TCO)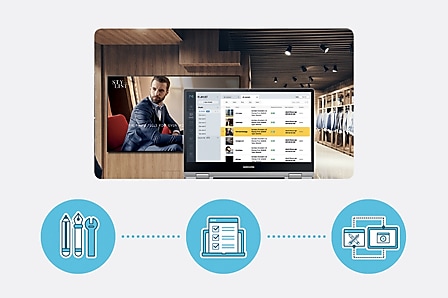 Smarter insights faster
Enhance the power of your displays with real-time data.

• Real-time health monitoring (software and hardware)
• Contextual rule-based marketing
• Behavior sensing/heat mapping
• Big data analysis
• Data synchronization
• BI dashboard and reporting with playback analysis, sales data management and target market info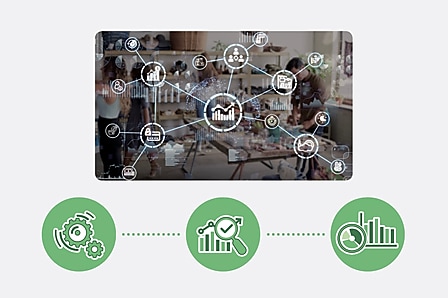 Flexible management and security
Remotely manage, control and secure your displays.

• Centralized, local and enhanced remote management
• Fully featured API (400+) / customization
• Device tagging and group management
• Robust security settings including KNOX, ISO Certificate, EDM and license management
• Advanced user management
• CMS support options available

Bring content to life with intuitive, powerful functionality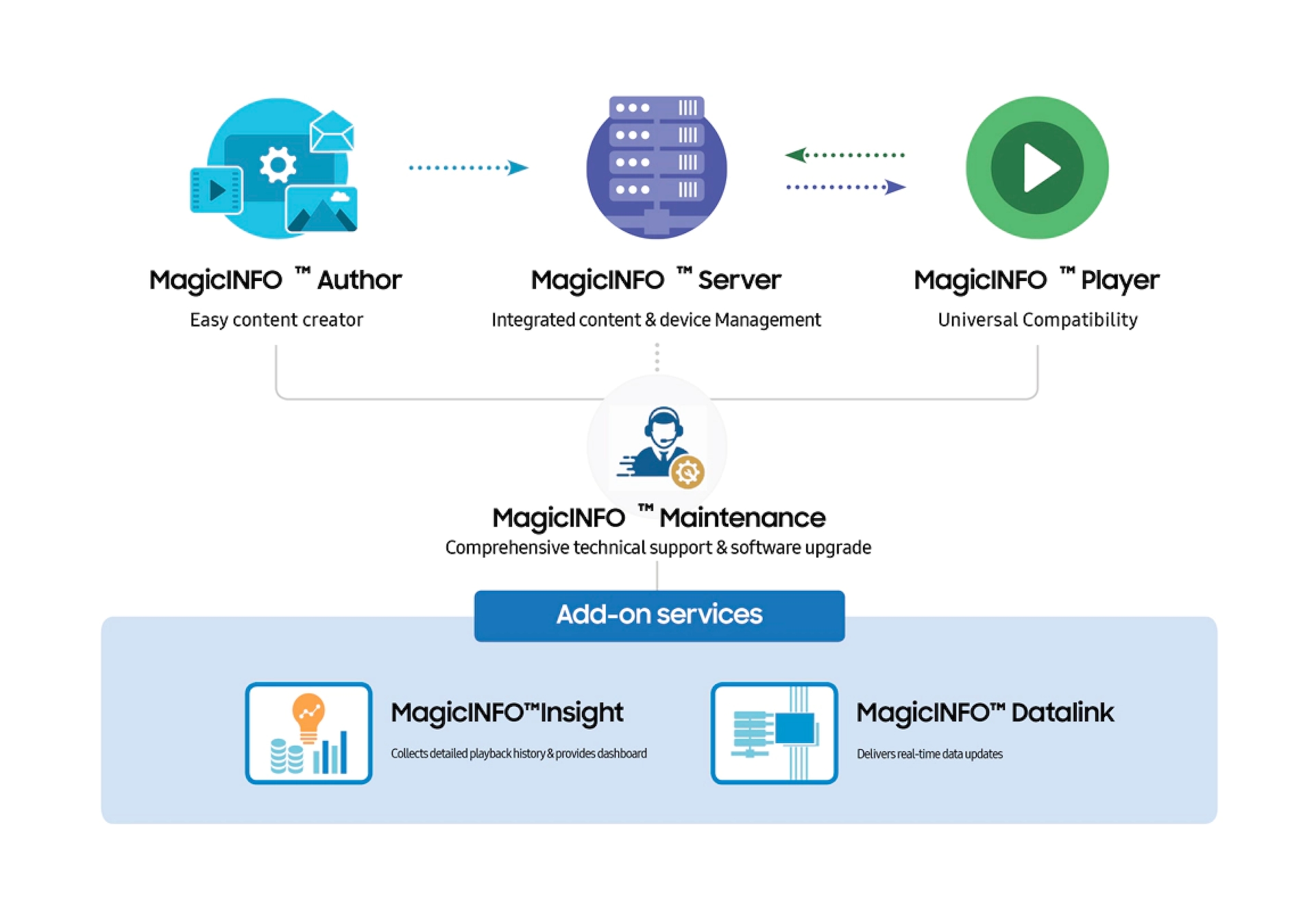 Remote Management Cloud
Test drive the power of device management on your displays. Samsung Remote Management Cloud is a service that helps businesses monitor their displays remotely from any location. This solution can also detect and troubleshoot hardware and software errors, reducing the need for site visits or service calls.
Seamless integration
Remote Management Cloud synchronizes with existing content management software for seamless integration.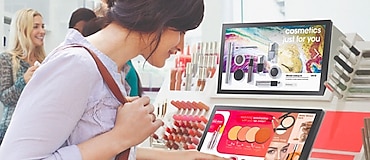 Samsung support
Get back to business and let Samsung provide 24/7 support for added peace of mind.
Simultaneous control
Control up to 12 displays simultaneously and experience private distribution via our MagicINFO Server.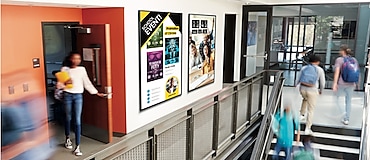 MagicINFO™ Author

EASY CONTENT CREATOR
Today's businesses require new and compelling content avenues that capture the eyes of customers while also upholding their own brand identity. MagicINFO™ Author empowers you to create compelling content with a variety of templates, clip art, visual effects, QR codes and more to help drive customer engagement.
MagicINFO™ Server

INTEGRATED CONTENT AND DEVICE MANAGER
MagicINFO™ Server drives a more convenient and efficient management experience through an intuitive user menu and extensive content and playlist management options. It allows you to create playlists from various content types and enables easy scheduling, in-depth monitoring and control capabilities to connected displays.
MagicINFO™ Player

REAL-TIME PLAYBACK MODIFICATION
MagicINFO™ Player provides advanced graphic performance and showcases content in 8K quality. Compatibility with multiple web formats and standards allows for rich content playback. And the embedded W Player unlocks real-time web content modification for more agile updates.
MagicINFO™ Insight
Collects detailed playback history and provides dashboard.

MagicINFO™ Datalink
Delivers real-time data updates.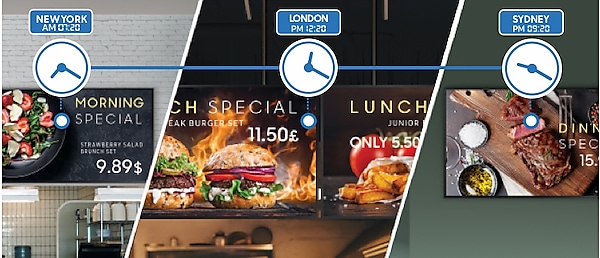 On-demand comprehensive support
Technical inquiries and troubleshooting
Users can ask questions and report issues easily on the MMP. Samsung's technical support team will assist you via a remote troubleshooting session.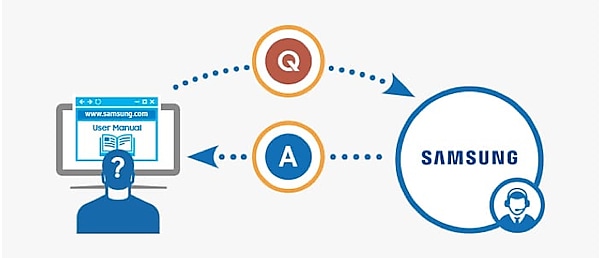 Software upgrade
Upgrade to the latest version of Samsung MagicINFO™ every time there is a software update by subscribing to MagicINFO™ Maintenance Service.
MagicINFO™ Cloud
Bring your content to life. Samsung's MagicINFO™ Cloud is a cloud-based software and management solution that gives businesses an easy way to create, schedule and distribute eye-catching content across digital display networks.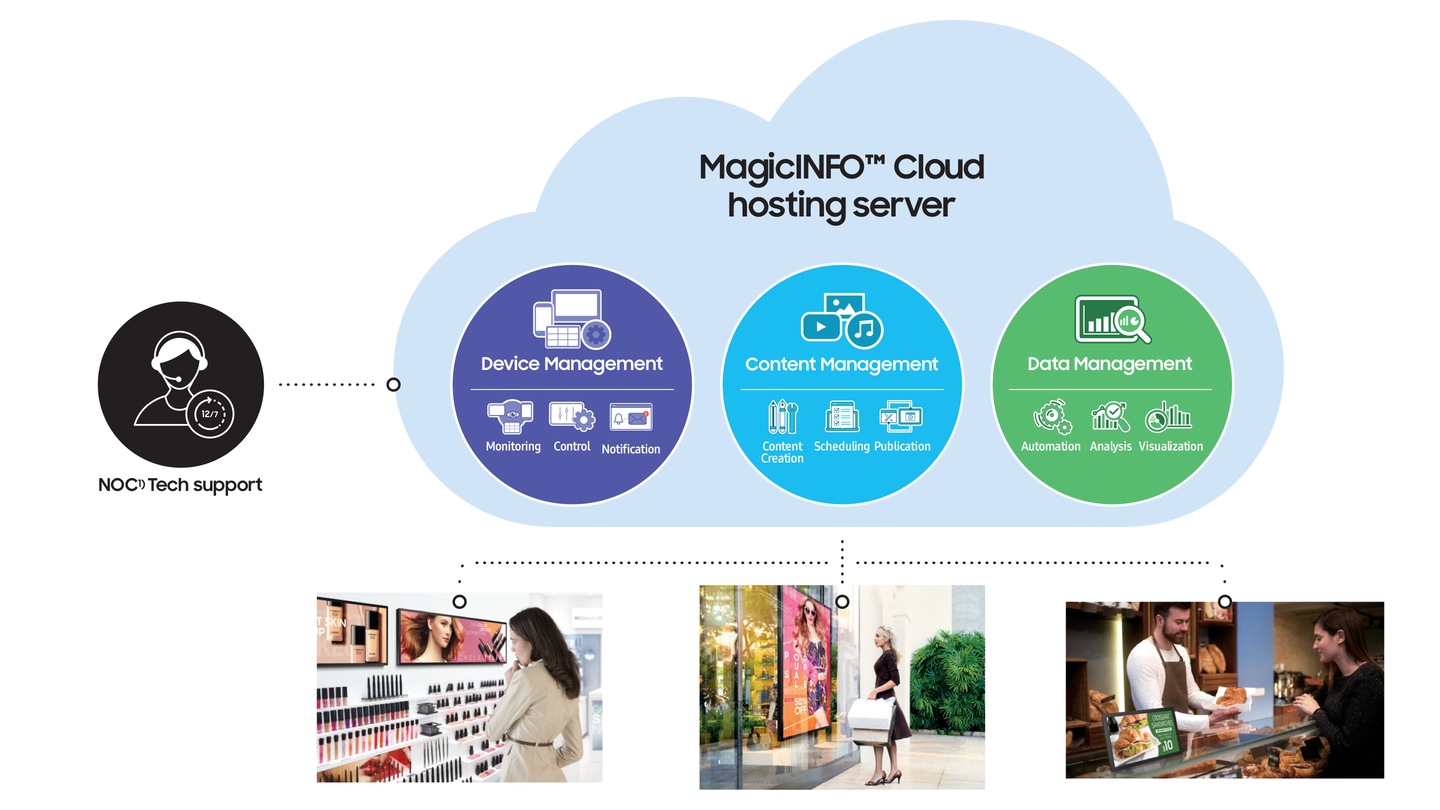 Download the MagicINFO installation files


Digital signage software insights
Samsung's MagicINFO™ solution offers reliability, scalability and may reduce digital display content management costs.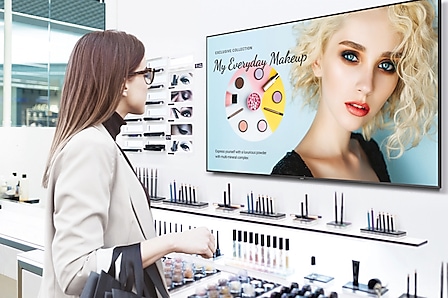 With the MagicINFO™ remote management solution, restaurants and QSR franchises can centrally manage content to meet their patrons' needs.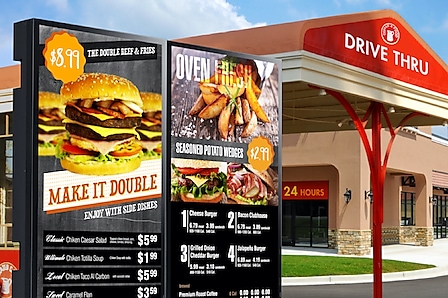 Contact a digital signage sales expert
Direct-view LED video walls
An eye-catching, large-scale viewing experience.

4K UHD displays
Head-turning visual impact and fine detail.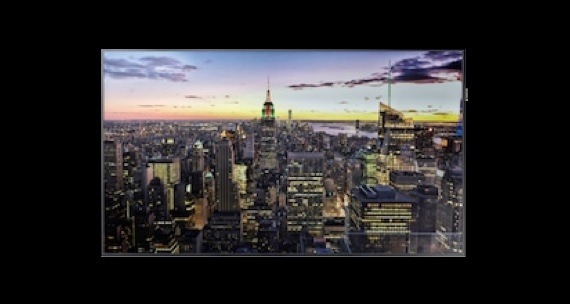 Interactive and touch displays
Simple, effective touch interactions for any environment.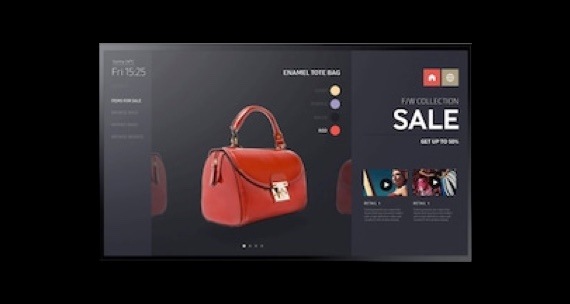 © 2023 Samsung Electronics America, Inc. All rights reserved. Samsung is a registered trademark of Samsung Electronics Co., Ltd. All products, logos and brand names are trademarks or registered trademarks of their respective companies. Screen images simulated.
Stay in the know
Contact a sales expert
Get in touch with our sales team to discuss tailored solutions for your business. You can call (866) 726-4249 to talk to an expert now, or use the form below to submit your requests.
Get product support
Find manuals, downloads, warranty information and more. We also offer FAQs and demos to help with business product questions.