4K displays and Ultra HD signage
Samsung's 4K UHD digital signage rises above the rest to deliver best-in-class UHD resolution, intelligent UHD upscaling and rich flawless colors with Dynamic Crystal Color—all in a slim design. Our 4K UHD displays not only deliver an image with virtually flawless clarity but are also designed to maintain their exceptional picture quality even when exposed to direct sunlight. The embedded media player allows for easy content management and playback without the need for a PC. So you can deliver impossible-to-ignore messages around the clock in retail spaces, corporate boardrooms and more.
Incredible picture quality
Capture your customers' attention by delivering an incredibly clear picture and showcasing lifelike images with intricate detail.
4K Ultra HD
4K UHD resolution delivers lifelike image quality with 4x more pixels than Full HD. Super-crisp, pixel-dense UHD content amplifies even the smallest visual details for a more immersive picture.
Intelligent UHD Upscaling
A cutting-edge solution based on Samsung's proprietary intelligent UHD engine that allows content developed at a lower resolution to be elevated to UHD-level quality and performs edge restoration and noise reduction.
Dynamic Crystal Color
Using 10-bit processing, the displays are able to showcase a wider spectrum of colors—up to a billion different shades—capturing subtle differences for virtually flawless color expression.
HDR 10+
Samsung's QMR and QBR Series feature HDR 10+ functionality that converts standard definition (SDR) content to HDR quality for sharper contrast and more vivid colors.
Powerful, all-in-one solution
Samsung's SMART Signage Platform (SSSP) and the embedded MagicINFO Player, backed by the powerful Tizen operating system, boosts your 4K UHD displays' overall performance through System-on-Chip (SoC) technology and allows for easy content management and playback. All without the need for external devices to communicate with the server or play digital media, allowing for easy development, reinforced compatibility with multiple web formats and secured protection.
Cisco Certified Compatible
Samsung's QMR, QBR and QHR Series are fully compatible with Cisco WebEx® Room Kit products that integrate a camera, codec, speakers and microphones into a single device, so you get a powerful conferencing solution for your business.

4K UHD vs. Full HD digital signage
4K Ultra HD resolution at 3840x2160 pixels delivers four times the resolution of full HD displays at 1920x1080 pixels. Samsung 4K displays can even enhance the clarity and detail of standard and high definition content to the best possible picture quality with the UHD upscaling picture improvement process.
Explore 4K Ultra HD displays
Samsung's 4K Ultra HD displays feature vivid and lifelike colors in a slim and symmetrical design. Explore our selection of 4K UHD displays.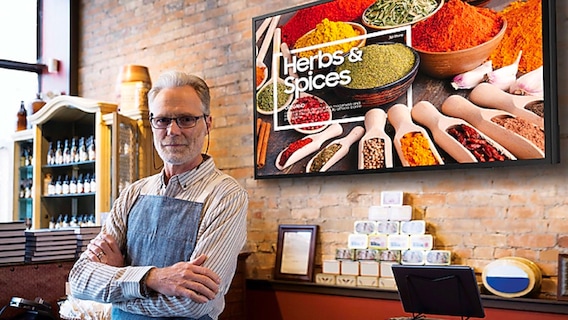 Explore Full HD displays
Samsung Full HD digital displays provide professional-grade image quality. Find the perfect Full HD display for your business today.
Top 4K displays and digital signage products
Resources to make the most of your 4K digital signage displays
Find out how you can make every conference room smarter with Samsung Ultra HD displays and Cisco Webex Room Kits.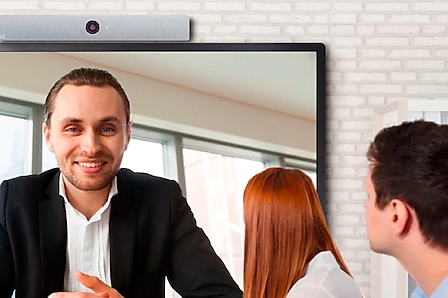 Sign up to find out how you can choose the right display provider when security is paramount.
Sometimes, enterprises don't account for the full cost of digital signage installations. Here are a few ways to plan ahead.

See more digital signage products

See all digital signage
With best-in-class picture quality and exceptional durability, Samsung digital signage displays elevate the conventional viewing experience.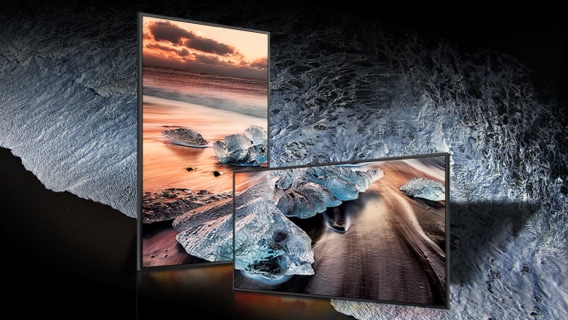 Explore QLED
Samsung's QLED displays and digital signage deliver realistic detail and vibrant color to showcase your business in the best light.
Contact a 4K digital signage sales expert
Please provide your contact details and our sales team will get back to you about Samsung 4K digital signage displays. Or you can call (866) 726-4249 to talk to an expert now.
© 2022 Samsung Electronics America, Inc. All rights reserved. Samsung is a registered trademark of Samsung Electronics Co., Ltd. All products, logos and brand names are trademarks or registered trademarks of their respective companies. Screen images simulated.
Stay in the know
Contact a sales expert
Get in touch with our sales team to discuss tailored solutions for your business. You can call (866) 726-4249 to talk to an expert now, or use the form below to submit your requests.
Get product support
Find manuals, downloads, warranty information and more. We also offer FAQs and demos to help with business product questions.