Case study: Magna International
Find out how Samsung wearable technology helped Magna get started on the road to becoming a smart factory.
Seamless visibility
With Samsung and Harman IoT solutions, data is immediately accessible and actionable. Operation decisions can then be made to optimize automation uptime.
Operational efficiency
Real-time data lets you secure the predictable delivery of services for assets and improve operational efficiency, helping to save costs and creating new value.
Barcode scanning solutions
Through partner solutions and accessories—like SCANDIT barcode scanning software and KOAMTAC scanner and charging cradles—Samsung ruggedized tablets and smartphones can be transformed into mobile barcode scanners while enabling field workers to be more productive in a variety of other tasks. Reduce the impact of human error and improve data credibility, inventory and asset management.
Asset management solutions
By integrating IBM Maximo's asset management program into Samsung mobile devices, like the Galaxy Tab Active2, mobile workers can complete tasks such as equipment inspection and maintenance, all paper-free. It also enables real-time analysis while on-premises or outside, easy updates of work orders and counting of inventory items, all while using an intuitive, friendly interface.
Field services case study: Diebold
Diebold's deployment of Galaxy S smartphones with the Librestream Onsight application has significantly boosted the efficiency of newer technicians in the field, and reduced the need to pair less-experienced field service team members with more senior mentors.
Samsung DeX
Transform your smartphone from the Galaxy S8 and up into a desktop workstation, making any place a work space.
Case study: Tamarack Aerospace Group
Through a unique partnership with Samsung, Ingram Micro, Amazon and RedNight, Tamarack piloted a comprehensive mobile cloud-based solution using Samsung DeX and Amazon Web Services (AWS).
Seamless connectivity
Wearables in manufacturing enable the ability to react to machinery issues or assign tasks to floor personnel immediately.
Defense-grade security
Samsung Knox is our defense-grade mobile security platform that you can trust regardless of the condition or situation. Built from the hardware to the application layer for easy manageability, Knox keeps hackers out and data safe.

Galaxy Tab Active Series
Go fearlessly. Work seamlessly.
Stand up to real-world challenges with the Galaxy Tab Active Pro and Tab Active3, rugged tablets designed for work in the field. Integrating IBM Maximo's asset management program into Galaxy tablets, mobile workers can complete tasks such as equipment inspection and maintenance, paper-free. Enjoy real-time analysis on-premises or outside and updates of work orders and inventory on an intuitive, friendly interface.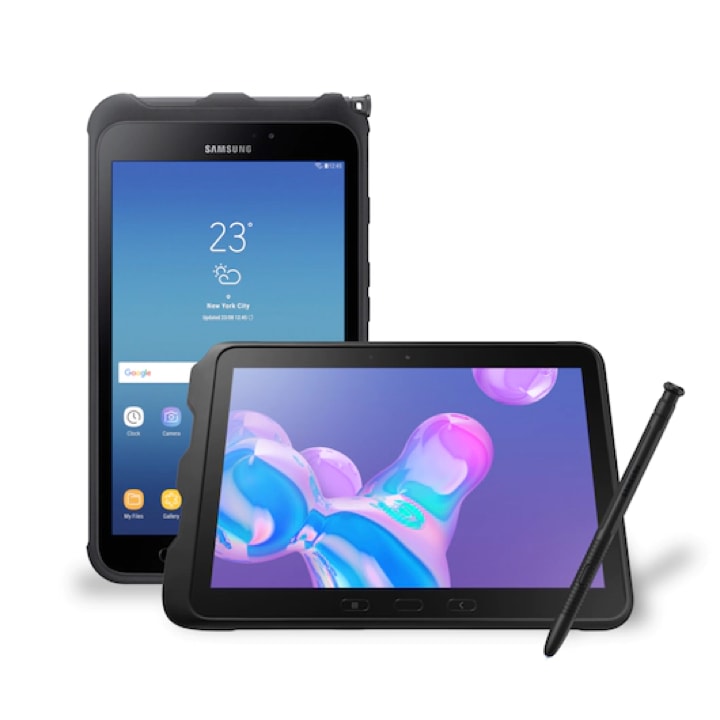 Get exclusive business savings
Shop volume pricing, bulk trade-in discounts, free software trials and limited time offers for your business. Make buying best-in-class technology a breeze with 0% Samsung Business Financing.
Volume pricing up to 30% off per device
Get exclusive volume pricing up to 30% off per device when you buy in bulk with a Samsung Business Account. Plus, get free shipping and limited time instant savings.
Highest online bulk trade-in values
Save up to $900 with each eligible trade-in device when you purchase the latest Galaxy devices with the Samsung Business Trade-In Program.*
Samsung Business Financing
Make buying best-in-class technology a breeze with flexible, 0% financing. Enjoy instant approval, net terms and no fees that expand with your evolving business.
Samsung Tax Exemption Program
Enjoy tax-free purchases of eligible Samsung technology products for your tax-exempt charity, non-profit, educational organization and more with a Samsung Tax Exempt Account.
Top products for manufacturing
Tab-Ex® 02: Rugged Tablet
The Tab-Ex® 02, based on Samsung's state of the art Galaxy Tab Active2, leverages Samsung's know-how and brings a new level of customer focused solutions and increased ease of use to mobile workers in Oil & Gas, Refining, Chemical, Pharmaceuticals and other hazardous industries. Available only from ecom, a Pepperl+Fuchs brand.

Contact a sales expert
Submit your info to our sales team below, or call (866) 726-4249.
© 2023 Samsung Electronics America, Inc. All rights reserved. Samsung is a registered trademark of Samsung Electronics Co., Ltd. All products, logos and brand names are trademarks or registered trademarks of their respective companies. Screen images simulated.
Stay in the know
Speak to an expert
Get in touch with our sales team to discuss tailored solutions for your business. You can call (866) 726-4249 to talk to an expert now, or use the form below to submit your requests.
Get product support
Find manuals, downloads, warranty information and more. We also offer FAQs and demos to help with business product questions.