Use Flex mode and view apps on Galaxy foldable phones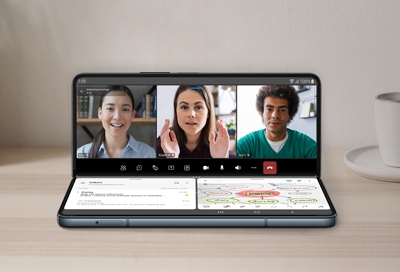 Looking for a way to truly maximize your time while still enjoying all that your Galaxy device has to offer? With the Galaxy Z Fold and Z Flip series, you can do exactly that. There are several ways to view your content, like using Flex Mode to see your screen from different perspectives, App continuity to transfer your apps from the cover screen to the main screen, and Multi window to see more than one app at a time. Plus, the phone's durable design allows for continuous folding and unfolding throughout the day, so there's no need to worry about how often you bend or flex your device.
Note: Flex mode is compatible with select apps, but more apps are being updated to take advantage of Flex mode, so compatibility will increase over time. If you experience any issues with apps, be sure to send some feedback to the developers so they can add support.
Use Flex Mode
Note: Most apps are only supported in Landscape view when using Flex Mode.
Flex Mode allows you to see apps, type up notes, watch videos, take photos, and more using different orientations. Whether you're relaxing on the sofa or cooking in your kitchen, you can prop up your Galaxy foldable phone to interact with the screen's content.
To use Flex Mode, all you need to do is open an app and then partially fold your device into an L shape. For example, you can open the Camera app, partially fold your phone, and then place it on a table to take a hands-free selfie with your friends. On the bottom portion of the screen, you can control the camera's features and tap the Gallery preview to view your recent photos and videos. You can switch back to the app's normal mode by unfolding the phone.
Alternatively, you can use Cover View by placing the phone on a flat surface and then lifting the cover screen towards you. Or, prop up the device while it's still folded to use Tent View when diving into your favorite game.
When in Flex Mode, you can use Camera, Video calling, Gallery, Video player, Clock, Calendar, YouTube, Google Meet, and more!
Enable Flex mode
Note: Flex mode is supported on the Galaxy Z Fold5, Z Fold4, Z Fold3, Z Flip5, and Z Flip3.
On certain models, Flex mode includes a new feature called the Flex mode panel. This handy panel will appear when you open certain apps, so you can quickly adjust the screen's brightness and control the volume.
Navigate to and open Settings.

Swipe to and tap Advanced features, and then tap Labs.

Tap the switch next to an app to turn on its Flex mode panel.

Next, navigate to and open that app, and then fold your device to view the app in Flex mode.

You'll see the Flex mode panel on the bottom part of the screen. Use the panel to open notifications, take screenshots, adjust the brightness, and adjust the sound. On the Z Fold4, you can also use the new touchpad icon (the rightmost icon) to navigate the screen like on a PC.
Use Multi window in Flex mode
You can use several apps at once on the Galaxy Z Flip models, including the Z Flip5, with Multi window in Flex mode. Open the Multi app tray to use apps in split screen or pop-up view, and then leave the phone propped open to check your email or take photos.
Swipe left from the right side of the screen to open the Multi app tray. Hold and drag an app to the top of the screen to open it in split screen view, or drag it to the center to open it in popup view. When using popup view, you can open up to five active apps at one time.
Move the windows around the screen or tap one of the icons at the top to change the opacity, minimize the window, or expand it to fit the whole screen.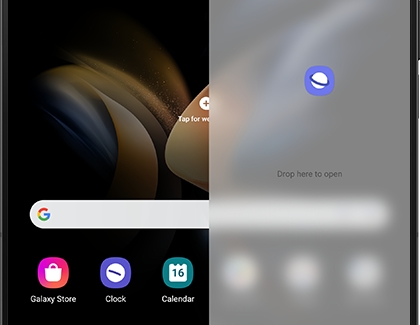 In split screen view, you can use the top and bottom portions of the screen to multitask. Watch a video on YouTube while sending a message to your friend, or browse the internet and look at your photos at the same time. You can even have multiple instances of some supported apps, including Microsoft Office apps, Google Chrome, Samsung Internet, Samsung Notes, and My Files.
Multi view on the Z Fold phones
Multi view is fully supported on the Z Fold series of phone, including the Z Fold5, but what does it do? It displays some apps and settings in a multi-column layout! For example, instead of being one continuous page, the Settings app will appear as two columns, with one part displaying on the left side of the screen and the other part displaying on the right side. This means less scrolling and no more swapping back and forth between menus.
Multi view should be turned on by default, but here are instructions in case you turned it off by mistake:
On your phone, navigate to and open Settings.

Tap Display. Then, tap Screen layout and zoom.

Make sure the layout is set to Multi view.

When Multi view is enabled, you can view and use the following apps in a two-column layout: Settings, Samsung Messages, My Files, and Contacts.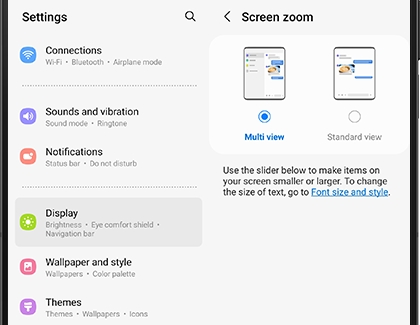 Note: Multi view only works for the specific apps listed above.
App continuity
Note: Some apps are not compatible with App continuity or full-screen aspect ratio.
When you're busy multitasking, use App continuity to open and view apps on both the cover screen and the main screen. You can use Landscape orientation on the cover screen as well if you're browsing websites or watching a video.
Open an app on the cover screen and then unfold your phone to see it on the larger main screen.

You can optimize apps that don't use the full-screen aspect ratio by navigating to Settings, tapping Display, and then tapping Full screen apps.

Tap the switch next to your desired apps, or tap the app and then select an aspect ratio. 

Once an app or file is open on the main screen, just fold your phone to continue using it on the cover screen.

To adjust App continuity for the cover screen, navigate to Settings, tap Display, and then tap Continue apps on front screen or Continue apps on cover screen. For example, if you need to fold your device while responding in a group chat, you'll still be able to see those important messages on the cover screen.
Other answers that might help
Contact us
We're here for you.
1-800-SAMSUNG

Mon – Sun: 8AM – 12AM (EST)
Want help right away?
Email as a contact option was discontinued as of April 3rd, 2019. Please contact us via Live Chat for a faster response.
Call or Text Us
Give us a call
How can we help you?
Mobile

8 AM - 12 AM EST

7 days a week

Home Electronics & Appliance

8 AM - 12 AM EST

7 days a week

IT/Computing

8 AM - 9 PM EST

7 days a week

Text Support

24 hours a day

7 Days a Week
mobile|phones|galaxy-z
We're here for you
Contact Samsung Support
Contact us online through chat and get support from an expert on your computer, mobile device or tablet. Support is also available on your mobile device through the Samsung Members App.