CNET declares:
"The Best Selfie Camera is Galaxy S20 Ultra"

CNET September 2020
Galaxy S20 FE 5G | S20 5G | S20+ 5G | S20 Ultra 5G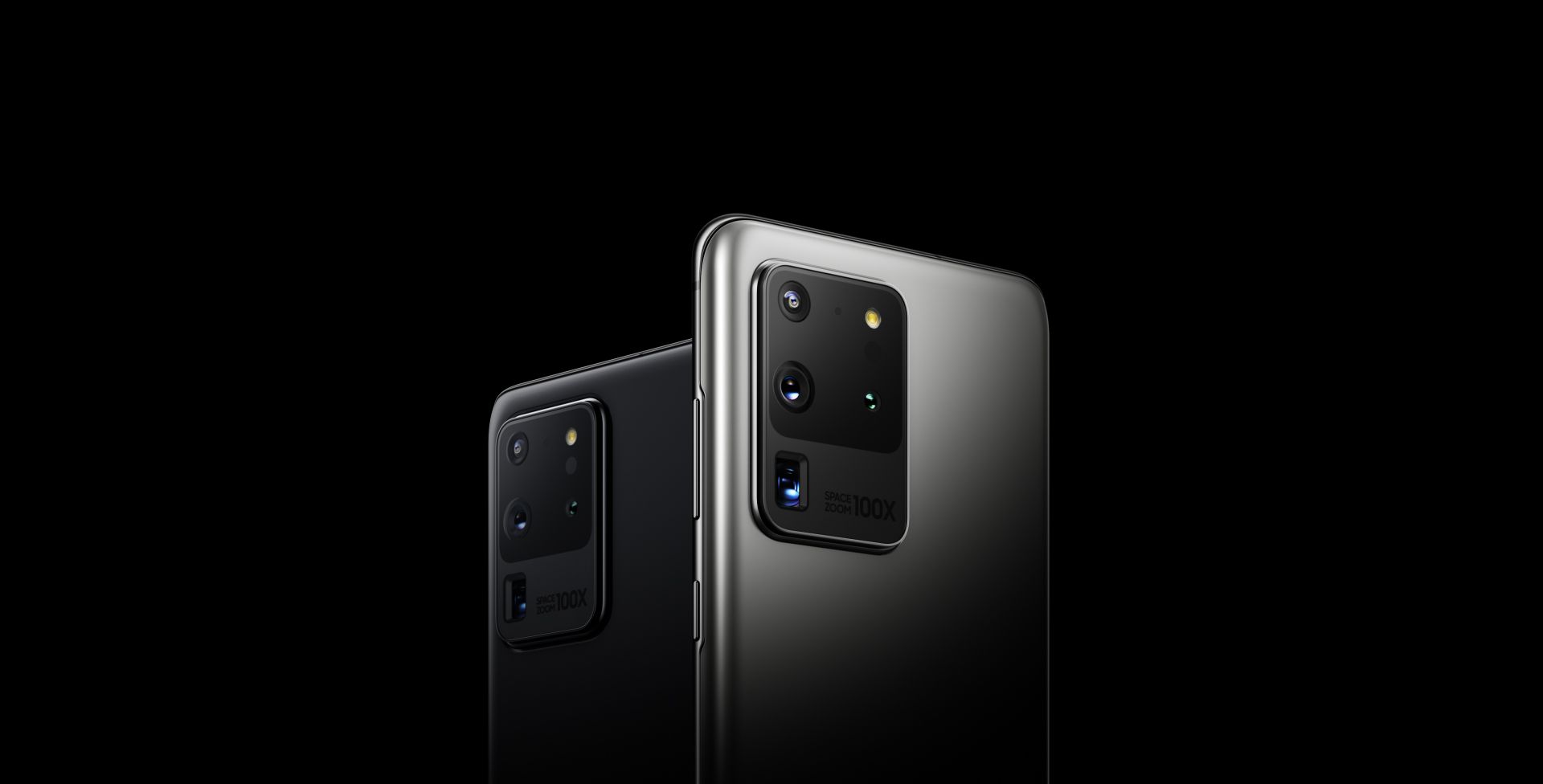 This is the phone that will change photography
Meet Galaxy S20, S20+ and S20 Ultra 5G. With revolutionary 8K Video Snap, 5G connectivity and Space Zoom up to 100x, the way you capture and share your life will never be the same.1, 2 Shots you never even knew were there are suddenly just a tap away.
"The Best Selfie Camera is Galaxy S20 Ultra."

CNET September 2020

"There is plenty to love about both the Galaxy S20 and the S20+…it appears to pack most of Samsung's more radical steps and innovations for 2020."

GSMArena

"It is impossible not to recommend the S20 Ultra, which sets a new benchmark for 5G Android phones to chase." Galaxy S20 Ultra, T3, March 2020

T3

"From the 5G support to the flawless performance; from the hugely improved camera to the utterly gorgeous display – the S20 is the Android king."

Trusted Reviews

"Samsung has recaptured the night photography crown."

Ubergizmo

"The Galaxy S20 is the perfect size for my life, but it's also a powerhouse just like the big boys." Galaxy S20, Android Central, March 2020

Android Central

"The S20 has one of the best-looking displays on the market, an all-round versatile camera and - at long last - a battery that'll easily get you through the day."

Pocket-lint

"Overall, I think there isn't another Android phone that rises to [the Galaxy S20's] level of build quality."

The Verge
Choose between three phones designed around a revolutionary camera experience.3
A massive leap forward in resolution and zoom for mobile photography
"The Best Selfie Camera is Galaxy S20 Ultra."
CNET September 2020
High Resolution
108MP lets you pinch in. Again. And again. And again.4
Photo taken on Galaxy S20 Ultra's 108 megapixel camera of a couple sitting on a beach. The 108MP gives you incredible detail in your photos so you can pinch in again and again without losing clarity, and as we pinch in on the photo, we discover a scene of someone carrying a surfboard at the right angle to make it look like the person jumping off the cliff behind them is jumping onto the surfboard
Pinch in to experience 108MP
Galaxy S20 Ultra 5G breaks the 12MP barrier by giving you millions more pixels in each photograph. Which means, for the first time ever, you can pinch in to capture details you've never seen before.
Galaxy S20 & S20+ 5G
64MP
Galaxy S20 Ultra 5G
108MP
Our most advanced zoom goes places no mobile phone has gone before
Space Zoom
Zoom in 100x to find shots you never knew existed.5





Get closer to the action than ever before with our most advanced zoom yet. With the power of 10x Hybrid Optic Zoom and our highest resolution image sensor to date, you'll capture moments you might have missed.
*Image simulated for illustrative purposes.
Galaxy S20 & S20+ 5G
3x
Hybrid Optic Zoom
Up to 30x
Space Zoom
6
Galaxy S20 Ultra 5G
10x
Hybrid Optic Zoom
Up to 100x
Space Zoom
6
Bright Night
We almost tripled the sensor size so you can shoot more of the night
Photos taken with Night mode on Galaxy S20 plus. BTS stands in a low-lit hallway, holding objects lit up with glowsticks and neon lighting like a guitar, clarinet, basketball, sunglasses, and more. In the Night mode off photo, you can see outlines of the band members but mostly the glowsticks and neon objects. In the Night mode on photo, the faces and outfits of the band are much clearer and more colorful.

Night mode off

Night mode on
8K Video Snap revolutionizes how you capture photos and video
8K VIDEO SNAP
Capture crisp content with staggeringly high-resolution video for a smartphone.
Galaxy S20 5G's resolution jumped from 4K to 8K—4x bigger than UHD and 16x bigger than HD. Not only are videos sharper, you'll be able to pull full 33MP stills directly from your videos.

Single Take
Shoot one shot, produce multiple pieces.
This is burst mode on beast mode. Single Take's AI captures up to 10 seconds in a variety of still and video formats with one tap, so you can focus on getting the best shot in the moment without worrying about how you're capturing it.7

Select Single Take mode in the camera and tap the shutter. Move around for up to 10 seconds to capture the whole scene.
*Image simulated for illustrative purposes.
A game-changing phone requires a new level of connectivity
HyperFast 5G
Share and stream easier than ever at HyperFast speeds.
With a 5G modem baked in, Galaxy S20, S20+ and S20 Ultra 5G let you download in an instant and enjoy your favorite Netflix movies and shows HyperFast.8 With 5G, you can upload and share at high speeds.
*Netflix subscription required. Download restrictions apply.




5G for business
Unlock revolutionary new ways of doing business.
All Day Battery
Power on and on
and on…
Our batteries are powerful, maxing out at 5000mAh (typical).9,10 But they're also intelligent, adjusting to your mobile habits to save power and go the distance, so you can stream, game, chat and text for hours before having to recharge.11

STORAGE
Store hundreds of thousands of your favorite photos.12
With a camera system this stellar, Galaxy S20 5G had to have storage for all the masterpieces you'll be shooting. Store thousands of high-res photos and videos or expand with a microSD card for up to 1.5TB total storage.12, 13

Plus up to an additional
1TB
via MicroSD 13
SECURITY
Protect what's yours with a massively upgraded security system.
Put private data on lockdown with security that protects your PIN, password, pattern and Blockchain Private Key. Combined with the Knox platform, security is infused into every part of your phone, from hardware to software.

And for business owners, Knox protects your data by isolating, encrypting and securing it. Trust your security with the security trusted by governments around the world.
See how Knox can protect your business

ACCESSORIES
Take your Galaxy S20 5G series experience to the next level.

*Accessories sold separately. Model and color availability may vary by country or carrier.
Compare the models



Galaxy S20 5G Galaxy S20+ 5G Galaxy S20 Ultra 5G
Colors
1
Cosmic Gray
Cloud Blue
Cloud Pink
Cosmic Gray
Cosmic Black
Cloud Blue
Aura Blue
Cosmic Gray
Cosmic Black
Cloud White
Color availability may vary depending on country or carrier.
Measured diagonally, Galaxy S20's screen size is 6.2" in the full rectangle and 6.1" with accounting for the rounded corners; Galaxy S20+'s screen size is 6.7" in the full rectangle and 6.5" with accounting for the rounded corners; and Galaxy S20 Ultra's screen size is 6.9" in the full rectangle and 6.7" with accounting for the rounded corners; actual viewable area is less due to the rounded corners and camera hole.
Space Zoom includes digital zoom, which may cause some image deterioration.
Typical value tested under third-party laboratory condition. Typical value is the estimated average value considering the deviation in battery capacity among the battery samples tested under IEC 61960 standard. Rated (minimum) capacity is 3880mAh for Galaxy S20, 4370mAh for Galaxy S20+, and 4855mAh for Galaxy S20 Ultra. Actual battery life may vary depending on network environment, usage patterns and other factors.