Which Accessibility options are available on my Samsung Galaxy Tab 4 8.0?
Accessibility
Your Samsung device comes with a variety of accessibility features that can help those with visual, audio, or mobility impairments use the device with greater ease. To turn on these accessibility features, from the Home screen, touch Apps > Settings > Device > Accessibility.
Accessibility Options
Auto rotate screen: Have your device rotate the screen based on its orientation in your hand.

Screen timeout: Select the length of time of inactivity before the screen goes blank.

Speak passwords: When this feature is turned on, your device will speak passwords for logins.

Single tap mode: Set your device to stop and snooze alarms and calendar events with one touch.

Show shortcut: When you mark this feature, you can add the Accessibility shortcut, TalkBack shortcut, or both to the menu shown when you press and hold the Power/Lock key for one to two seconds.

Manage accessibility: Save, update, and share your accessibility settings. Touch Manage accessibility to access these additional options:

Export: Export your accessibility settings for recovery later or sharing with someone else.

Update: Import a saved accessibility settings file.

Share via: Send your accessibility settings file via Bluetooth, Email, Gmail, or Wi-Fi Direct.

Additional sharing options may be available on your device. The options vary based on applications installed and features you have turned on.
Accessibility Service — TalkBack
The TalkBack feature will read aloud the menu location you are in, and it can also read aloud on-screen options you select to assist blind or low-vision users. When the TalkBack feature is turned on, touch the screen with two fingers to navigate or select an item. To turn on TalkBack, from the Home screen, touch Apps > Settings > Device > Accessibility.
Touch TalkBack, and then touch the slider to turn TalkBack on.

Touch TalkBack, and then touch the slider Slider Off to turn TalkBack on Slider On.

Touch OK to turn on TalkBack and turn off features that cannot be on while TalkBack is on.

A tutorial will be displayed (touch is disabled while the tutorial is speaking).

If you would like to download a high-quality voice file for English, touch OK with two fingers, and follow the on-screen prompts. Touch Do not show again to bypass this message in the future, or touch Cancel to continue without downloading.

A Samsung account is required to download the voice file, and we recommend that you are connected to a wireless network.

With two fingers, touch Exit to quit the tutorial, or touch Next > Finish to complete the tutorial.
Turning Off TalkBack
With two fingers, swipe from the top of the screen to the bottom to access the Notification Panel.

With two fingers, touch TalkBack has been turned on.

Scroll down using two fingers slightly spread apart, and with two fingers touch TalkBack.

With two fingers, touch the slider to turn TalkBack off and then touch OK with two fingers to stop TalkBack.
TalkBack Settings
Touch Settings at the top of the screen to edit the following TalkBack settings:
Speech volume: Select the speech level of TalkBack. Choose Match media volume, 75% of media volume, 50% of media volume, or 25% of media volume.

Use pitch changes: Have any keyboard feedback spoken at a different pitch.

Keyboard echo: Always speak typed keys.

Speak when screen is off: Have TalkBack speak to you even when the screen is off.

Shake to start continuous reading: When selected, this feature lets you begin continuous reading from any menu by shaking the device.

Vibration feedback: Have TalkBack use vibration feedback when you are interacting with your device.

Sound feedback: Turn on sound feedback when TalkBack is on.

Focus speech audio: Decrease other volume when TalkBack is speaking.

Sound volume: Select the sound feedback level of TalkBack. Choose Match media volume, 75% of media volume, 50% of media volume, or 25% of media volume.

Explore by touch: Touch your device's screen and hear what's under your finger via spoken feedback. This feature is helpful to users with low vision.

Automatically scroll lists: Scroll through lists automatically.

Single-tap selection: Use a single touch to select a focused item.

Launch "Explore by touch" tutorial: Open a tutorial on how to use the Explore by touch feature.

Manage gestures: Assign one of the following shortcuts to any of the gestures: Unassigned, Back button, Home button, Recent apps button, Open notifications, Open global context menu, Open local context menu, Read from top, and Read from next item. Touch Two part vertical gestures, and select Move to the first and last items on screen or Cycle through reading granularities.

Manage custom labels: Manage labels assigned to a previously unlabeled image.

Resume from suspend: Resume TalkBack When screen turns on, When lock screen is shown, or From notification only.

Developer settings: Access TalkBack settings used for developing applications. Choose Log output level or Display speech output.
Vision Assistance
Font size: Adjust the size of your device's font.

Magnification gestures: Touch Magnification gestures to access the feature controls and view available gestures. Touch the slider to turn Magnification gestures on.

Negative colors: Invert the color of the screen—text that usually appears black on white will be shown white on black.

Color adjustment: If you are color-blind, your device can adjust the colors to compensate. Touch the slider to turn Color adjustment on. Touch Color adjustment > Start, and touch the color boxes in the order of similarity to the first color displayed below. Touch Done.

Notification reminder: Touch the slider to turn Notification reminder on. When you have an unread notification, a beep will sound.

Accessibility shortcut: Add an accessibility shortcut to the power menu. When it is turned on, open "accessibility features" by pressing and holding the Power/Lock key and then touching and holding anywhere on the screen until you hear the audio confirmation. Touch Accessibility shortcut, and then touch the slider to turn Accessibility shortcut on.

Text-to-speech options: Adjust the Speech rate at which text is spoken, and select the preferred text-to-speech engine.
Hearing Assistance
Sound balance: Adjust the sound balance of media when using headphones.

Mono audio: Provide mono audio for listening with only one earphone.

Turn off all sounds: Turn off all sounds, including the receiver voice.

Google subtitles (CC): Turn on closed caption provided by Google in supported apps.

Samsung subtitles (CC): Turn on closed caption provided by Samsung in supported apps, such as the Video app.
Dexterity
Assistant menu: Touch the slider to turn Assistant menu on. Touch Assistant menu to set your Dominant hand and Edit the assistive functions.

Press and hold delay: When you touch and hold the screen, this option controls how long your device will delay before opening contextual menus or actions. Choose Short, Medium, Long, or Custom.
Recognition
Interaction control lets you turn off motions, screen timeout, and other interactions in the open application.
Touch the slider to turn Interaction control on . To turn on Interaction control in an app, with the app open, press the Home key and Volume down key at the same time.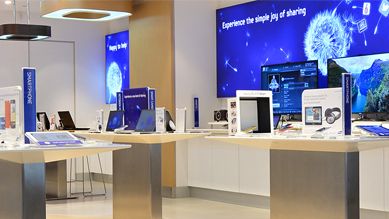 Need a repair for your Samsung Smartphone or Tablet?
Visit a Customer Service Location for hands-on service and expert advice.
How would you like to contact us?
Give us a call 1-800-SAMSUNG (1-800-726-7864)
Mon - Fri : 8AM -12 AM (EST) Sat - Sun : 9AM -11 PM (EST)
Printer support visit: hp.com/support/samsung
Chat with us
Live Chat support with a Samsung product expert.
24 HOURS 7 DAYS A WEEK
Help with your order
Send us your inquiry and we will respond within 24 hours.
1-800-SAMSUNG Mon - Fri : 8AM -12 AM (EST) Sat - Sun : 9AM -11 PM (EST)