How to clean your Samsung dryer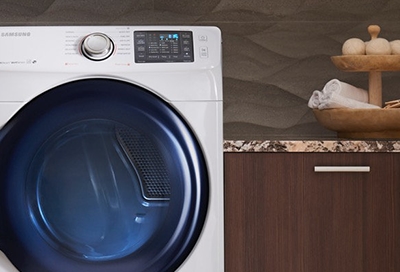 Dryers are one of the leading causes of house fires, and a very high percentage of dryer-related fires (over 9 out of 10) were because they weren't kept clean. Keep your house safe and your energy costs low with a little routine maintenance. And if a crayon or some other kind of stain is all over your dryer, you'll want to clean that up before putting any more laundry in.
Clean the lint filter before or after every load
Caution: (1) To prevent fire risk, be sure to clean the lint filter before or after every load. (2) Do not operate the dryer without the lint filter in place. (3) Do not use a damaged or broken lint filter. This may reduce performance and/or cause fire.
Cleaning the lint filter is easy. Open the door, and then pull out the lint filter from inside the drum. Remove the lint that has accumulated inside the space. You can use a pipe cleaner to clear out the lint filter compartment. Then, clean the lint off the filter, reinsert the filter, and then close the door.
If you need to replace your lint filter, visit Samsungparts.com.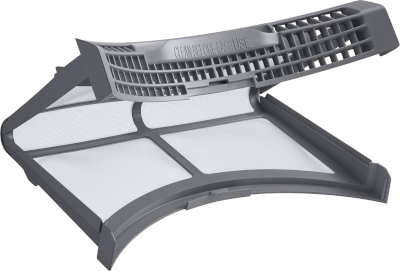 Given the choice between doing this before or after a cycle, we recommend before, since it will mean less lint for your dryer to have to try to push air through as you're drying your clothes. But why not both? It never hurts to have as little lint as possible in your lint filter.
Clean the drum when necessary
Most of the time your dryer is only getting clean clothes thrown in it, fresh from the washer, and you don't have to worry about moisture piling up because, well, drying is what it does (so long as you don't let wet clothes sit in the dryer before starting the cycle). But occasionally something might spill or stain your washer (like a crayon or inkpen left in a pocket) so you may still need to clean your dryer's drum now and then.
If your dryer's drum is powder coated, you can remove stains from it with an all-purpose cleaner. Then, use some old towels or rags you don't care about and tumble them through a dry cycle. They'll collect up the remaining stains or cleaner. Even if stains are left on your drum after that point, they won't get on your clothes anymore.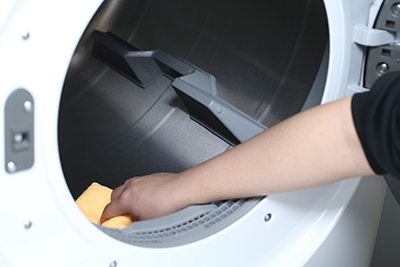 To clean a stainless steel drum, use a damp cloth with a mild, non-abrasive cleaner suitable for easily marred surfaces. Then, remove the cleaner residue and dry with a clean cloth.

Clean your exhaust vent once or twice a year
Here's the part people forget about. Over time, lint is going to clog up your exhaust vent. It just happens and there's not really a way to prevent it completely. This can affect drying performance and also cause house fires.
There are several do-it-yourself vent cleaners you can buy, but we recommend to have a professional vent cleaning service come take care of it for you. If you want to do it yourself, though, here's a helpful instructional video.
How often you'll need this will vary depending on how often you use your dryer and what kind of exhaust vent you have in your home, and can be anywhere from once every two years to twice a year. But it's way better to do it too often than not enough.
If you're reading this right now and you can't remember the last time you had your dryer's vent cleaned, then the time is now! Although most of our dryers will reduce their heat in order to prevent a fire if they detect the vent is clogged, it does mean your clothes will take much longer to dry. Cleaning your vent will see a significant increase in your drying performance!
Note: A lot of our models have a vent blockage test that can confirm if your vent is either dirty or doesn't meet the requirements of the dryer.
Other answers that might help
How would you like to contact us?
1-800-SAMSUNG MOBILE: 24 HOURS, 7 DAYS A WEEK ALL OTHER: M-F 8-12AM/S-S 9AM-11PM, APPLIANCES 6PM ET Request a call
Want help right away?
Email as a contact option was discontinued as of April 3rd, 2019. Please contact us via Live Chat for a faster response.
Give us a call Speak directly with a Samsung Pro or schedule a time for us to call you

General Mon-Fri: 8am- 12 am (EST) Sat-Sun:9am - 11 pm (EST) 1-800-726-7864

Mobile Mon - Sun: 12am - 12 pm 1-800-726-7864

Home Appliances Sat-Sun:9am -6pm(EST) 1-800-726-7864
home-appliances|dryers|gas