Cycles, settings, and features on your Samsung washing machine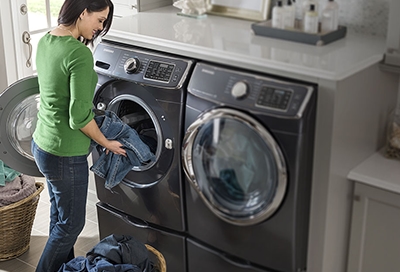 When it comes to doing laundry, most of us toss in our jeans and T-shirts, start the Normal cycle, and call it a day. But your Samsung washing machine can do so much more: it's programmed with customizable features that, when used optimally, ensure your clothes and linens emerge spotless every time. Use the right cycle, and garments will keep their vibrant color and last much longer.
Note: Cycles, settings, and features vary by model. For product specific information, please see the user manual.
Washer cycles
Warning: Do not wash waterproof items and non-waterproof items together.

Active Wear: For washable exercise sportswear such as jerseys, training pants, shirts, or tops, and other performance clothing. This cycle provides effective soil removal with gentle action for special fabric care.


Allergen: To remove dust mites, pet dander, or other allergic substances from fabrics.


Bedding, Bedding Plus: For bulky items such as comforters, blankets, and sheets. Use liquid detergent, and wash only one type of bedding at a time. Do not roll the items in the drum because they might get stuck.


Bedding/Waterproof: For bulky items such as comforters, blankets, and sheets. Can also be used for waterproof or water-resistant items such as plastic mats, ski pants, raincoats, etc. Always use liquid detergent with this cycle.



Note: Check the specification label on each item to see if the item is waterproof.

Darks: For casual items with bright or dark colors.

Delicates, Hand Wash: For sheer fabrics, bras, lingerie, silk, and other handwash-only fabrics. For the best results, use liquid detergent.


Downloaded: Connect your washer to SmartThings to gain access to several additional cycle options beyond what is listed on your washer's control panel. If you select and run a cycle that is not physically printed on your washer, the control panel will show that the Downloaded cycle is selected.
 

Note: In the SmartThings app, you can also select which cycle the Downloaded cycle defaults to when you're not using SmartThings.

Eco Wash, Eco Cold: Provides useful, gentle, and energy saving daily care for normally and lightly soiled laundry using only cold water.


Heavy Duty: For sturdy, colorfast fabrics and heavily soiled garments.

Normal: The default cycle. It's best for items such as cottons, bed linens, table linens, underwear, towels, or shirts. The washing time and the number of rinses are automatically adjusted according to the load.

Perm Press: For wash-and-wear, synthetic fabrics, and lightly to normally soiled garments.


Pure Cycle: This cycle is not for washing clothes; it is for the washer to self-clean. No detergent or bleach should be used. Recommended to run approximately every 40 washes.

Quick Wash: For lightly soiled garments that are needed quickly. For best performance, the recommended load size is 4 pounds or lower.

Rinse + Spin:This cycle is used for loads that need rinsing only or to add rinse-added fabric softener to a load. You can also run this after a different cycle for extra rinsing and spinning.


Sanitize: For heavily soiled, colorfast garments. This cycle heats the water to 150 degrees Fahrenheit to eliminate bacteria.


Spin Only: Provides a spin to remove water. You can also run this after a different cycle for extra spinning.

Note: Some models can select a Spin Only cycle by pressing and holding the Spin button for about 3 seconds until a cycle time displays. You can then toggle the desired spin setting and start the cycle as normal.

Stain Away: For stained clothes. The Hot temperature option is recommended.


Towels: For bath towels, washcloths, and mats. Due to their high absorbency, wash no more than a half load (6 pounds) of towels at a time for best results.


Whites: For white fabrics, with or without bleach.


Wool: For machine-washable wool. Loads should be less than 8 pounds. For best results, less than 4.4 pounds is recommended, as well as the use of a neutral detergent.

Washer settings
The number of settings and their names will vary between models, but the purpose for each setting is the same. For details specific to your model, see your user manual.

Hottest Setting (Extra Hot, Hot): For heavily soiled, colorfast items. This temperature setting is only available on certain cycles.

Second Hottest Setting (Hot): For whites and heavily soiled, colorfast items.

Middle Setting (Warm): For colorfast items. Only the final rinse will be warm; the other rinses will be cold to conserve energy.

Eco Setting (Warm/Cold, Eco Warm): For moderately soiled, colorfast items, and most wrinkle-free items. This is similar to the Middle setting but uses less energy.

Second Coldest Setting (Cool, Cold): For brightly colored, very lightly soiled items.

Coldest Setting (Cold, Tap Cold): Uses cold water only.

Note: On some models, the coldest setting is selected by cycling the Temperature button until no indicators are lit.

Extra High: Removes more water from loads during spin. Do not use for wrinkle-free or no-iron fabrics, and do not overload the washer.

High: Use for underwear, t-shirts, jeans, and sturdy cottons.

Medium: Use for jeans, wrinkle-free or wash-and-wear items, and synthetics.

Low: Use for delicate items that require a slow spin speed.

No Spin: Drains the washer without spinning. Use for extremely delicate items that cannot tolerate any spin.

Rinse Hold: Prevents draining or spinning, so the laundry remains in the water and the cycle does not end. Switch off of Rinse Hold again to finish the cycle.
 

Note: On most models, Rinse Hold is selected by cycling the Spin setting until no indicators are lit.

Extra Heavy: For extremely soiled loads.

Heavy: For heavily soiled loads.

Normal: For moderately soiled loads. This setting is best for most loads.

Light: For lightly soiled loads.

Extra Light: For barely soiled loads.
Washer features
Alarm Off: Press to turn the alarm sound on or off. When the alarm is off, the cycle completion melody and the power-off beep will not sound. However, button and alert sounds will remain on.

Deep Fill: Adds more water to the cycle.
 

Note: The cycle time will be extended when you use this function. This setting is not available on the Bedding/Waterproof, Normal, Self Clean, or Spin Only cycles.


Delay End: Set the cycle to finish automatically at a later time. Choose a delay time from 1 to 24 hours (in 1 hour increments). The hour displayed indicates the time at which the cycle will end.


Delay Start: Choose a delay from 1 to 24 hours (19 or 12 hours on some models) to begin. The displayed time is the time the washer will start.


Extra Rinse/Fabric Softener: Add additional time to the rinse portion of the cycle, to more thoroughly remove laundry additives and perfumes.


Extra Spin, Extended Spin: Add additional time to the spin cycle to remove more water from loads.


Extra Wash: Add additional time to the wash portion of the cycle for better stain removal.


My Cycle: An easy way to save all of the other settings so they can be quickly set again in the future.


Night Wash: Designed for a small load of laundry (2.5 pounds or less, for instance 1 pair of pants and 2 shirts), this will clean and dry the clothes in 6 hours without having to transfer the clothes from the washer to the dryer. You should not use Night Wash when washing items labeled Do Not Tumble Dry, sensitive clothes made of leather, mink, fur, silk, latex, or napping (velvet, velour, corduroy), bulky items, or any items with glue in them such as underwear trimmed with lace.

Pre Soak: Adds soaking time at the start of the wash cycle for better stain removal. The amount of time added varies between models, such as 18 or 30 minutes.


Pre Wash: Before the selected cycle, the washer will fill with cold water and detergent from the Pre Wash section of the detergent compartment and will tumble. Then, it will drain and begin the selected cycle.


Pure Cycle, Self Clean, Self Clean+: This cycle is not for washing clothes, it is for the washer to self clean. This cycle should be run at least once a month, and every 20 washes (top load models) or 40 washes (front load models). Self Clean will clean the tub, and Self Clean+ will clean internal areas around the tub as well.

Rinse: Set the number of rinses to occur in the rinse cycle.


SilverCare, ActivFresh: A form of sanitization that uses silver ions instead of heat, and therefore saves on energy.


Smart Care: Smart Care uses the camera on a mobile device to recognize error codes on the washer and interpret them. For more information, see our guide on Smart Care.


Smart Control: Allows remote controlling using a mobile device.
 

Note: The app used to connect to the washer will vary between models. Most Wi-Fi models support SmartThings, but the required app could also be Samsung Smart Home or Samsung Smart Washer/Dryer.


Steam, Intensive: For heavily soiled, colorfast garments, Steam wash improves stain treatment and uses less water in a cycle.


SuperSpeed: Shortens the washing time.

Run a cycle
Before you begin, make sure you load the washer, add detergent and other additives, know which cycle and settings you want to use, and then close the door.
Touch Power to turn on the washer, and then turn the Cycle Selector to select a cycle. Change the cycle settings (Temp., Rinse, Spin, and Soil) as necessary. Select your desired options as necessary, and then touch and hold Start/Pause (Hold to Start). To cancel the cycle, touch Start/Pause (Hold to Start) again. Depending on the type of washing machine you have, the tub will drain if you cancel the cycle.
If your top load washer has an Active WaterJet, you can pretreat your clothes using the built-in faucet. Touch the Active WaterJet button to turn on the faucet, and then touch the button again to stop the water. Then, touch the Power button on the washing machine to drain the tub before beginning a cycle.
Other answers that might help
How would you like to contact us?
Want help right away?
Email as a contact option was discontinued as of April 3rd, 2019. Please contact us via Live Chat for a faster response.
Give us a call 1-800-SAMSUNG (1-800-726-7864)

Mobile Support 8 AM - 12 AM EST 7 days a week

Home Electronics & Appliance Support 8 AM - 12 AM EST M-F 9 AM - 6 PM EST Sat, Closed Sunday

IT/Computing Support 8 AM - 9 PM EST, Mon - Fri Closed Sat-Sun
home-appliances|washers|front-load