General questions and information about Samsung Pass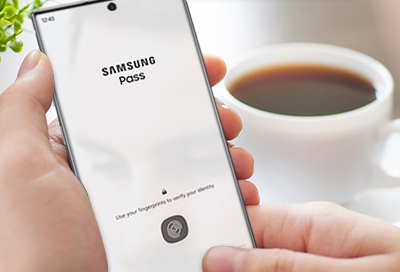 Samsung Pass is a secure and easy way to use your biometrics to sign in to websites and apps on your phone. Once you scan your fingerprints, you can sign in without typing in your ID and password. With Samsung Pass, there's no need to memorize all those IDs and passwords for all your accounts.

Samsung Pass frequently asked questions
Do you need a Samsung account to use Samsung Pass?
Yes, you need to sign up for Samsung Pass with your Samsung account. If you don't have a Samsung account, please create one before setting up Samsung Pass. Please note that you may need to use 2-step verification when signing in to your Samsung account.
 
How do I access Samsung Pass?
Samsung Pass is located in the Settings menu. From Settings, tap Security and privacy and then select Samsung Pass.
 
Can I use Samsung Pass on multiple devices?
You can use Samsung Pass seamlessly on up to 5 mobile devices. Using the same Samsung account on your new or additional devices will sync your saved website list and ID/passwords. However, you need to register your fingerprints on each device.
 
Which phones support Samsung Pass?
Samsung Pass is available on Galaxy phones running Android 7.0 (Nougat) and up. Iris recognition is only available on supported phones.
 
Do I need a network connection to use Samsung Pass?
Yes, Samsung Pass requires a network connection. Samsung Pass does not work offline due to security risks. Samsung cannot guarantee the phone's status (it could be rooted or hacked) if it is offline. A network connection allows Samsung to verify the status of the device.
 
Is Samsung Pass secure?
Samsung Pass is secure. Samsung Pass encrypts your biometric information and saves it in Trust Zone which is the safest space in your Samsung phone. Your biometric information stays in your phone because the public key of your registered biometrics will be used for website authentication.
 
Is it possible to use Samsung Pass in Secure Folder?
Yes. However, additional registration will be required since Secure Folder is an isolated location on your phone. Also, when using Samsung Pass with partners apps in Secure Folder, the availability may vary based on partners' policy.
 
Can I use my iris and fingerprint data for Samsung Pass at the same time?
Yes. If you register your iris and fingerprint data on your phone, you can choose which biometric you are going to use whenever you use Samsung Pass.
 
Can I still use Samsung Pass after I remove my biometric data from my Galaxy phone?
Samsung Pass will become inactive if you delete all of your registered fingerprints. To reactivate Samsung Pass on your phone, user verification is required by entering your Samsung Account password. After reactivating, you will have to register at least one fingerprint to use Samsung Pass.
 
What happens if I enter the incorrect password or the incorrect biometric information?
When you enter incorrect biometric data ten (10) times, the Samsung Pass account will become dormant. You can reactivate your Samsung Pass account by entering your Samsung Account password to authenticate your identity. However, for services provided by our partner companies, the allowed number of biometric attempts may vary depending on their policies.
 
What is "Sign in with Samsung Pass"?
When you launch Samsung Internet and sign into a website, there will be a message asking you to Sign in with Samsung Pass. If you check the box, your ID and password for that website will bind to your biometrics. The next time you visit the website, you can sign in with your biometrics without inputting your ID and password.
 
Can I delete a saved website and ID/password?
You can delete a saved website and its ID/password. Search for and select Samsung Pass in Settings, then tap Sign-in info. Select the website among the list, tap Delete, and then tap Delete again. If you delete it, you can not use the Sign in with Samsung Pass feature in the website.
 
If I change the username or password for a website, does Samsung Pass automatically update the info?
No. You will need to navigate to Samsung Pass, and then select Web sign-in information. Select the website, and then edit your information.
 
Can I delete my Samsung Pass data?
When you delete data on Samsung Pass, the following data registered to Samsung Pass will be removed: your biometric data and web sign-in information. Your agreement to the terms and conditions and your Samsung account will remain active.
 
How do I stop using Samsung Pass in Samsung Internet?
To stop using Samsung Pass and clear all credentials, first delete all your registered biometrics from your phone, and then remove your Samsung account from your phone.
 
How do I find apps and services that are supported by Samsung Pass?
To find which apps are supported, go to Samsung Pass, and then select Supported apps. After installing an app, you can sync with and use Samsung Pass by signing in to the app and performing authentication. However, the authentication methods, supported models, allowed number of devices, and scope of services may vary depending on the service policy of each partner company. If there are no supported partner services, the Supported apps menu will not appear.
 
Where can I find additional information about Samsung Wallet?
Samsung Pass and Samsung Pay will be integrated into the new Samsung Wallet app. You can review our Samsung Wallet guide for more details.
Contact us
We're here for you.
1-800-SAMSUNG

8 AM - 12 AM EST 7 days a week

IT/ Computing - 8 AM to 9 PM EST Mon to Fri
Want help right away?
Email as a contact option was discontinued as of April 3rd, 2019. Please contact us via Live Chat for a faster response.
Call or Text Us
Give us a call
How can we help you?
Mobile

8 AM - 12 AM EST

7 days a week

Home Electronics & Appliance

8 AM - 12 AM EST

7 days a week

IT/Computing

8 AM - 9 PM EST

7 days a week

Text Support

24 hours a day

7 Days a Week
We're here for you
Contact Samsung Support
Contact us online through chat and get support from an expert on your computer, mobile device or tablet. Support is also available on your mobile device through the Samsung Members App.