Accessibility Settings on Galaxy S9 and S9+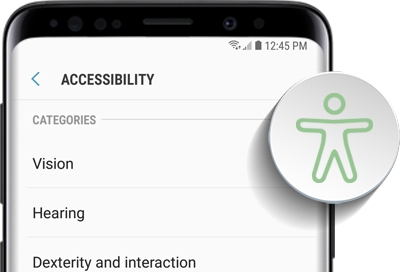 Galaxy S9 and S9+ help with noise detection for people with hearing difficulties, and voice assistant for those with limited sight. Your phone can be set to light up when it detects a startling noise; or, it can read messages aloud. There are also settings and customizations available for those who struggle with dexterity.
Available screens and settings may vary by wireless service provider and software version.
Vision
Like a trusty assistant, your phone helps you navigate. To access Vision accessibility settings, navigate to Settings, and then search for and select Vision.

Read on to learn about all the available settings:
Voice assistant: Assists blind and low-vision users by giving spoken feedback on what is displayed on the screen as well as what is selected.


NOTE: Voice Assistant can collect all of the text you enter, including personal data and credit card numbers.


Voice assistant help: View help topics on using Voice Assistant.


Dark screen: Keeps the screen turned off at all times for privacy.


Rapid key input: Instead of touching twice to make selections, you can release your finger.


Voice label: Write voice recordings to NFC tags to provide information about nearby objects.


Font and screen zoom: Adjust how much the screen is zoomed in and you can set the size and style of the font.


High contrast fonts: Adjusts the size and outline of the fonts to increase the contrast.


High contrast keyboard: Adjusts the size and color of the keyboard to increase the contrast between the keys and the background.


Show button shapes: Creates a shape around different buttons to make them easier to see.


Magnifier window: Displays a window that magnifies what is on the screen. The Magnifier window can be moved.


Magnification: Turn on or off Triple tap screen to magnify or Tap button to magnify.


Large mouse/touchpad pointer: Enable a large pointer for a connected mouse or touchpad.


Negative colors: Changes the color display from black text on a white background to white text on a black background.


Color adjustment: If you are color blind or have difficulty reading the display due to the screen colors, you can adjust the colors on the screen to make it easier to read.


Color lens: Adjust the screen colors if you have difficulty reading text.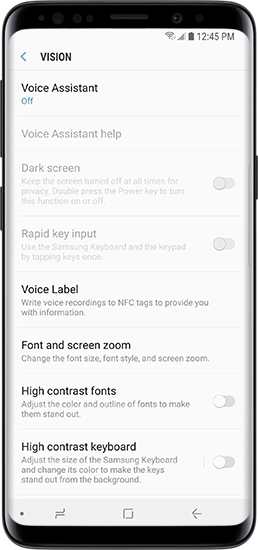 Hearing
Your Galaxy S9 and S9+ can give visual cues and enhance the sound quality to help with hearing difficulties. To access Hearing accessibility settings, navigate to Settings, and then search for and select Hearing.

Check out the available settings:
Sound detectors: You will receive alerts when your phone detects a crying baby or a doorbell.


Flash notification: The camera flash or screen will blink whenever you receive a notification.


Mute all sounds: Turns off all notifications and sounds.


Hearing aids: Improve the sound quality for use with hearing aids.


Samsung subtitles (CC): Samsung subtitles will be used with multimedia files when they are available.


Google subtitles (CC): Google subtitle will be used with multimedia files when they are available.


Left/right sound balance: You can set the left and right balance when you are using a stereo device.


Mono audio: Switches the audio from stereo to mono for when you use one earphone.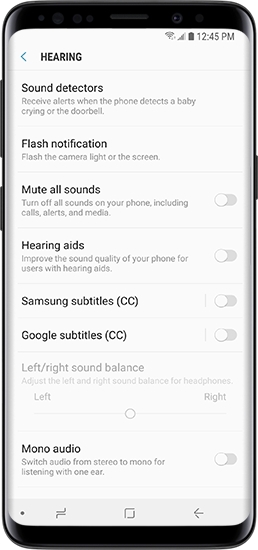 Dexterity and Interaction
You can control your phone without having to press physical buttons. To access Dexterity and interaction accessibility settings, navigate to Settings, and then search for and select Dexterity and interaction.
You can customize the following settings:
Universal switch: Lets you control your phone using customizable switches.


Assistant menu: Enables a menu that lets users with reduced dexterity control the phone.


Easy screen turn on: Lets you turn on the screen by placing your palm over the screen instead of pressing any buttons.


Touch and hold delay: Select a time interval for this action.


Click after pointer stops: Automatically click on an item after the pointer stops over it.


Interaction control: Disables auto screen rotation and functions enabled by pressing buttons. It also only shows notifications from apps in the Notification Panel and Status bar.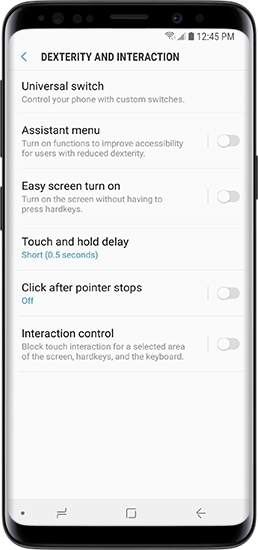 Additional Accessibility Settings
Need more help? There are even more accessibility settings available. To access additional settings, navigate to Settings, and then search for and select Accessibility.
Learn more below.
Text-to-speech: Select your desired Text-to-Speech engine. This lets you speak and the phone will transcribe what you say into text.


Direction lock: Set the screen to unlock when you swipe in a series of six to eight directions which you can customize.


Direct access: Opens your accessibility settings by pressing Volume Up and Power simultaneously.


Notification reminder: If there are any unread notifications, the phone will beep at set intervals.


Answering and ending calls: Set the phone to automatically answer calls if a headset or Bluetooth device is connected and end calls by pressing Power.


Single tap mode: Instead of swiping, you can respond to alarms, alerts, and incoming calls with a single tap.


Accessibility settings backup: Import and export your accessibility settings, or share them with other devices.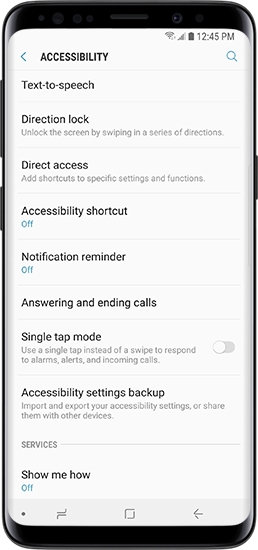 Other answers that might help
How would you like to contact us?
1-800-SAMSUNG Mon – Sun: 8AM – 12AM (EST)
mobile|phones|galaxy-s|s9-plus