Identify the Correct Charger for Your Phone or Tablets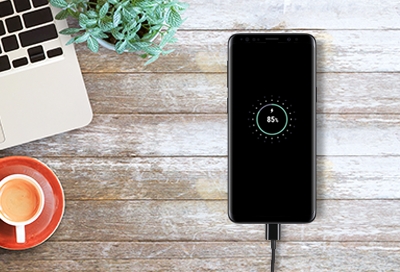 It's not the most exciting aspect of a phone or tablet, but it's a vital one: charging. You can charge your device using any Samsung travel adapter, but charging speeds may vary depending on the charger. Use the charger that originally came with your phone or tablet, and only use Samsung charging devices and batteries.
What Kind of Charger Should I Use?
Your phone or tablet is powered by a standard rechargeable Li-ion battery. To get the most out of your device, use the Adaptive Fast Charger and USB-C cable that came in the box. This charger has a power supply of 5.0V/2.0A and has SAMSUNG printed on it. Samsung accessories are designed to maximize battery life, so you won't regret using it - especially since you can use your phone or tablet while charging with the original factory charger.
Samsung does not recommend using any chargers other than Samsung chargers, especially chargers that are uncertified or counterfeit. These can hinder the charging of your device and may cause battery issues if used long term. 
Note: Using third-party chargers may invalidate your warranty and cause damage. If you need to replace your charger, visit Samsung.com.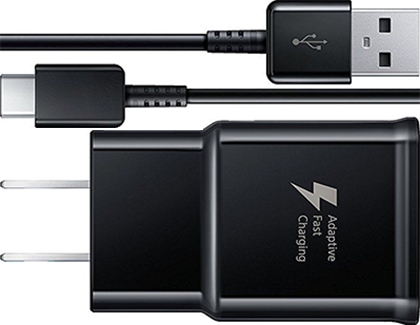 Which Charger Goes with My Phone or Tablet?
To charge your phone or tablet, you need the right kind of charger. Usually, the correct charger will be included in the box. But if you've misplaced your charger, look at the list below to see what kind your phone or tablet uses.

USB Type C:
If you've lost your USB-C charger, you can purchase a new one on Samsung.com. You can also use the adapter that came with your device to charge it using a micro USB-B cable.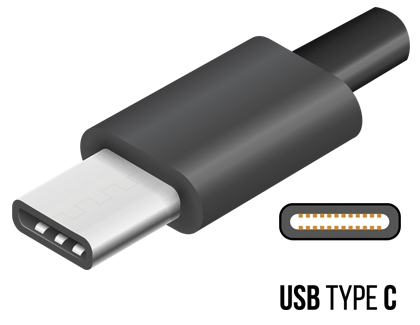 Best Practices for Charging
When using wireless charging accessories, please be aware that any metal or magnetic materials (e.g., coins, magnetic cards) placed between the device and the wireless charger may decrease charging efficiency or cause damage to the phone or tablet and charger.


When using wired charging accessories, always check whether any foreign objects are in the connector or plug, as they may prevent charging or cause the charging accessories to overheat.


Make sure your phone or tablet doesn't overheat. Keep it in a cool location, especially while charging. 

Don't let your battery completely drain. With new lithium-ion batteries being used, it is better to keep the battery partially charged, instead of letting it die. When possible, charge your device in small amounts to keep the battery from depleting.

Note: If the power has been depleted, the battery charging indicator may take up to 10 minutes to appear on the phone or tablet's screen while charging.


Charging may take longer when using adapters, charging wirelessly, or charging the phone or tablet through another device like a PC.

Do not use a charger that uses over 2 Amps. This could potentially overheat or damage your phone or tablet. 
Other answers that might help
How would you like to contact us?
1-800-SAMSUNG Mon – Sun: 8AM – 12AM (EST)
mobile|phones|galaxy-s|s7