Discover the Advanced Audio Settings on Galaxy Note9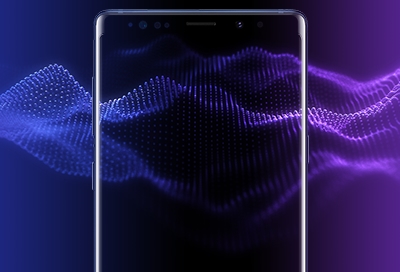 Bluetooth headphones and speakers have become increasingly popular since they're so versatile. And thanks to your Galaxy Note9's awesome Bluetooth audio settings, now they can be even more adaptable. You can connect two headphones at once, adjust the sound to match your preferences, and even listen to audio on separate speakers – all from your phone.

Using Dual Audio
With the Dual Audio feature, your phone won't get confused, even if you connect two pairs of headphones. This audio setting lets you send audio to two different Bluetooth devices and listen to the same thing at once.
To turn this feature on, navigate to Settings, and then search for and select Bluetooth. First, make sure the Bluetooth feature is turned on. Touch More Options, and then touch Advanced. Touch Dual audio and then touch the slider next to Dual audio to turn it on. After that, open up the Bluetooth menu to get you and your friend's Bluetooth headphones connected.
Note: To use this setting, Media Volume sync needs to be turned off.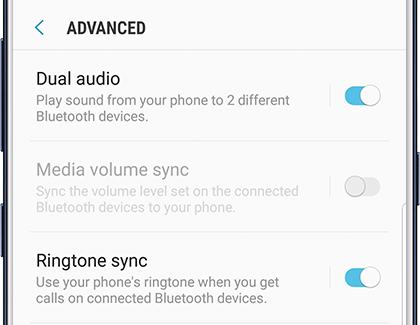 Connect multiple Bluetooth headphones
Even if you set up the Dual Audio feature, it will only work if you connect two pairs of Bluetooth headphones. Follow the steps below, so your friend can get their workout jam.
From Settings, touch Connections, and then touch Bluetooth. Make sure the Bluetooth feature is turned on. If it's on, a list of available Bluetooth devices should appear. Touch the name of the headphones you want to pair and then follow the on-screen instructions. Once they are paired, follow the same steps for your friend's headphones. When they are connected, you can both listen to and be inspired by your workout playlist.
Note: Make sure the headphones are in pairing mode while you are performing the setup. Dual Audio will not work if Media Volume Sync is turned on.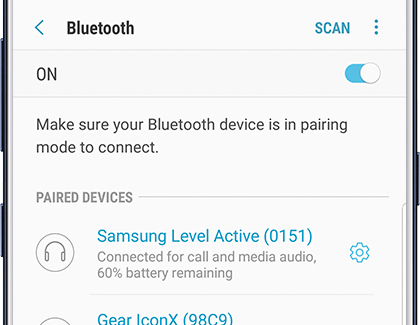 Keep audio synchronized with Media Volume Sync
Hmm, you're turning up the volume on your phone, but your headphones aren't getting any louder. That's because your headphones and phone may not be syncing. To fix this, turn on the Media Volume Sync audio setting, which will link your headphones' and your phone's volume levels. Now you can control the audio level of both devices from one place, instead of constantly switching.
From Settings, touch Connections, and then touch Bluetooth. Make sure the Bluetooth feature is turned on. Then, touch More Options and touch Advanced. Touch the slider next to Media Volume Sync to turn the feature on. Now you have control over both devices and won't have to adjust them independently.

Note: Media Volume Sync may not be be available unless you have a Bluetooth audio device connected.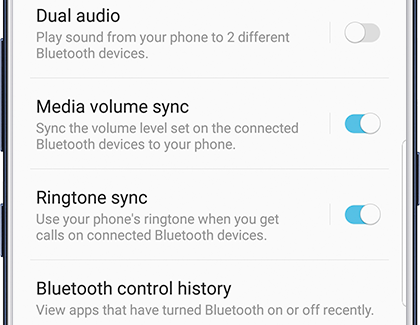 Create a custom profile with Sound Personalization
We all hear sound differently. With Sound Personalization, you can choose the type of sound that works best for you.
From Settings, search for and select Sound quality and effects. Touch Sound quality and effects again, and then, swipe to and touch Adapt Sound. Choose your age group. To hear a preview of the different options, touch the gear icon and then follow the on-screen instructions.
You can also create a sound profile based on your own hearing ability. Touch Add personalized sound profile, and then touch Start. Follow the on-screen instructions to take a hearing test and create your very own sound profile.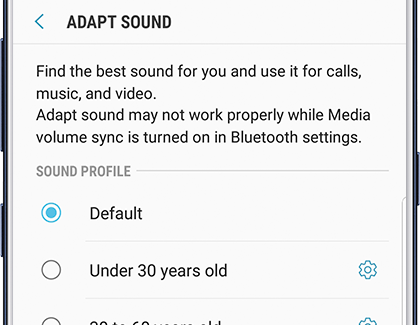 Enjoy Two Things at Once with Separate App Sound
There's no need to compromise. With the Separate App Sound feature on your Note9, you can play app media on an audio device like a speaker separately from your phone's main audio output. In other words, you can watch a YouTube video on your phone but play music on a speaker!
From Settings, search for and select Separate app sound. Touch Separate app sound again and then, touch the slider to turn it on. Touch Select, and then select an app to play on the separate audio device. Then, touch Back.
Select the audio device you want to use for the app. You can choose either Phone or Bluetooth device. Just be aware that the Bluetooth option may only be available when a Bluetooth device is connected to your phone. Touch Back, and that app's sound will play on the speaker you selected.

Note: The separate app sound only works when the audio device selected is different from your phone's main audio output device.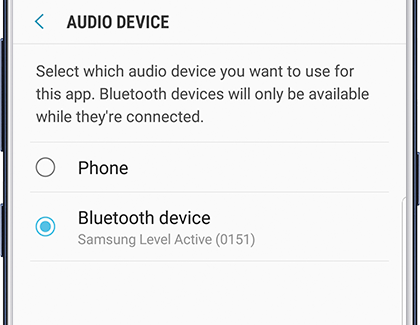 How would you like to contact us?
1-800-SAMSUNG Mon – Sun: 8AM – 12AM (EST)
Want help right away?
Email as a contact option was discontinued as of April 3rd, 2019. Please contact us via Live Chat for a faster response.
mobile|phones|galaxy-note|note9