Camera modes and settings on Galaxy phones and tablets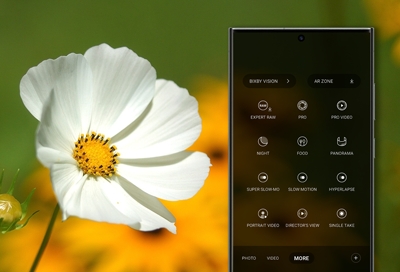 The cameras on Galaxy phones and tablets come with a variety of shooting modes and camera settings that make it easy to capture and add flair to your pictures and videos. AR Doodle, Super slow-mo, Director's view, and Portrait mode are just a few of the things the camera has to offer. You can take things a step further by adjusting the camera's available settings, such as changing the video size or adding grid lines.
Note: Certain options may not be available on all devices.
Configure shooting modes
Choose from several shooting modes to get the effect and appearance you want when taking pictures or videos.
Swipe up from the bottom of your phone or tablet's screen to access the Apps menu, and then open the Camera app.

From the app, swipe right and left to change shooting modes. Below is a list of available shooting modes:

Portrait: Add and adjust background effects for photos.

Photo: Take photos and allow the camera to determine the ideal settings for pictures.

More: Choose other available shooting modes. Tap Add to drag modes into or out of the shooting modes tray at the bottom of the Camera screen.

Expert Raw: Available on the Galaxy S23 series, this advanced camera app allows you to capture a wider range of detailed photos.

Pro: Manually adjust the ISO sensitivity, exposure value, white balance, and color tone while taking pictures.

Pro video: Manually adjust the ISO sensitivity, exposure value, white balance, color tone, and mic sound options while recording videos.

Night: Use this to take photos in low-light conditions without using the flash.

Food: Take pictures that emphasize the vivid colors of food.

Panorama: Create a linear image by taking pictures in either a horizontal or vertical direction.

Super slow-mo: Record videos at an extremely high frame rate for viewing high-quality slow motion. You can play a specific section of each video in slow motion after recording it.

Slow motion: Record videos at a high frame rate for viewing in slow motion.

Hyperlapse: Create a time lapse video by recording at various frame rates. The frame rate is adjusted depending on the scene being recorded and the movement of the device.

Director's view: Access advanced features such as lock onto a subject in view, change between different rear camera lenses, and more.

Portrait video: Add and adjust background effects for videos.

After you've chosen a shooting method, set up your shot and take some pictures or videos. If your subject is far away, you can use Space Zoom to zoom in and get a closer picture.
Camera settings
You can use the settings menu to configure your camera's settings. Swipe up from the bottom of your phone or tablet's screen to access the Apps menu, and then open the Camera app. From the app, tap the Settings icon to access additional options.
Note: Available settings with vary depending on your specific model's features.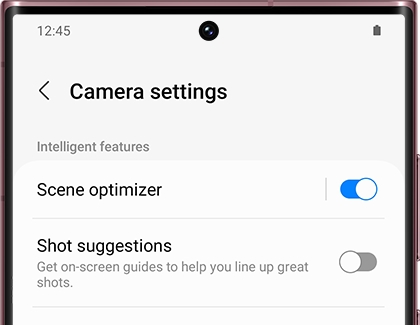 Scene optimizer: Automatically adjust exposure, contrast, white balance, and more based on what is detected in the camera frame. The Scene optimizer is only available when using the rear camera. The Scene optimizer icon will change automatically based on what the camera detects, such as a leaf icon when taking nature photos or a moon icon when taking photos in a dark setting. You can also show a button for scanning documents and text detected with the rear camera.

Shot suggestions: Get on-screen guides to help you line up great shots.

Scan QR codes: Automatically detects QR codes when using the camera.
Swipe Shutter button to: Choose to either take a burst shot or create a GIF when you swipe the shutter to the nearest edge.

Watermark: Place a watermark on your photos. You can select the information included in the watermark as well.

Advanced picture options: You can choose to save images in HEIF or RAW formats.

High Efficiency pictures: Save pictures as high-efficiency images to save space on your device. Some sharing sites and apps may not support this format.

RAW copies: Save JPEG and RAW copies of pictures taken in Pro mode.

Ultra wide shape correction: Automatically correct distortion in pictures taken with the ultra wide lens.
Use wide angle for group selfies: Automatically switches to wide-angle when there are two or more people in the selfie.

Save selfies as previewed: Save selfies as they appear in the preview without flipping them.

Selfie color tone: Set the color tone for your selfies to Natural or Bright.
Auto FPS: Automatically record brighter videos in low-light conditions by optimizing the frame rate.

Video stabilization: Activate anti-shake to keep the focus steady when the camera is moving.

Advanced video options: Enhance your videos with advanced recording formats.

High efficiency videos: Prioritize video quality to capture fine details, or prioritize saving space so video files are as small as possible.

High bitrate videos: For use with Pro video mode, this option will enable a higher video quality.

Reduce file size: Record videos in HEVC format to save space. Other devices or sharing sites may not support playback of this format.

HDR10+ videos: Optimize videos by recording in HDR10+. Playback devices must support HDR10+ video.

Zoom-in mic: Match the mic zoom to the camera zoom while recording videos. You can pinch the screen while recording to zoom in or out. As you zoom in, the sounds of the subject you zoom in on will become louder. As you zoom out, the surrounding sound will no longer be suppressed.

360 audio recording: Capture 3D sound through Bluetooth headphones.
Useful features, General, and Privacy
Auto HDR: Capture more detail in the bright and dark areas of your shots.

Tracking auto-focus: Keep a moving subject in focus.

Grid lines: Display viewfinder grid lines to help compose a picture or video.

Location tags: Attach a GPS location tag to your pictures and videos.

Shooting methods: There are a few different methods you can choose from.

Press Volume keys to: Use the Volume keys to take pictures, record video, zoom, or control system volume.

Voice commands: Take pictures by saying certain key words.

Floating Shutter button: Add an extra shutter button that you can move anywhere on the screen.

Show palm: Hold your hand out with your palm facing the camera to have your picture taken in a few seconds.

Settings to keep: Choose whether to use the same shooting mode, selfie angle, and filters as the last time.

Storage location: If your device supports microSD cards, and has one inserted, you can choose to have pictures you take stored in either internal memory, or directly on the SD card.

Shutter sound: Play a tone when taking a picture.

Vibration feedback: Enable vibrations when tapping the screen in the Camera app.

Reset settings: Reset the Camera app's settings.

Contact us: Contact Samsung support through Samsung Members (if supported by your carrier).

About Camera: View app and software information.

Privacy Notice: View the Samsung Privacy Notice. 

Permissions: View the Camera's permissions.
Tips for taking photos
Whether you're a professional or an aspiring photographer, you can use our tips for capturing beautiful photos of your family.
If you're looking to create a warm glow, consider taking photos during golden hour, which is the time following sunrise or preceding sunset. Golden hour will vary based on the time of year and where you live.

If you're indoors, try taking photos next to a source of natural light, such as a window.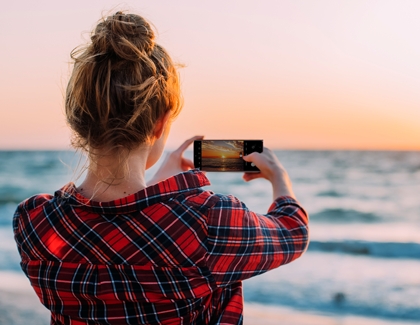 In photography, the rule of thirds guideline is based on splitting a photo into nine parts using three horizontal lines and three vertical lines, and placing your subject or focal point in the left or right third of the photo. This is a great way to compose a compelling photo! Your Galaxy phone or tablet can even produce the rule of thirds grid for you! Navigate to and open the Camera app, tap the Settings icon, and then swipe to and tap the switch next to Grid lines. Then, navigate back to the viewfinder to see the horizontal and vertical lines on the screen.

Unless your plan is to take a totally candid shot, make sure your subject is seated or standing comfortably and is ready for the photo. A relaxed posture and facial expression is often easier to photograph. 
Other answers that might help
Contact us
We're here for you.
1-800-SAMSUNG

Mon – Sun: 8AM – 12AM (EST)
Want help right away?
Email as a contact option was discontinued as of April 3rd, 2019. Please contact us via Live Chat for a faster response.
Call or Text Us
Give us a call
How can we help you?
Mobile

8 AM - 12 AM EST

7 days a week

Home Electronics & Appliance

8 AM - 12 AM EST

7 days a week

IT/Computing

8 AM - 9 PM EST

7 days a week

Text Support

24 hours a day

7 Days a Week
mobile|phones
We're here for you
Contact Samsung Support
Contact us online through chat and get support from an expert on your computer, mobile device or tablet. Support is also available on your mobile device through the Samsung Members App.