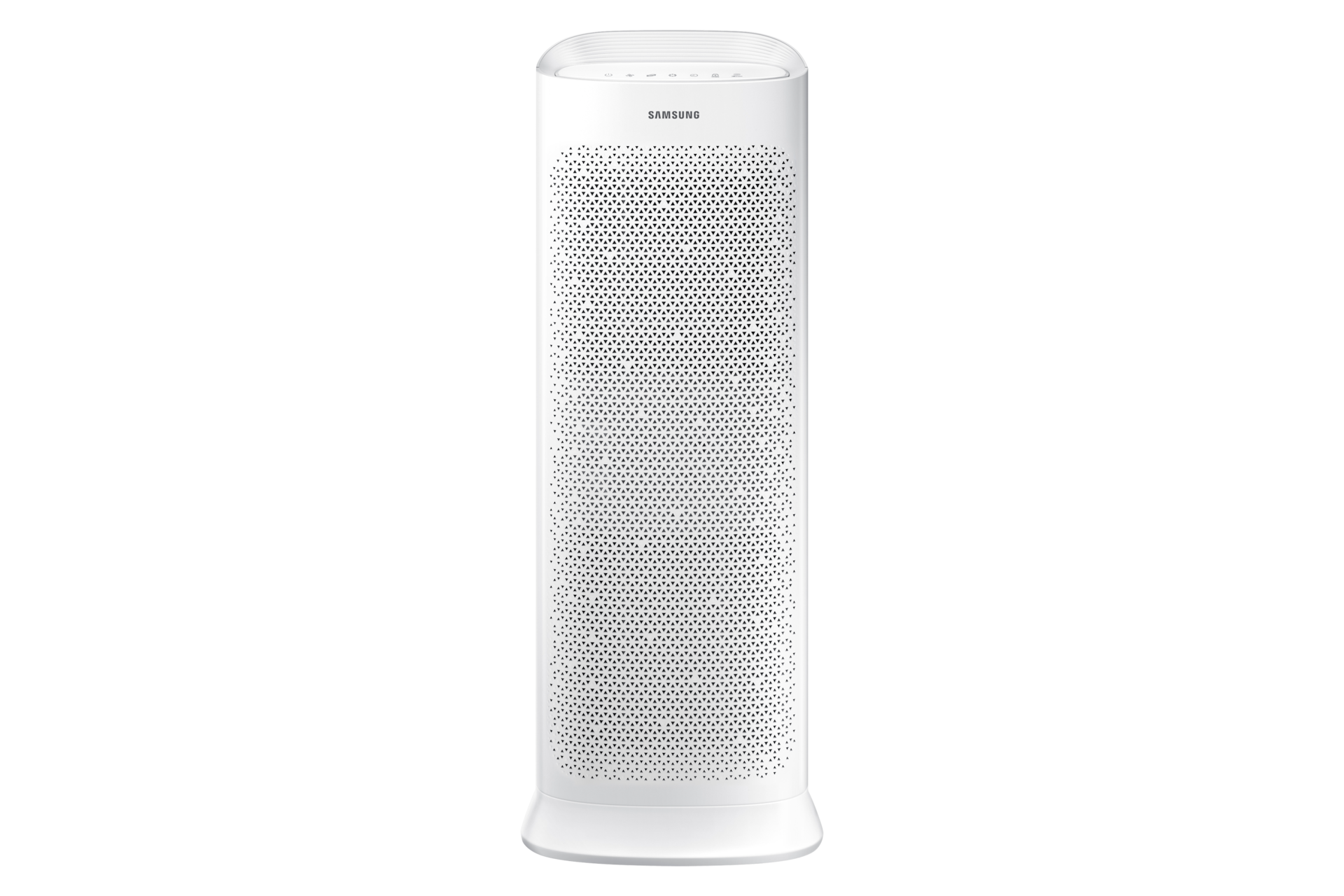 AX70J7100WT Air Purifier with Virus Doctor, 93 m²
AX70J7100WT/SG
BUNDLE
Smart Detection & Display
4-step purification system
Wide and fast purification
Quickly purifies a wide area, reaching from corner to corner. A Front Air Intake easily draws in air and Dual Power Fans spreads clean air in 3 directions, so it reaches much wider and faster*.
* Tested on AX70J7000WT/SC. Compared with Samsung conventional model AC-505CMAGA. Performance may vary depending on the actual usage environment.
Smart Detection & Display
Triple Smart Sensors & Numeric Display
PM2.5/PM10 and gas sensors detect the air quality in real time and automatically optimises the performance. A digital display also shows the level of dust in numbers and gaseous contaminants with 5 colour variations.
Reduces over 99% of PM2.5
4-step Purification System
A 4-step purification system keeps the air pure. It removes large dust particles, various harmful gases like formaldehyde*, over 99% of ultrafine dusts**, and reduces certain viruses and allergens by up to 99%***.
* Tested on AX60K5580WFD for toluene, xylene, benzene, ethylbenzene, styrene & formaldehyde gases in KCL (Korea Conformity Labouratories). ** Tested on AX60K5580WFD in KIMM (Korea Institute of Machinery & Materials). *** Tested in Kitasato Environmental Science Centre (Japan).
Performs effectively
Auto Mode senses the pollution level and automatically adjusts the power to maintain the optimum air quality. Sleep Mode works softly and quietly, while Speed Mode powerfully refresh a room at the maximum power for 30 minutes.
Space-efficient and easy to maintain
A front-sided air inlet means you don't need to move it unnecessarily or pull it away from the wall to clean or change the filter. And a washable Pre-filter only needs periodic cleaning and the 2-in-1 PM2.5 and Deodorization filters can be quickly and easily replaced.
93.1 

Capacity (㎡)

15 

Net Weight(kg)

54↓ 

Noise (dBA)

360 x 1054 x 284 mm

Net Dimension (WxHxD, ㎜*㎜*㎜)
* Key feature may different from Key Spec