How do I extend the battery life of the Samsung device when the battery drains fast?
Last Update date :
2021-05-30
When you experience fast battery drain in your Samsung Galaxy phone, you may need to do the following to check it and decide whether you need to replace it or not.
1
Check if you are using unapproved charger
Unapproved chargers or cables can cause the battery to explode or damage the device. Any damage determined to be caused by using unapproved chargers or cables will result in the voiding of the warranty.
2
Don't use the old charger
Using the old charger of the old device may provide less power from the charger to the new device. It may not charge or the charge will take a longer time.
3
Check if the charger used is compatible for your Galaxy device.
Note that the different devices have different required charging current and thus it must correspond with the output of the charger charging current.
4
Close all the applications
Note that while charging, we advise closing all the applications on the device and turn off the mobile data or WI-FI.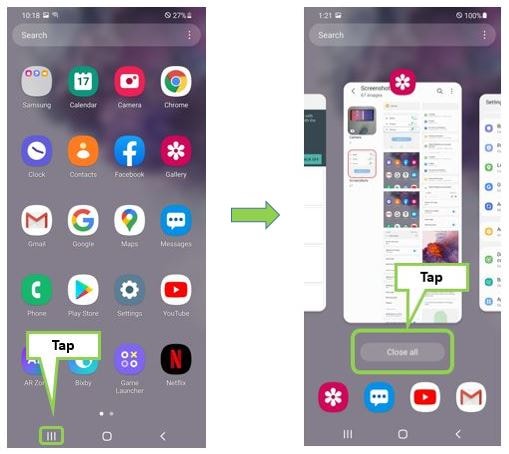 5
Use Power saving mode
Power saving mode can reduce the battery consumption, by enabling Power Saving Mode in Samsung Smartphones.
You can now control your mobile device's battery usage through the Power saving mode settings when the battery charge drops.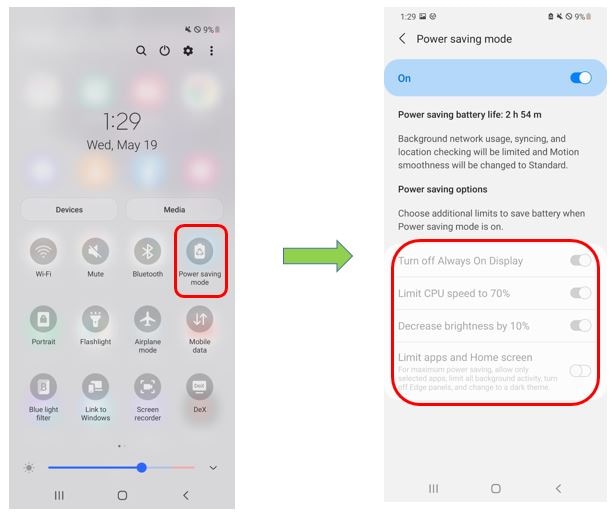 5
Use the device on the safe mode
If the battery drains fast while using, we recommend using the device on the safe mode to check the problem of the device.
To activate the safe mode you may need to:
 Shut down the device and restart it again. 
When the Samsung logo displays press and holds the volume down key until the lock screen display. 
When the lock screen displays Safe mode will be shown in the lower-left corner of the display.
Note: By activating the safe mode we have just disabled the third-party application and no data have been lost. You may need to keep an eye on the device for 2-3 hours and watch the battery consumption if the issue is solved or not.
To deactivate the safe mode you may need to:
To deactivate the safe mode, you just need to restart the device.
Note:
If the issue continues after verifying the above-mentioned solutions, please call our contact center to get help about the issue. 
You may learn more about Galaxy battery here.
Please answer all questions.