More smart devices, one smart app.
Connect, automate, and manage all your SmartThings-compatible appliances and electronics with the SmartThings app (1). Because smart should be simple.

Download the SmartThings app.
*Device, screen images and UX simulated for illustrative purposes.
Turn your home into a smart home.
SmartThings works with a growing number of devices, with even more available if you add a SmartThings hub to your network. Just look for the "Works with SmartThings" label (3).

One app, multiple screens.
Access SmartThings features across a family of Samsung products, including smartphones, TVs, and fridges.
*Device, screen images and UX simulated for illustrative purposes.
Even smarter together.
SmartThings helps connect Samsung smart devices with each other so they can work together to make your home even smarter (1).

We are making more and more devices seamlessly connected.
*Device, screen images and UX simulated for illustrative purposes.
Smarter living and comfort.
Feel more at home by making your home smarter with new SmartThings services.
Set-up made simple.
Getting started is easy with a Samsung Account. Once you've created your SmartThings profile, the app automatically finds compatible devices. When you're ready, invite family and friends with just a few taps (5).
Just scan your QR code to start.

It's now easier than ever to register your SmartThings-compatible devices.
Simply scan your device's QR code with your camera or SmartThings app and enjoy seamless control through your phone.
* Only applicable for certain products with relevant QR codes.
Use your camera app to connect
There's no need to download any complicated software to get started.
Instead, open your phone's camera app and use the QR code scanner to add new products.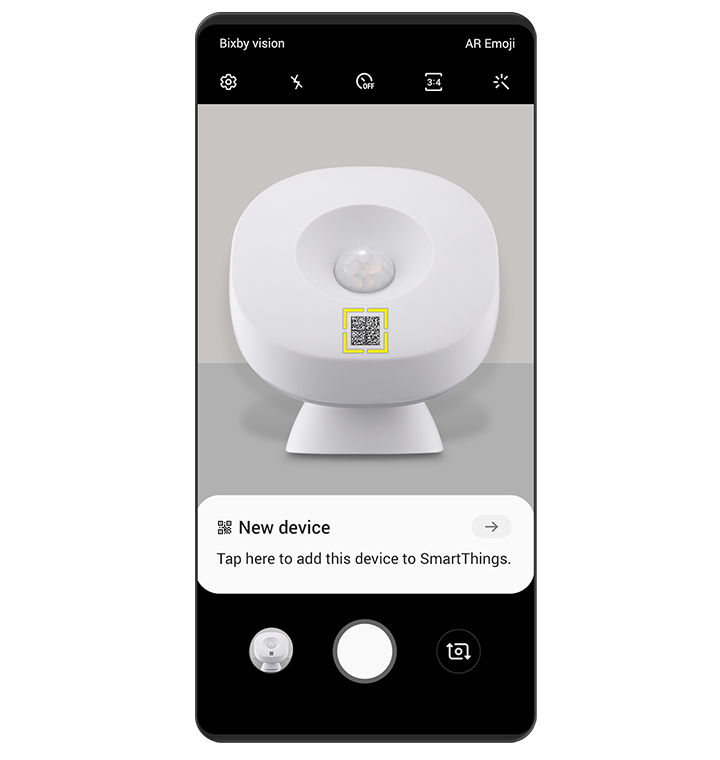 Use the SmartThings app to connect
Conveniently set up your SmartHome with the SmartThings app.
Use the integrated QR scanner to add new devices in an instant.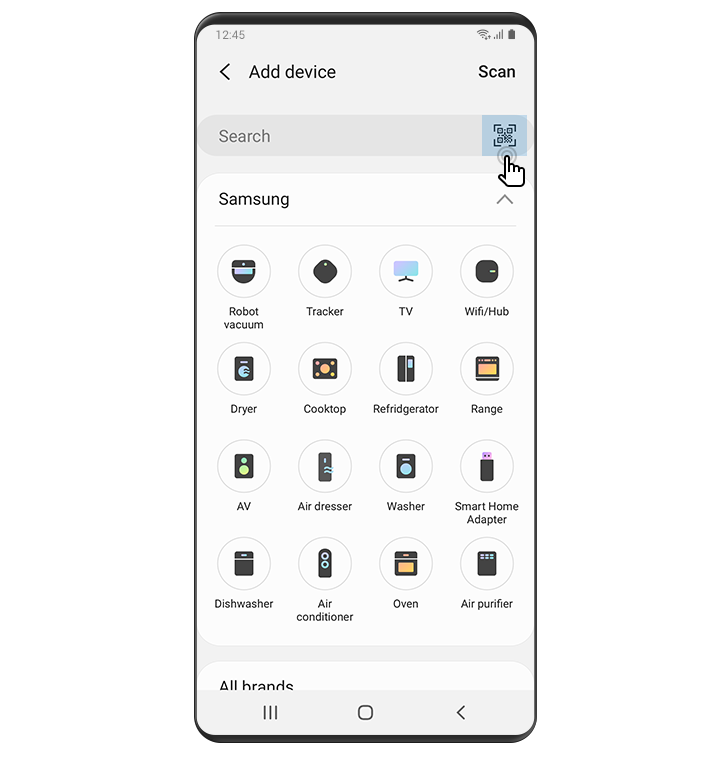 Your home, your way.
Make your home smarter with custom automation. Create schedules and scenarios, and let SmartThings do the rest.
It can even suggest new smart ways to automate your day.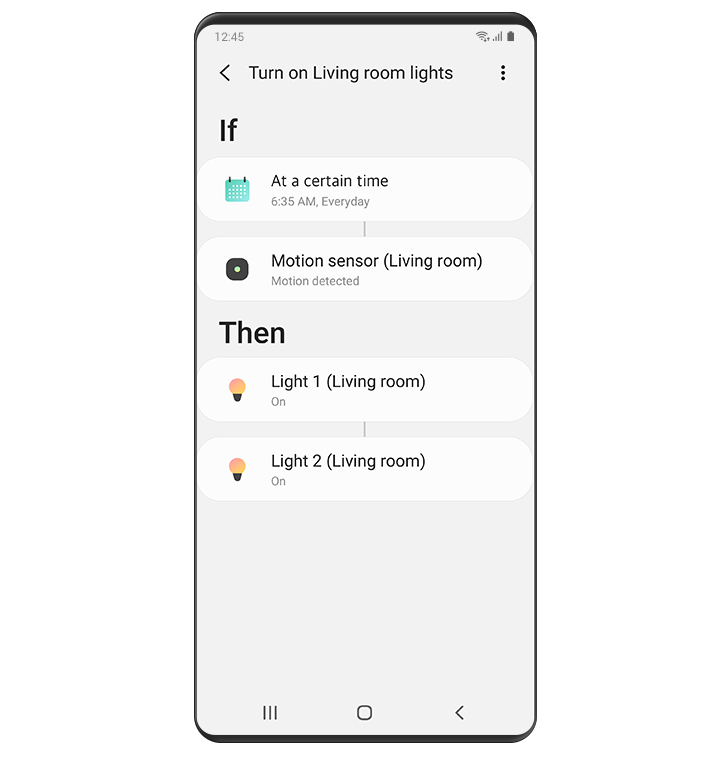 Trigger an action
Automate your home using data such as time, location, or temperature (2).
Set the sprinkler to turn on at sunrise or the lights to come on at sunset (5).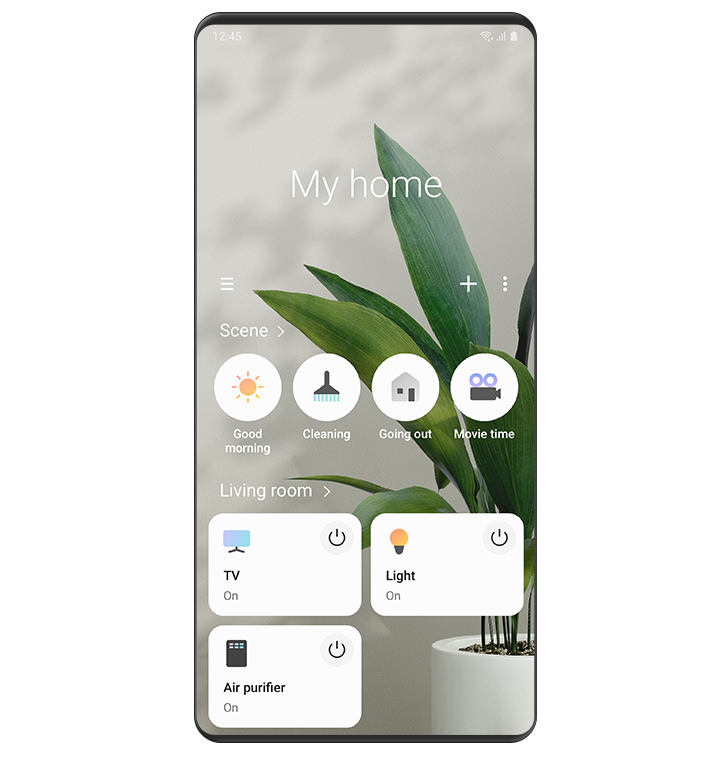 Set the scene
Create a scenario that sets the stage for movie night
or one that puts the house to sleep when it's time for bed (5).
Hands-free control.
Use Bixby on your Galaxy phone to control your smart devices by voice (4).
Adjusting the temperature or playing music can be as simple as saying it (1).
*For illustrative purposes only. Feature results will vary based on custom settings.

Get the app
Download the SmartThings app now.

Contact Samsung Help
Do you have more questions?
1. Each SmartThings compatible device (such as a smartphone, appliance, device and/or SmartThings Wi-Fi Hub (as applicable)) requires a network connection. Feature performance may vary based on distance and network quality. All devices should be registered with a single Samsung Account. Some SmartThings features are available with a compatible Samsung smartphone and compatible Samsung home appliance only. Others also require a SmartThings Wi-Fi Hub and other compatible devices (such as smart lights). Compatible devices and available features depend on country, region and carrier. Check compatible devices and available features at https://www.samsung.com/au/apps/smartthings/#search or in the SmartThings app.
2. Location Services must be enabled for SmartThings App for certain features to work
3. Please find 'Works with SmartThings' logo on the product or product package.
4. "Bixby" is limited to selected languages and certain accents/dialects.
5. Device, screen images and UX simulated for illustrative purposes.
6. Compatible devices must be purchased separately in order to access SmartThings Services.