GET 20% OFF
Get 20% off selected Samsung products when you make 3 eligible purchases on a Westpac card in Samsung Pay.
Valid from Jun 24. 2021 ~ Jul 08. 2021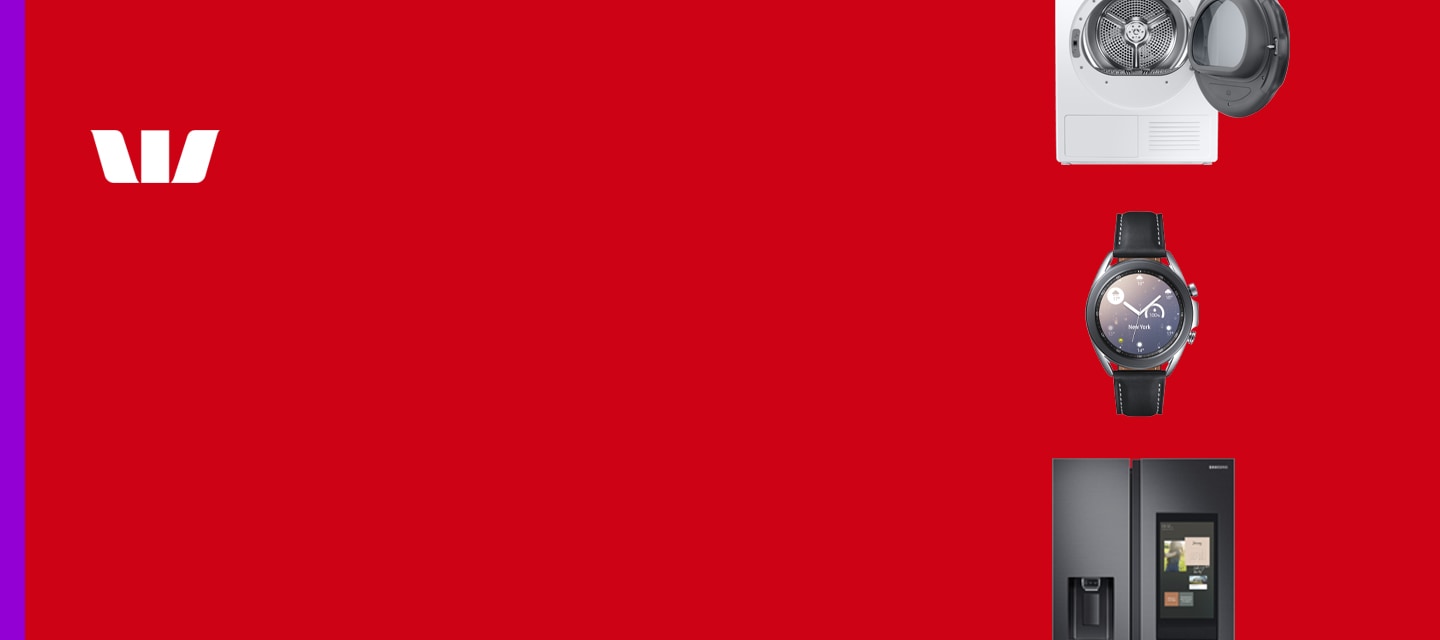 How to participate?

Open your Samsung Pay and follow the steps to activate you voucher code.

Make at least three transactions within the promotion time period using your Westpac card
and receive 20% off voucher code for select products in the Samsung Online Store.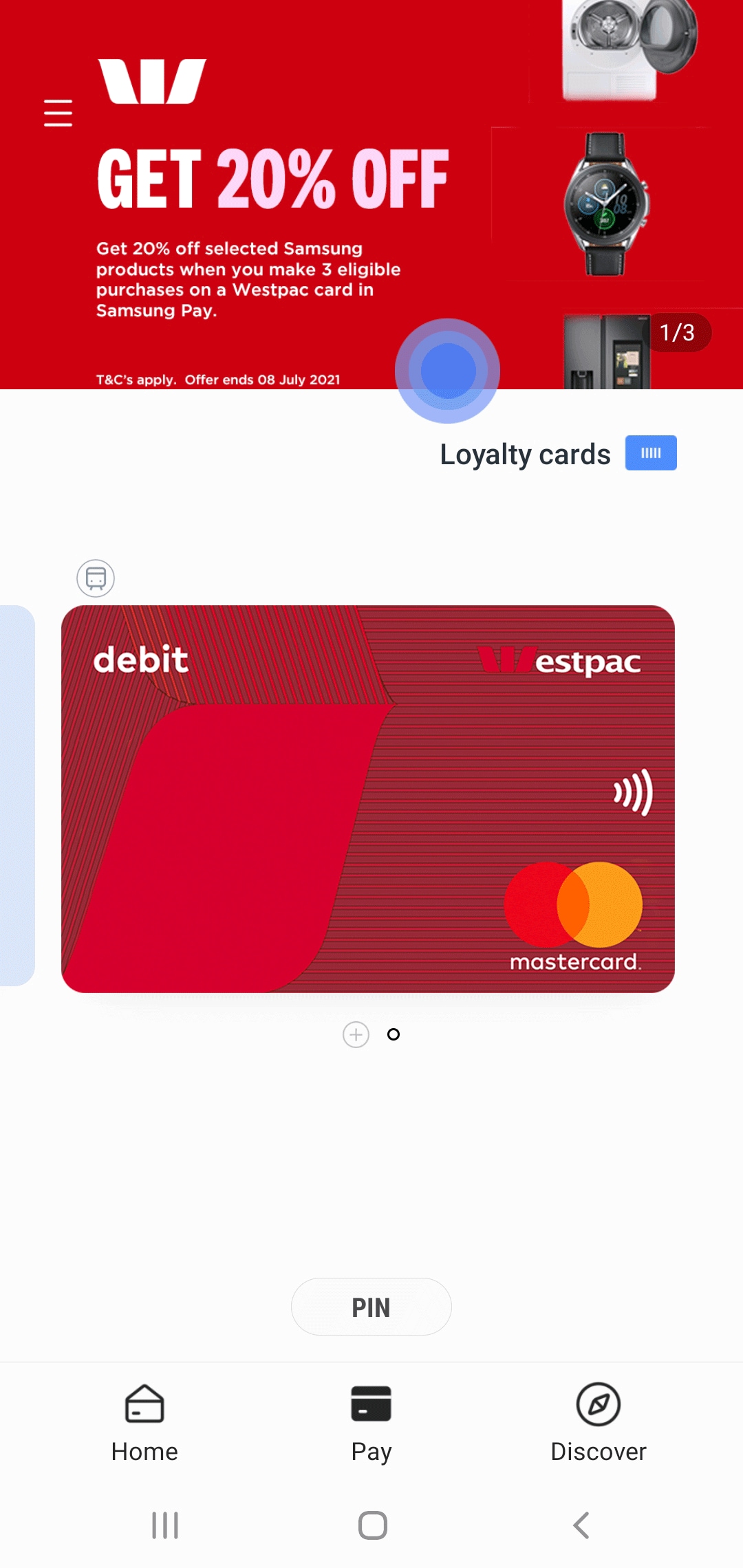 Step 2
Join the promotion
Step 3
Accept Terms and Conditions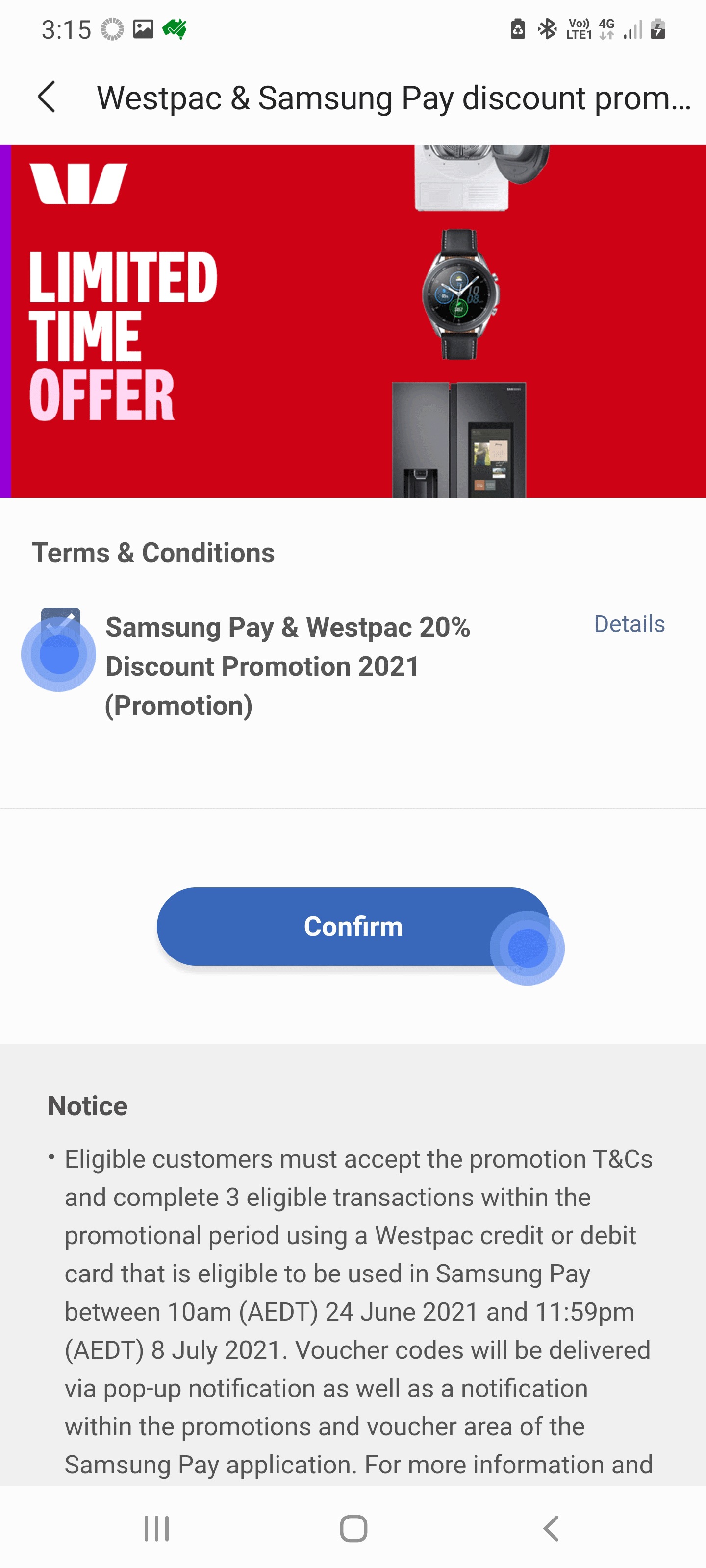 Step 4
Make 3 transactions. Check your status
Step 6
Receive & select notification
Step 7
Copy code & select redeem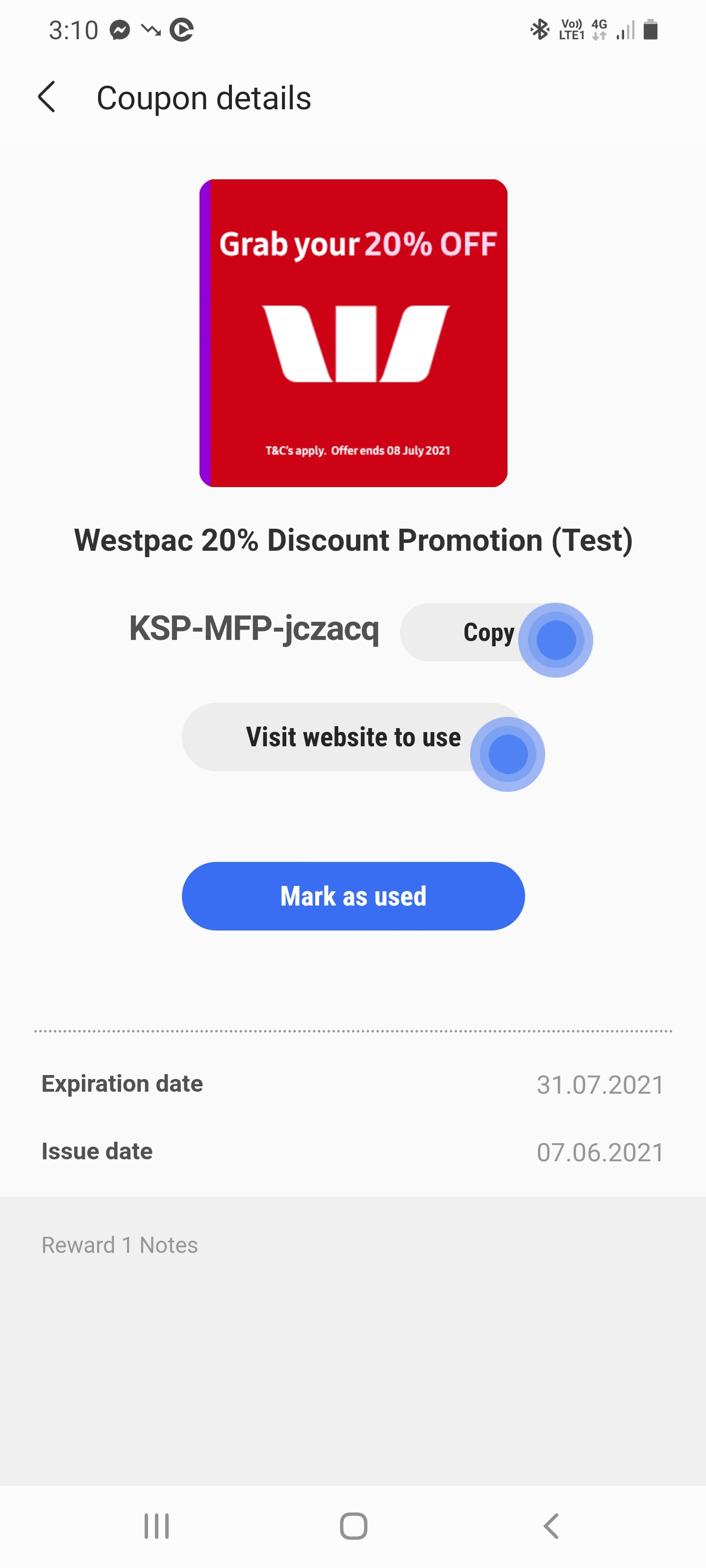 How to redeem code?
There are two ways you can redeem your voucher code.
Option 1
Select Home menu and select voucher code
Option 2, Step 1
Select menu top left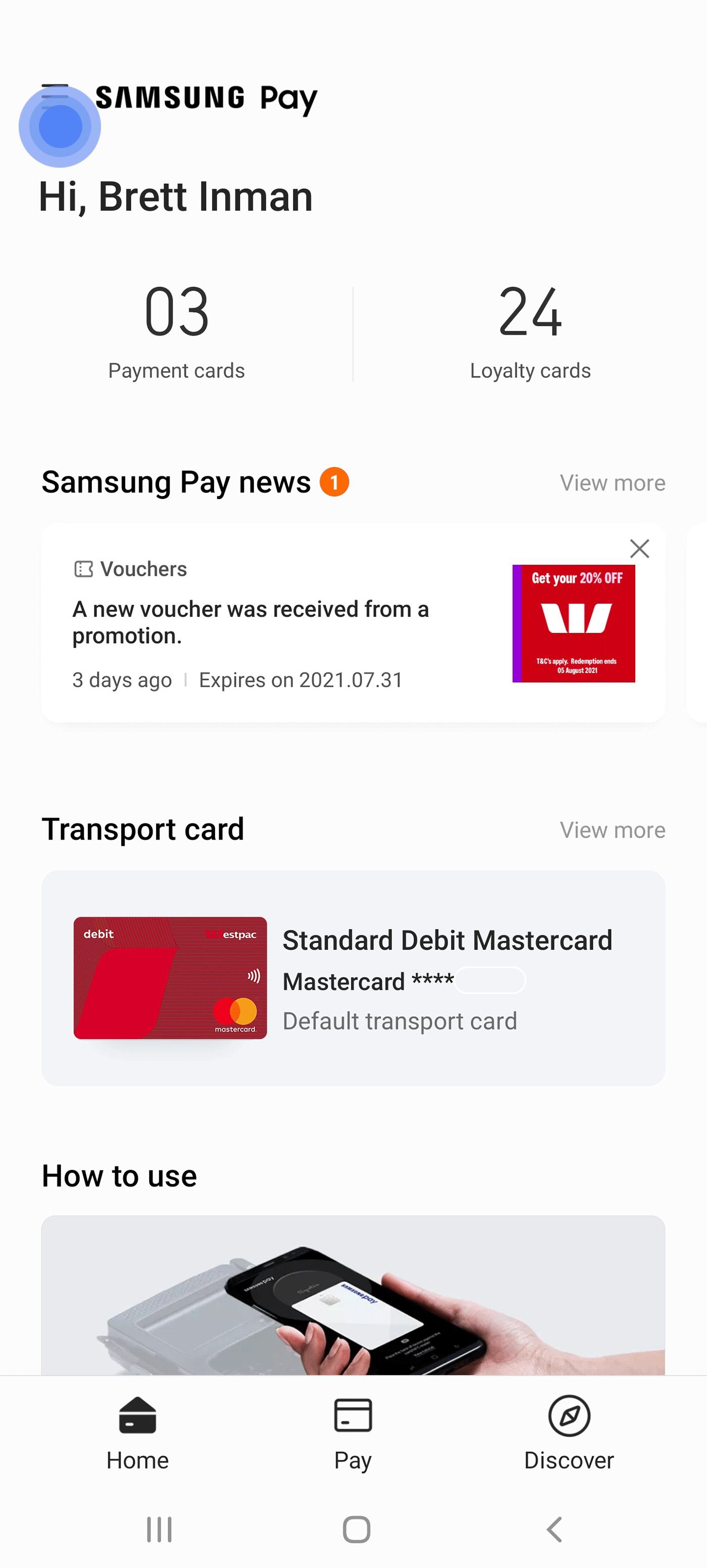 Option 2, Step 2
Select promotions / vouchers
Option 2, Step 3
Select Vouchers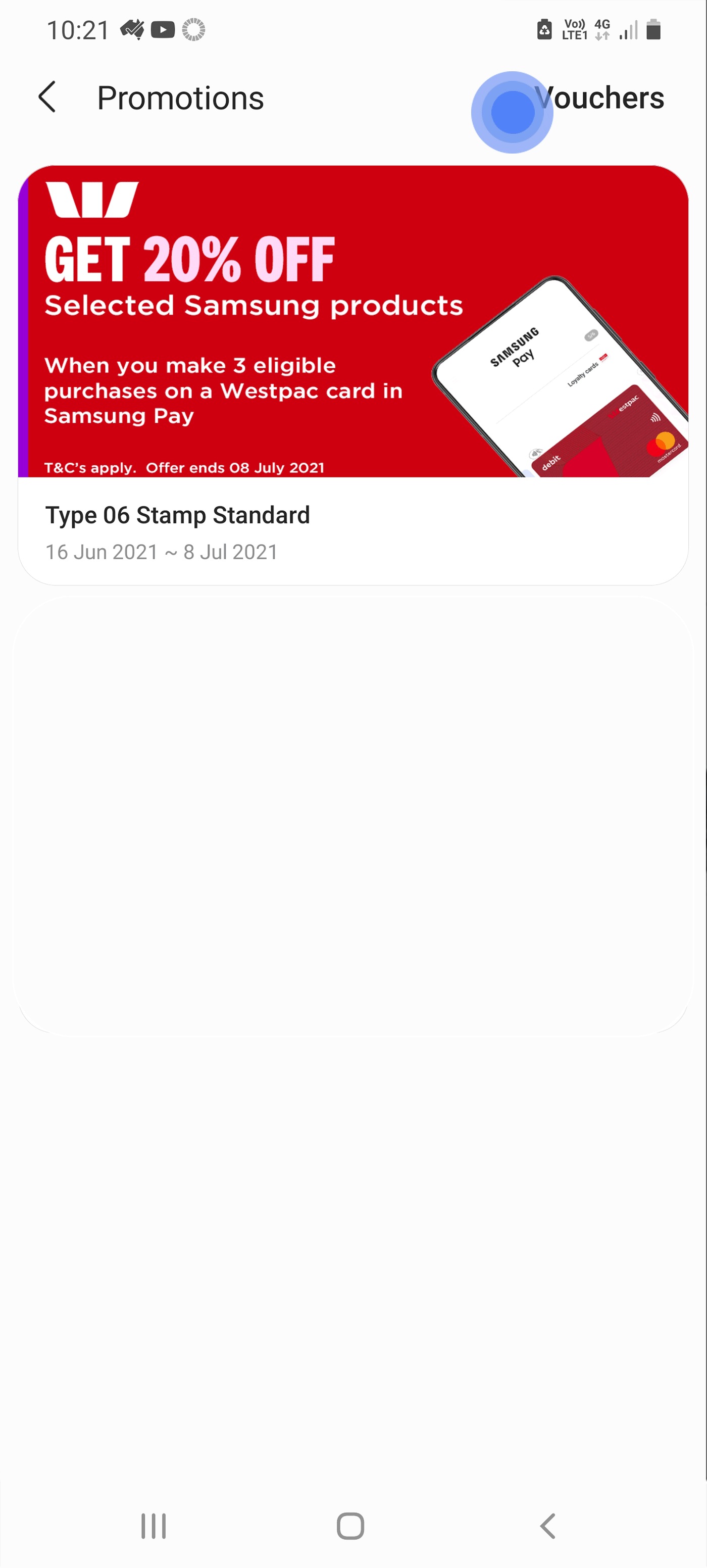 List of participating products
| Category | Model | Description |
| --- | --- | --- |
| WEARABLES | SM-R850NZDAXSA | Galaxy Watch3 Bluetooth (41mm) - Bronze |
| WEARABLES | SM-R850NZSAXSA | Galaxy Watch3 Bluetooth (41mm) - Silver |
| WEARABLES | SM-R855FZDAXSA | Galaxy Watch3 Cellular (41mm) - Bronze |
| WEARABLES | SM-R855FZSAXSA | Galaxy Watch3 Cellular (41mm) - Silver |
| WEARABLES | SM-R840NZSAXSA | Galaxy Watch3 Bluetooth (45mm) - Silver |
| WEARABLES | SM-R840NZKAXSA | Galaxy Watch3 Bluetooth (45mm) - Black |
| WEARABLES | SM-R845FZSAXSA | Galaxy Watch3 Cellular (45mm) - Silver |
| WEARABLES | SM-R845FZKAXSA | Galaxy Watch3 Cellular (45mm) - Black |
| PRODUCT STERILISER | GP-TOU020SABWW | UV Steriliser with wireless charging |
| REFRIGERATOR | SRS656MBFH4 | 656L Family Hub™ Side by Side Refrigerator |
| REFRIGERATOR | SRF676CDBLS | French Door Refrigerator |
| REFRIGERATOR | SRF678CDLS | French Door Refrigerator |
| WASHING MACHINE & DRYER | WW12TP54DSH/SA | 812kg AddWash™ Front Load Smart Washer |
| WASHING MACHINE & DRYER | WW12TP04DSH/SA | 12kg Front Loading Smart Washer |
| WASHING MACHINE & DRYER | WW95T754DBT/SA | 9.5kg AddWash™ Front Load Smart Washer |
| WASHING MACHINE & DRYER | WW95T654DLE/SA | 9.5kg AddWash™ Front Load Smart Washer |
| WASHING MACHINE & DRYER | WW95N54F5CW/SA | 9.5kg BubbleWash™ Steam Front Load Washer |
| WASHING MACHINE & DRYER | WW85T754DBT/SA | 8.5kg AddWash™ Front Load Smart Washer  |
| WASHING MACHINE & DRYER | WW85T654DLE/SA | 8.5kg AddWash™ Front Load Smart Washer |
| WASHING MACHINE & DRYER | WW85T554DAW/SA | 8.5kg AddWash™ Front Load Smart Washer |
| WASHING MACHINE & DRYER | WW85T504DAE/SA | 8.5kg BubbleWash™ Front Load Smart Washer |
| WASHING MACHINE & DRYER | WW75K54E0UW/SA | 7.5kg AddWash™ Steam Front Load Washer |
| WASHING MACHINE & DRYER | WW75J54E0IW/SA | 7.5kg BubbleWash™ Steam Front Load Washer |
| WASHING MACHINE & DRYER | WD85T984DSH/SA | 8.5kg/6kg QuickDrive™ Smart Washer Dryer Combo |
| WASHING MACHINE & DRYER | WD95T754DBT/SA | 9.5kg/6kg AddWash™ Smart Washer Dryer Combo |
| WASHING MACHINE & DRYER | WD85T554DBW/SA | 8.5kg/6kg AddWash™ Washer Dryer Combo |
| WASHING MACHINE & DRYER | WD75M4453JW/SA | 7.5kg/4kg Washer Dryer Combo |
| WASHING MACHINE & DRYER | DV90T8440SH/SA | 9kg Heat Pump Smart Dryer |
| WASHING MACHINE & DRYER | DV90T7440BT/SA | 9kg Heat Pump Smart Dryer |
| WASHING MACHINE & DRYER | DV80T6420LE/SA | 8kg Heat Pump Smart Dryer |
| WASHING MACHINE & DRYER | DV80T5420AW/SA | 8kg Heat Pump Smart Dryer |
| MICROWAVE OVEN | MC455THRCBB/SA | 45L Convection Microwave |
| MICROWAVE OVEN | ME6104ST1/XSA | 28L Microwave |
| MICROWAVE OVEN | ME6124ST-1/XSA | 34L Microwave  |
| MICROWAVE OVEN | ME6124W-1/XSA | 34L Microwave |
| MICROWAVE OVEN | ME6144ST/XSA | 40L SmartSensor Microwave |
| MICROWAVE OVEN | ME6144W/XSA | 40L SmartSensor Microwave |
| MICROWAVE OVEN | ME83M-B3/SA | 23L Microwave |
| MICROWAVE OVEN | MS23K3513AS/SA | 23L Microwave |
| MICROWAVE OVEN | MS32J5133BG/SA | 32L Microwave |
| MICROWAVE OVEN | MS32J5133BM/SA | 32L Microwave |
| MICROWAVE OVEN | MS32J5133BT/SA | 32L Microwave |
| MICROWAVE OVEN | MS40J5133BG/SA | 40L Microwave |
| MICROWAVE OVEN | MS40J5133BT/SA | 40L Microwave |
Frequently Asked Questions