BINGE on us with
the World's 1st
Do-It-All Screen*
Reward yourself with a bonus 6-month BINGE Standard subscription**
($84 value) when you purchase a Smart Monitor from the
Samsung online store or a Participating Store.
Valid from Feb 27. 2021 ~ May 26. 2021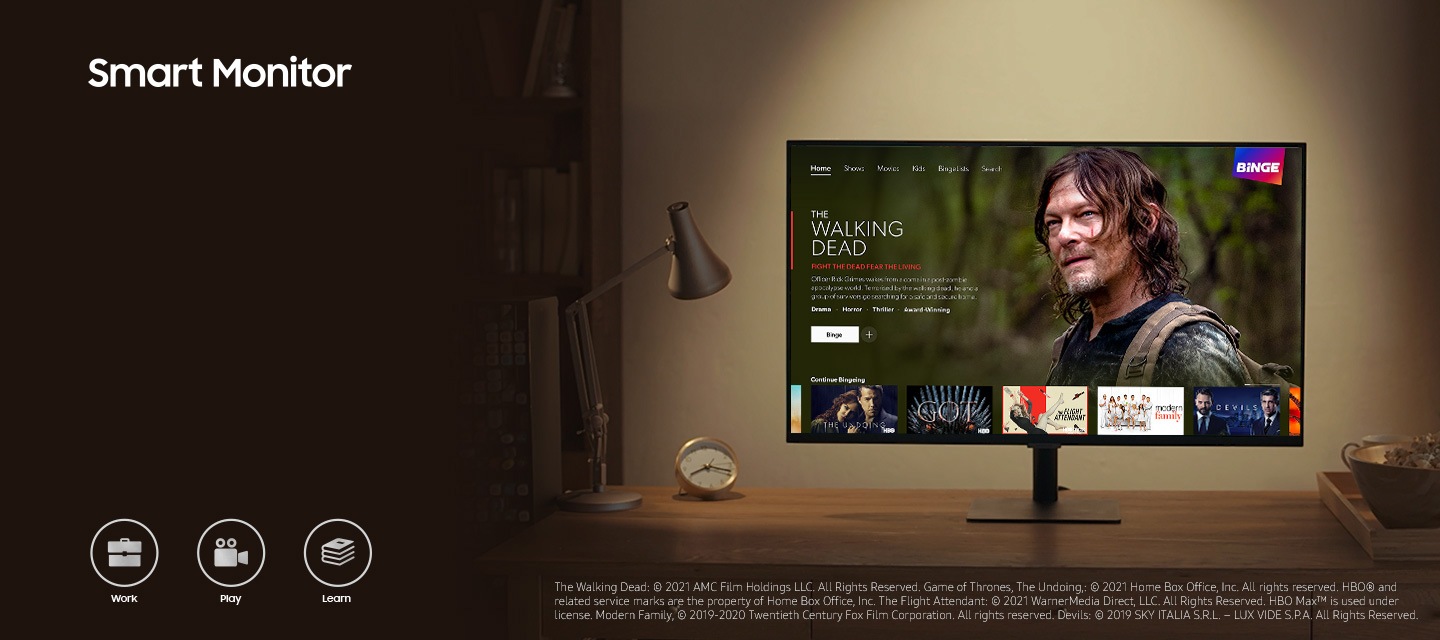 *World's first monitor to combine OTT media service, mobile connectivity, and remote PC capabilities.

**Offer valid on participating Smart Monitor purchased from the Samsung online store or a Participating Store between 9:00 AM (AEDT) 27 February 2021 and 11:59PM AEDT 26 May 2021. Eligible Claimants must submit Online Claim Form by 11:59pm (AEDT) on 13 June 2021. Data and other charges may apply. Exclusions apply. This offer is not valid in conjunction with any other offer. Offer only available to the first 300 Eligible Claimants who submit an Eligible Claim. Full T&C's apply.
PROMOTIONAL PERIOD
Start: 9:00 AM AEDT, Saturday, 27 February 2021
Start1: 9:00 AM AEDT, Sunday, 14 March 2021
End: 11:59 PM AEDT, Wednesday, 26 May 2021
1applicable to Smart Monitor M7 32" model
REDEMPTION PERIOD
Start: 9:00 AM AEDT, Monday, 1 March 2021
End: 11:59 PM AEDT, Sunday, 13 June 2021
32" Smart Monitor M7 With Mobile Connectivity and UHD resolution
UHD 4K resolution delivers stunning picture quality for work and play
More convenient connectivity with a USB type C
Easy mobile connection via wireless DeX, Tap View and mirroring
One-touch entertainment with apps, remote controller and built-in speaker
Remote Access and Office 365 let you work and learn from anywhere
Participating Stores
How to redeem the BINGE voucher code

Step 1
Be one of the first 300 Eligible Claimants to submit an Online Claim Form within the Redemption Period. You will receive
an email with the code within 14 days from the date your claim is deemed valid.


Step 2
If you're a new or returning BINGE customer, click here to redeem1 your BINGE code by 30th June 2021.

If you are an existing BINGE customer, sign in to BINGE and enter the code into "My Account" to redeem1.



1Standard monthly fees (charged at the rate of $14 per month in accordance with BINGE Standard) will apply after the voucher period ends unless you cancel or change your subscription prior to the end date. One redemption per person. Offer not available in conjunction with other BINGE offers. Offer not available for redemption on third party devices or with third party billing.