Turn Off Talkback Voice Assistant
Last modified :
May 14. 2019
If your Samsung phone or tablet is talking to you, explaining everything each time you press the screen - your device has Talkback or Voice Assistant enabled. The Talkback/Voice Assistant is an Accessibility feature of Samsung devices that helps blind and low-vision users by speaking actions out loud as items are touched, selected and activated.
Talkback or Voice Assistant will require you to tap once to highlight, then double tap any item on the screen to select it.
Quickly Turn Off Talkback Voice Assistant:
Hold the Volume UP and Volume DOWN buttons at the same time, for at least 3 seconds. You should see a message on the screen alerting you that Talkback/Voice Assistant has been switched off. If not, please follow the steps below to turn off Talkback/Voice Assistant through the Accessibility settings.
Turn Off Talkback Voice Assistant through Settings:
Screenshots were captured from a Galaxy A20 operating on Android OS Version 9.0 (Pie), settings and steps may vary depending on your Galaxy device and Android OS Version.
1
Scroll down from the top of the screen with two fingers
2
Tap the Settings cogwheel in the top right corner, and then tap it again 2 more times in quick succession.
3
Use two fingers to scroll down to locate and double tap the Accessibility option.
4
Select 1 function in use to highlight it, and then double tap to view the drop down menu.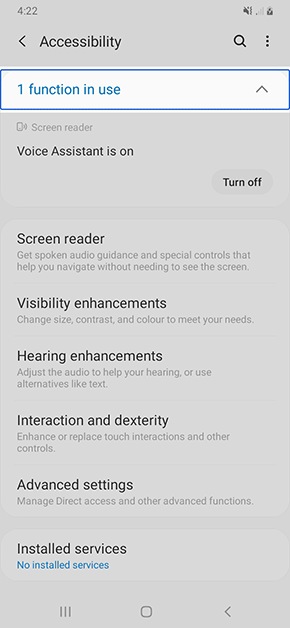 5
Tap, then double tap the Turn Off option to disable this setting.
Alternatively, you can double tap Screen Reader > double tap and toggle off Voice Assistant.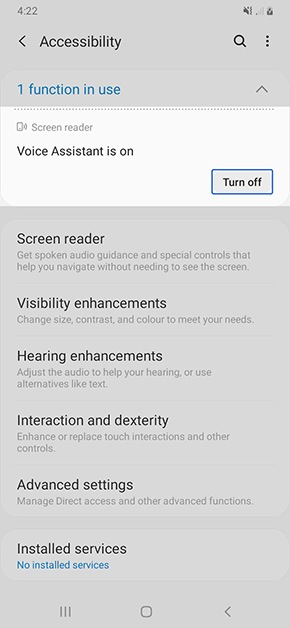 Did not find what you're looking for? We're here to help.
Face-to-Face Support

In-Store Support
Create a booking to see one of our friendly Samsung staff members at one of our Samsung Retail Stores.
Contact Us