Using the IT FIT UV Steriliser with Wireless Charging
Last Update date :
Aug 28. 2020
Use the UV Steriliser with Wireless Charging to kill up to 99% of certain harmful bacteria and germs not only on your smartphone but also various items, such as glasses and accessories. The UV Steriliser with Wireless Charging utilizes Qi wireless technology to wirelessly charge your compatible smartphone. Compatible with the latest iOS and Android devices that support wireless charging. Follow the below guide to learn about the device layout and how to correctly use the UV Steriliser. 
* For effective sterilisation, it is recommended to sterilise one side and then flip over and sterilise the other side.
* Wireless charging not supported for smart watches.
* Wireless charging not supported if the mobile phone is placed with the touch screen facing down.
* TFIT UV steriliser must be connected to power source using power cord and adaptor. Samsung brand power cord and adaptor recommended as third party items may cause damage or a decrease in charging speed. Compatibility limited to smartphones and wearables with WPC Qi wireless charging functionality.
* Areas of the item that are not exposed to the UV light will not be disinfected.
* Level of disinfection may vary by area of the item depending on various factors such as UV exposure time, length of UV light to reach surface of item, and others.
* Disinfection level at the bottom surface of item is lower than other areas.
* Third party testing conducted by Intertek and SGS. UV-C light can kill up to 99% of certain harmful germs and bacteria, including Eschericia coli, Staphylococcus, and Candida albicans.
Please Note: This guide is designed for Australian variant Galaxy devices, if you have an international device and require further support click here to get in touch with your Samsung subsidiary.
1
Plug the Type-C cable into the back of the UV Steriliser to Power on
2
Open the top cover of the UV Steriliser and place your mobile device or accessory inside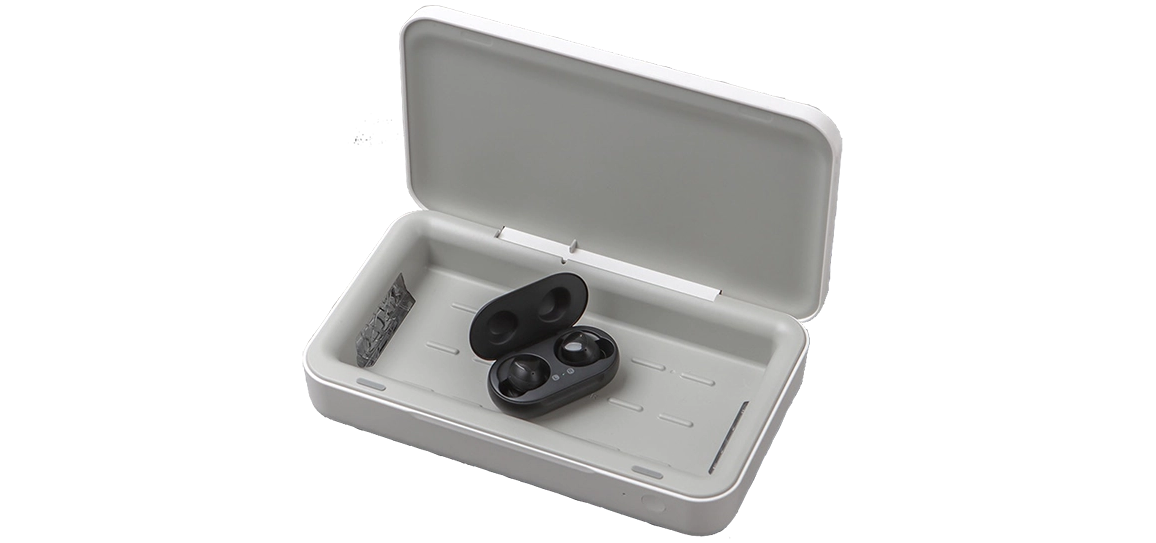 3
Close the lid and press the Sterilisation switch to disinfect for 10 minutes. Sterilisation will stop automatically when the lid is open to ensure safety.
4
Once sterilisation is complete you should hear two beeping sounds from the UV Steriliser before it turns off. Simply open the lid and remove your mobile phone from the Steriliser.
*Wireless Charging will still continue even after sterilisation is complete.