Samsung laptop or notebook battery doesn't charge to 100%
Last Update date :
Dec 14. 2021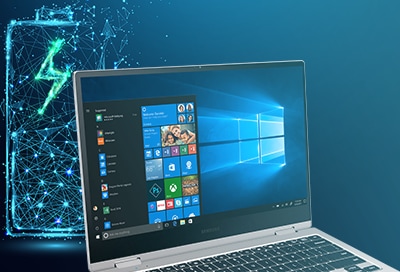 Samsung laptop or notebook include technology to prolong the overall lifetime of the battery. The Battery Life Extender feature limits the battery's maximum charge to 80% or 85%, depending on the model. Battery Life Extender can be disabled if you need the maximum charge.
Note: Information provided applies to devices sold in Canada. Available screens and settings may vary for laptops and notebooks sold in other countries.
Disable Battery Life Extender
Note: The Samsung Settings app should be preinstalled on your laptop or notebook, however it can be downloaded from the Microsoft Store if necessary.
Samsung Settings is an exclusive app that's only available on Samsung laptop or notebook and lets you adjust and control different features. Click the Start icon (at the bottom left corner of the screen), and then scroll to and select Samsung Settings. You can also search for and select Samsung Settings using the search bar. Select Power Management (on the left). By default, the Battery Life Extender setting is also available if you select Quick Settings.

Click the switch next to "Battery Life Extender" to toggle the charge limit. When Battery Life Extender is Off the battery will charge up to 100%. If Battery Life Extender is disabled it may negatively impact the lifespan of your battery.