Use Screen off memo on your Galaxy Note
Last Update date :
Apr 08. 2021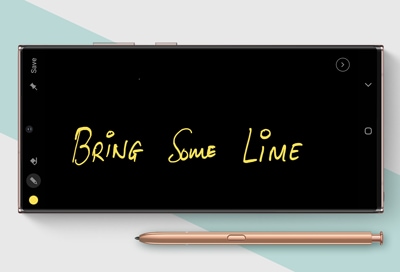 Sometimes inspiration strikes at the weirdest times, like when you are lying in bed. If your phone's bright screen blinds you in the middle of the night, just use your phone's Screen off memo feature instead. It lets you write notes on a dark screen without even unlocking your phone.
Note: Information provided applies to devices sold in Canada. Available screens and settings may vary for smartphones sold in other countries.
Use and activate Screen off memo
If you wake up from a dream and have a brilliant idea for a new poem, just take out your phone and your S Pen. There are two ways to access Screen off memo on your phone:
Remove the S Pen from your phone when the screen is off, and Screen off memo will automatically open.
If you already have the S Pen removed, or if you are using the Galaxy S21 Ultra 5G, press and hold the S Pen button, and then tap the phone's screen while it is off. The Screen off memo will activate.
When you are done writing, tap Save (at the top right corner). If you do not save the note and try to exit Screen off memo, a popup message will appear asking you to save or discard the note.
Enable Screen off memo
The Screen off memo feature is turned on by default, so you can jot things down in the spur of the moment. But if you accidentally turned it off, you can easily turn it back on: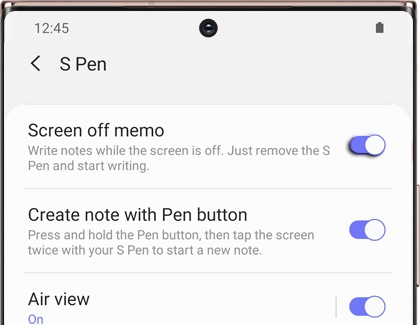 From Settings, search for and select Screen off memo. Tap the switch next to "Screen off menu" to turn the feature on or off.
Convert writing into text
Type no more! With your S Pen in hand, you can write text directly on your phone's screen. To test it, open any app where you can type with an on-screen keyboard, such as Messages.
Open the keyboard, tap the More options icon (the three dots), and then tap Handwriting. Use your S Pen to write in the gray handwriting field. Whatever you write will appear as digital text in the text field!
Note: There are even more options available when you are writing in Samsung Notes, like editing and sharing your handwritten notes.
Please answer all questions.
The coding for Contact US > Call > View more function. And this text is only displayed on the editor page, please do not delet this component from Support Home. Thank you