Enjoy video games on your Galaxy phone
Last Update date :
Apr 27. 2021
Galaxy phones have always been known for their awesome gaming capacity because of their large displays and great performance. Whether you are playing Fortnite, Call of Duty, or a casual puzzle game, we have tips for getting the most out of your Galaxy phone and the great gaming experience it offers.
Information provided applies to devices sold in Canada. Available screens and settings may vary for smartphones sold in other countries.
Set up and use Game Booster
Game Tools has been redesigned and is now called Game Booster. This new version closely monitors your phone's performance while playing games. For example, it will show your phone's estimated battery life and temperature. Game Booster also makes it easier to access important gaming settings, so you won't miss a beat.

While playing a video game on your phone, swipe up from the bottom of the screen (or the right side if you are in landscape mode), and then tap the Game Booster icon on the lower left-hand side of the screen.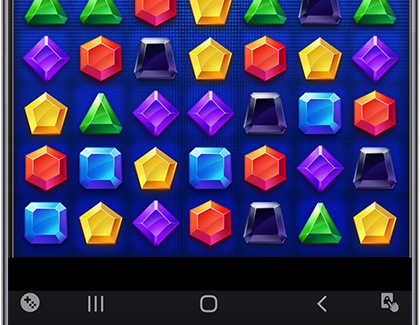 If it's your first time using Game Booster, tap Start. Then select and use your desired settings:

The Pop-up panel: Get fast access to outside apps. Change the four apps in the panel by tapping the More Options icon (the three vertical dots). Tap the Remove icon by the app, and then select apps you want on the panel.
Settings: Tap the Settings icon to see more settings. Change the shortcut icon at the bottom right corner by tapping Shortcuts, and then choosing your desired shortcut. From this menu, you can also change the screen resolution or get help.
Block during game: Adjust what kind of alerts or features you want to block during gameplay, so you'll never get distracted.
Advanced game tools: Get the most out of your gaming experience by locking the navigation keys or taking a screenshot.
Game Booster may not be available for all games.
Connect a Bluetooth controller
Although your Galaxy phone has a big screen and lots of thumb space, there's nothing quite like playing games with a console controller. You can connect your favorite compatible controllers. Before anything else, make sure Bluetooth is enabled on your phone. Navigate to Settings, tap Connections, and then tap Bluetooth. If needed, tap the switch next to Bluetooth to enable it. Now you can easily pair your controller.

Here's how to connect some of the most common controllers:

Xbox One controller: Turn on your Xbox Bluetooth controller. Press and hold the Bind button (located on the top of the controller) for 3 seconds and then release it. The controller should appear on your phone's Bluetooth settings page. If it doesn't, tap Scan. When it appears, select Xbox Wireless Controller from the list of available devices.

PS4 controller: Make sure your PS4 controller has adequate battery power. To place the controller in Pairing Mode, press and hold the Share button and the PS button simultaneously for a couple seconds. When the controller starts to flash, release the buttons. The controller should appear on your phone's Bluetooth settings page. If it doesn't, tap Scan. When it appears, select Wireless Controller from the list of available devices. The PS4 controller will flash as it pairs to your phone.
Other Bluetooth controllers: There are many other Bluetooth controllers on the market that can pair with Galaxy phones. However, the steps for each controller will vary. Check your controller's user manual for instructions on pairing it to your phone.
Connect to an external monitor
So, you've connected a controller to your Galaxy phone. Could your gaming possibly get any better? Yes, it can! If you connect your phone to an external monitor, you can play on an even bigger screen.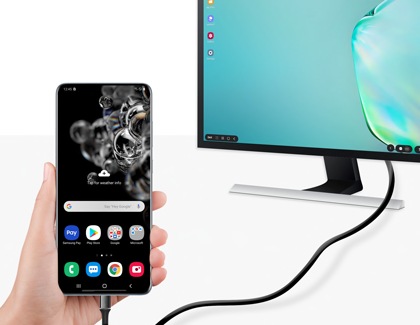 Simply connect a DeX cable, a USB-C to HDMI adapter, or a multi-port adapter to both the phone and monitor. These adapters let you screen mirror your phone to the monitor's screen. Just open up a gaming app, like Fortnite, to see it displayed on the monitor.

If a notification for DeX comes up, ignore it - this will stop the screen mirroring and open up the DeX app.

Please answer all questions.
The coding for Contact US > Call > View more function. And this text is only displayed on the editor page, please do not delet this component from Support Home. Thank you