Use Power saving mode on your Galaxy phone
Last Update date :
Apr 23. 2021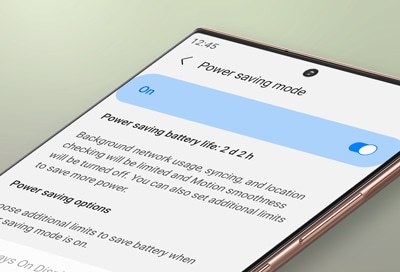 Never let a low battery surprise you again. You can use your phone's Power saving mode to make its battery last longer every day or in critical situations.
Note: Information provided applies to devices sold in Canada. Available screens and settings may vary for smartphones sold in other countries. The use of power saving modes can affect app and device performance; some tasks and features may take longer to complete or update. Additionally, apps running in the background may not receive updates or send you notifications when power saving modes are turned on.
Power saving mode
Note: Devices with One UI 2.5 or lower will have different power saving options, such as Optimized, Medium power saving, and Maximum power saving. To find these options, open Settings, tap Device care, tap Battery, and then tap Power mode.
If you know you will be away from a charger for an extended period and you want to make sure your phone will last, just turn on Power saving mode. This way, you will not have to worry about a low battery.
First, navigate to Settings, and then tap Battery and device care. Tap Battery, and then tap Power saving mode.
Tap the switch to turn it on. Power saving mode will limit certain things on your device, such as background network usage and syncing.
You can use additional power saving options as well:
Turn off Always on Display: This will disable the Always on Display feature.
Limit CPU speed to 70%: Decreases the processing speed of your device.
Decrease brightness by 10%: Tap this option to dim your device's screen by 10%.
Limit apps and Home screen: This option will provide you with maximum power saving by limiting background activity, using a simplified home screen, and limiting the available apps. It will also turn off Edge panels.
Note: In order to turn these options on or off, Power saving mode must be disabled. Once you have made your desired adjustments, you can turn Power saving mode back on.
Battery tips
It is super important to charge your battery properly so it can keep up with you throughout the day. Follow these tips for the best results:
Use your Samsung charger and avoid third-party accessories.
Ensure the charger is connected securely and is not being blocked by your phone cover or case.
Make sure the charging indicator appears on the phone's display when the charger is connected.
Use a power outlet instead of your computer for a better charge.
Disconnect the phone from the charger once the battery is fully charged.
Do not leave your phone connected to the charger for long periods of time or overnight.
Please click the submit button below to share your feedback with us. Thank you for your participation.
Please answer all questions.
The coding for Contact US > Call > View more function. And this text is only displayed on the editor page, please do not delet this component from Support Home. Thank you