Screen mirroring or casting on your Galaxy phone
Last Update date :
Jun 09. 2022
As technology becomes more advanced, so does the vocabulary associated with it. We all now frequently use terms like "screen mirroring" or "casting" and it gets really confusing. What do they all mean? All you really need to know is that both allow you to stream videos, photos, and other content from your phone to your smart TV. But if you want a more in-depth definition, we have it for you right here.
Note: Information provided applies to devices sold in Canada. Available screens and settings may vary for smartphones sold in other countries.
What is screen mirroring?
The answer is in the name: screen mirroring. This feature lets you mirror what's on your phone's screen to a bigger screen, like a smart TV. Exactly what's showing on your phone will appear on the TV, whether it's a video, a photo, or a Settings menu. Whenever you do something on your phone (like navigating to a different app), that action will also be shown on the other screen.
On Galaxy device's the screen mirroring feature is called Smart View. You can easily mirror your screen with Smart View by just tapping the Smart View icon and doing a few simple steps.
For iPhones, the screen mirroring feature is called AirPlay, and it does the same exact thing - mirror images, videos, or other media. Using AirPlay is similar but a little different from using Smart View.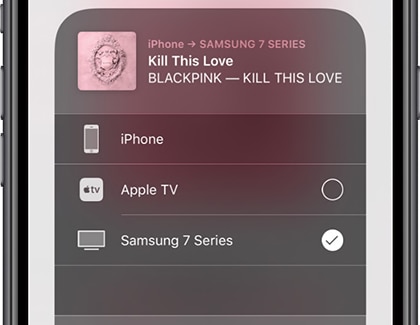 No matter which one you have, it's a great way to share videos, photos, or other things on your phone right on your smart TV.
What is casting?
"Casting" doesn't have such an obvious meaning since this word can be used in many other situations. But when it comes to phones and TVs, casting means transmitting sound and images in real time via the internet.

Certain apps like Netflix or YouTube let you cast videos from your phone directly to a big screen. Even if you don't have a smart TV, you can use third-party casting devices like Chromecast or Amazon Fire TV Stick to stream videos.

When you're casting, only the video or movie will appear on the screen. You can control the video on your phone, but you can also close the app and do other things without interrupting the video as long as the phone is still connected. It's a super convenient way to enjoy both a movie and your phone.

Please answer all questions.
The coding for Contact US > Call > View more function. And this text is only displayed on the editor page, please do not delet this component from Support Home. Thank you